Rappers find experiences as soldiers in Iraq have had their effect on songwriting
by
Rick Scavetta
July 30, 2003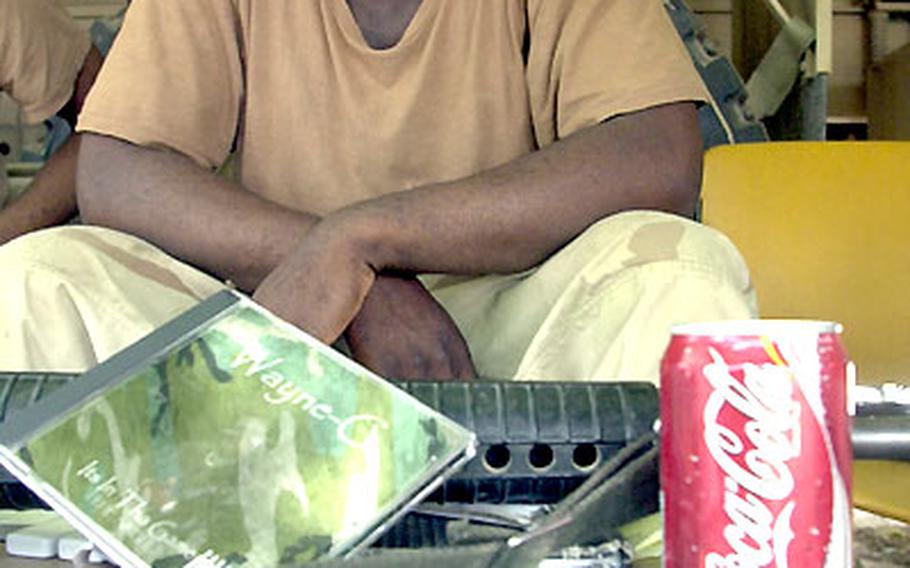 BAGHDAD, Iraq — Amid the turmoil of war, Pfc. Wayne C. Coleman had his sights set on hitting the music charts with his first rap single "It's In the Game."
Along with Sgt. Rodney Waltower, Coleman has formed a label of 10 music artists, all of whom are soldiers, and they plan to return to the States to finish their first CD.
"It's a rap album," said Coleman, 29, of San Antonio. "It has a nice variety of East Coast, West Coast and Down South."
Coleman, the artistic power behind the first single, is decked out in black leather jacket and a fedora on the CD cover. In Baghdad, he belts out energetic lyrics dressed in desert combat fatigues and a brown t-shirt. The life of an artist trapped in the role of a soldier has been a challenge, Coleman said.
"The lyrics I write are from my life experiences," Coleman said. "Sometimes we're writing songs in the field, then going home to work on the recordings."
Waltower, 23, of Augusta, Ga., who has already mastered the role of a protective talent manager, chimes in, "We live two lives, really."
The soldiers, assigned to Headquarters and Headquarters Company, 1st Battalion 64th Infantry Regiment, survived the horrors of war. It already has had an effect on songwriting.
Their unit, part of 2nd Brigade, 3rd Infantry Division, were in the drive to Baghdad in late March. They arrived in the Iraqi capital April 3.
When Stripes spoke with Coleman and Waltower, the two were resting beside Saddam Hussein's ceremonial parade ground, known to troops as the crossed sabers. In the distance, two monumental hands hold arched swords point to point. The soldiers were killing time in the shade, drinking Cokes and playing dominoes. An M2 Bradley Fighting Vehicle hit six times by Iraqi rocket propelled grenades sat a few feet away.
The 1st Armored Division had just rolled into town, and they were expecting to be heading home to jumpstart their music business. But the Army decided to hold the 3rd Infantry in Iraq over the summer. Now their brigade is assigned to Fallujah, a hostile town west of Baghdad.
But during that lazy afternoon in May, the mechanics' impromptu performance under the shade of a camouflage poncho took Coleman and his crew away from the heat and flies and into the spotlight.
As their heads bobbed to the base-filled rhythm, Coleman's shoulders loosened up. The hand jive started as he rolled out his hip-hop tirade.
Waltower knelt beside, sporting a tough look and glaring eyes.
Pvt. Leroy Irchirl, 20, of Houston, Tex., filled in with improvised background noises and chimed in to accentuate important parts of the song.
Spc. Katal Yancey, 23, of Detroit, melted into the groove.
While soldiering pays their bills, the troops have been writing and performing rap music throughout their enlistment. And they've continued to write songs since arriving in Iraq.
One song Coleman wrote for the new album called "What You Know," describes his feelings about war, based on the 3rd Infantry Division's recent battles.
That wartime experience may be the edge their music has over other rising rap artists.
"Not too many rappers can say they've been through a war," Coleman said.
Coleman recorded the first single at studios in Hinesville and Savannah, Ga., outside Fort Stewart. They had 1,000 copies pressed and sold 600 on their own and at the base PX. They also brought copies to Southwest Asia and sold a few more.
While in Kuwait, Coleman and crew performed the song at a talent show at Camp New York that aired on CNN.
Now, their Army lives seem to be getting in the way of their music careers.
During the war, the Army enacted a stop loss — which meant their enlistment was indefinitely extended.
"We would have been out of here now," Waltower said, as if the war had thrown him off schedule.
But the extra time gives the rappers more time to plan for their return to the music world. Once they leave the Army, Coleman plans to move to Augusta with Waltower.
"We're constructing our plan," Waltower said, playing the role of business manager in his greasy coveralls. "We've got to finish recording the CD, then work on distribution."