Plenty to shoot, plenty to love in 'Division 2'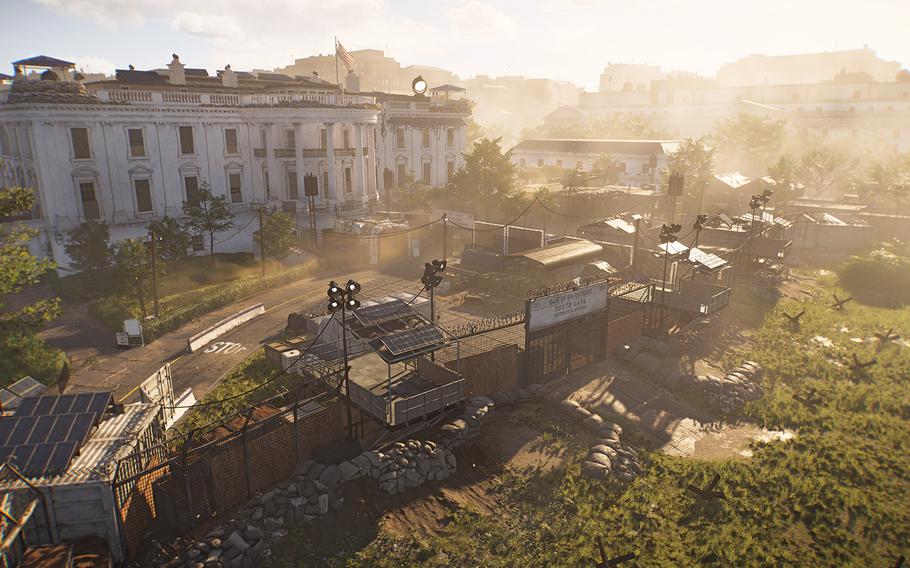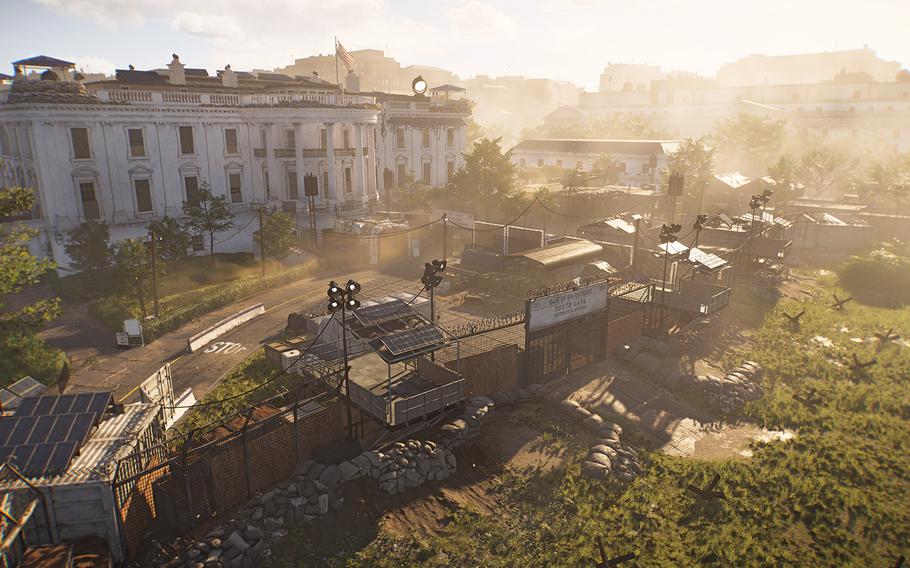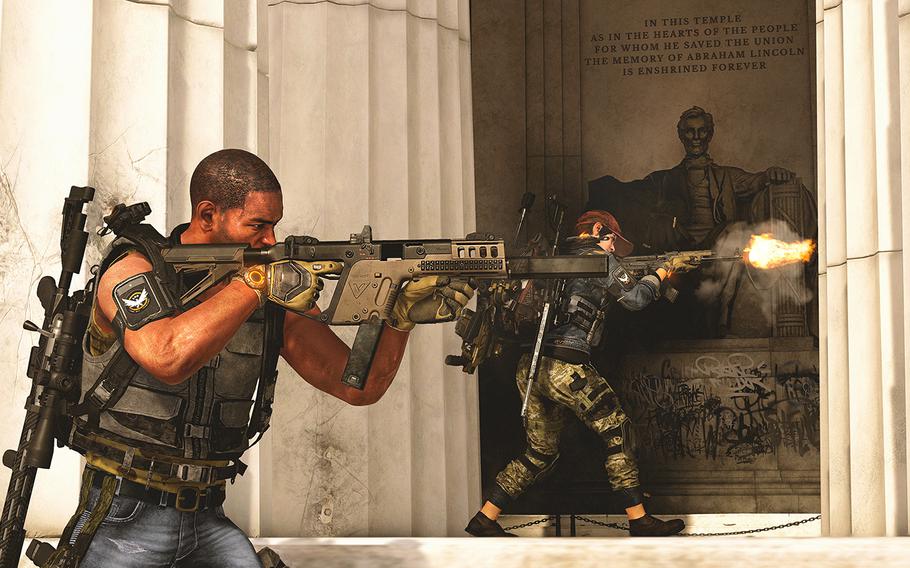 Rarely has a video game been more about hope.
"Tom Clancy's The Division 2" is about bringing hope to a plague-stricken metropolis beset by warring gangs and paramilitary forces.
It's also about bringing hope to gamers who have experienced some recent disappointments with cooperative shooters. "Anthem" is a rocket-powered sci-fi adventure that's going down in flames, and "Fallout 76" turned into a postapocalyptic disaster.
Fortunately, "The Division 2" — developed by Massive Entertainment for Ubisoft — avoids the pitfalls of its predecessors and delivers plenty to enjoy in both solo and cooperative play.
The game is the sequel to a 2016 game in which a biological attack overwhelms New York City. You play as an agent of the Strategic Homeland Division, a secret organization designed to maintain order in just such a cataclysmic situation.
As the new game starts, you're an agent trying to bring order to another city seven months after the onset of the plague. Suddenly, your high-tech gear goes dark and you receive a distress call from Washington, D.C. You have a new assignment.
When you reach D.C., you discover that the Division's base of operations — the White House — is under siege by a group of rogues known as the Hyenas. It doesn't take too long to fight your way to the base, where you learn that the Division is on the ropes. You need to resolve the issues that caused the failure of the Division's network and you need to bolster the civilian settlements scattered across the city.
This might be the setting and motivation, but "Division" is a loot shooter at its core. Acquiring bigger, better and more powerful arms, armor and gadgets is the point of the game for most players. They want loot in ever increasing quantities and quality, and "Division 2" delivers just that. Hidden nooks and obscure passageways contain crates with armor or cases with guns. And, of course, well-supplied foes drop plenty of goodies. Although most of the bounty can be sold for funds or broken down for crafting materials, it's rare to go long without picking up a prize that will add to your firepower, defenses or abilities.
The game's weaponry comes in the usual varieties — sniper rifles, shotguns, assault rifles, pistols, machine guns and more. These are well-balanced and satisfying at the beginning and only get better as you find more advanced versions and add attachments to enhance their characteristics.
In addition to weapons, special tech enhances the experience by offering drones, turrets and other gear that allow you to heal, extend firepower, immobilize enemies with foam or emit chemical clouds with a number of properties. Used well, these items can turn the tide in a fight.
The basic gameplay and rhythms are pretty similar to the original title. You enter a zone of the city, find a survivors' settlement, overcome the local thugs and undertake various side missions that enable to settlement to thrive.
As with the previous edition, it's wise to be wary when walking the streets — especially when fighting solo. Enemies are relatively smart and use cover and flanking maneuvers to good effect. Also, each area has an ideal level range, and it's wise to keep that in mind. A firefight against foes of comparable level is going to require taking cover and possibly the use of high-tech gadgets to ensure victory. A battle against enemies two levels higher than your agent is going to be tough, and the outcome far from certain. If the difference in levels is much more than that, you'd better decide where you'd like to respawn before you even pull the trigger.
There are several basic types of missions and tasks. Most can be accomplished solo, but the game is designed for cooperative play, so most tend to go more smoothly with help.
In each zone, there are control points to capture, hidden tech to recover, public executions to interrupt and propaganda broadcasts to shut down. These minor events help keep the action moving, but they are also essential to stabilizing the local area. As a zone becomes more stable, the local settlement becomes stronger and eventually can provide direct assistance to the Division headquarters at the White House.
Main story missions make major strides in reaching the goal of bringing stability to D.C. However, calling the string of events that weaves through the game a "story" is stretching the word's meaning. There isn't a sense of narrative so much as a feeling of progress.
Side missions advance the cause, but tend to be much more difficult to accomplish in solo play — especially at higher levels. In some areas, side missions are incredibly difficult with anything less than a full team of four players. However, this makes them exciting and emotionally rewarding.
While many main and side missions could be set anywhere — dealing with attackers' bases, foiling evil plans and restoring vital services — there are a few that take advantage of Washington's unique status. In one mission, a militaristic gang known as the True Sons is cannibalizing exhibits in the National Air and Space Museum to build missiles. In another, you need to recover the Declaration of Independence from the National Archives.
The individual missions are very well conceived. Each offers a series of encounters in a well-designed battle space that builds to a climactic fight against a tough boss and his or her henchmen. Along the way, you might need to activate some sort of gizmo or destroy a gadget, but the core of each mission is combat. A mix of tactics and weapons is required in almost every setting, which keeps the action fresh and engaging.
When tackling a mission in a four-player team, coordination and communication are vital. There are generally so many threats and so much action that lack of communication generally proves fatal to the team.
The game does a good job of scaling encounters based on the number and level of the players involved. The strength of the enemies is keyed to the highest-level player in the party, and low-level players are given a boost so they stand a chance against these tough foes. This allows all players to participate on relatively equal footing.
"Division 2" offers a wide variety of content beyond the main set of missions — addressing a major complaint against "Anthem."
The most significant is the "end game" content. As soon as you've tamed the Hyenas, Outcasts and True Sons, a new threat emerges to upend your progress. The Black Tusks show up with futuristic fighting drones and heavy weaponry to knock back the Division. The battle resumes with increased intensity, which means you'll need increased firepower. At this point, you can select a signature weapon — sniper rifle, crossbow or grenade launcher — and accompanying skills.
For those seeking player vs. player action, "Division 2" brings back the contaminated Dark Zone, where loot is more valuable and fellow gamers can "go rogue" to steal the bounty from its finders. This time, there are three Dark Zones and each contains a different type of contamination and setting. And the mechanics have been tweaked to reduce the amount of griefing that appeared in the original game. For example, all players entering the Dark Zone are equalized in level and gear so everyone can compete on a level field. And going rogue has been turned into a deliberate process instead of an impulsive crime of opportunity.
Outside the Dark Zones, the game offers two more-traditional styles of PVP action — a team death match and an objective-based battle.
In coming months, developers will be releasing additional zones with new missions and eight-player raids.
The links between the game and Washington go far deeper than a few events in missions. Developers did an exceptionally good job of re-creating almost everything about D.C. They rebuilt the city's buildings and monuments — and not just the famous ones — on a one-to-one scale. Everything is the right size, the right shape and in the right place — even the taco shops and burger joints, though they have all been rebranded for legal reasons. Developers also managed to capture the vibe of different areas within the city. The impact is impressive for someone who works in downtown D.C.
The game earns its mature rating because of violence and occasional cursing.
When it became apparent that two cooperative shooters were going to be launching within weeks of each other, most people bet that the flashy "Anthem" would come out on top. However, great gameplay and a robust catalog of content made "Division 2" the real winner.
Bottom line: APlatforms: PlayStation 4 (reviewed), Xbox One, PCOnline: tomclancy-thedivision.ubisoft.com
Ubisoft provided a copy of the game for review purposes.