On Okinawa, bullfighting is a mostly bloodless test of animal will
---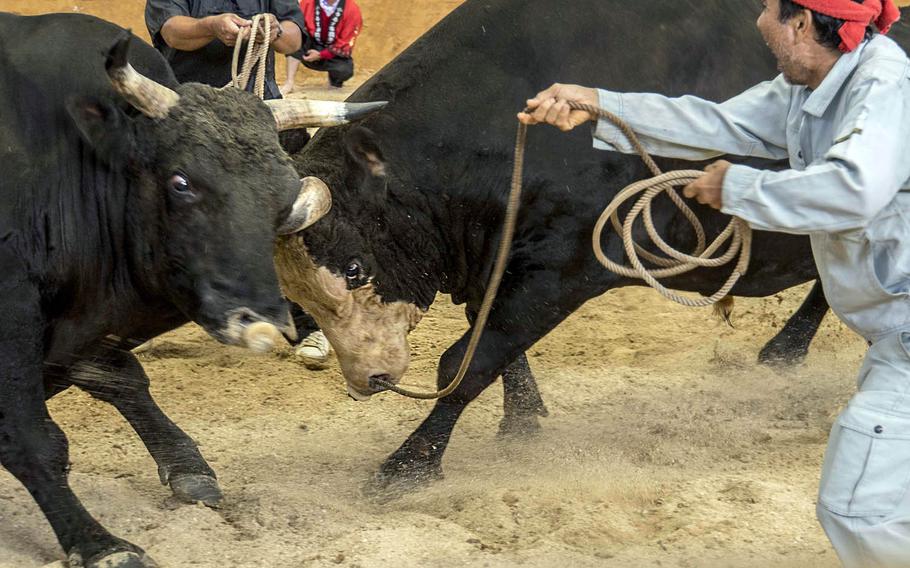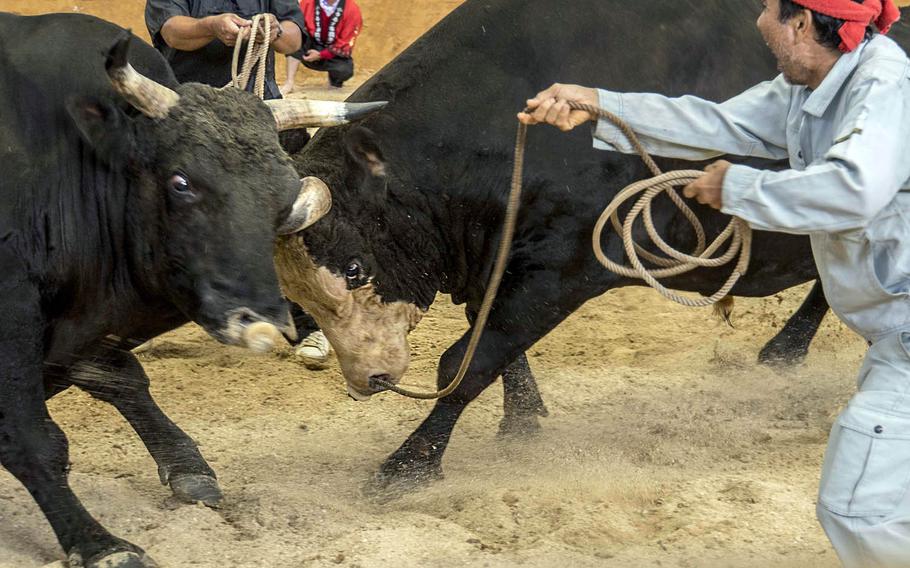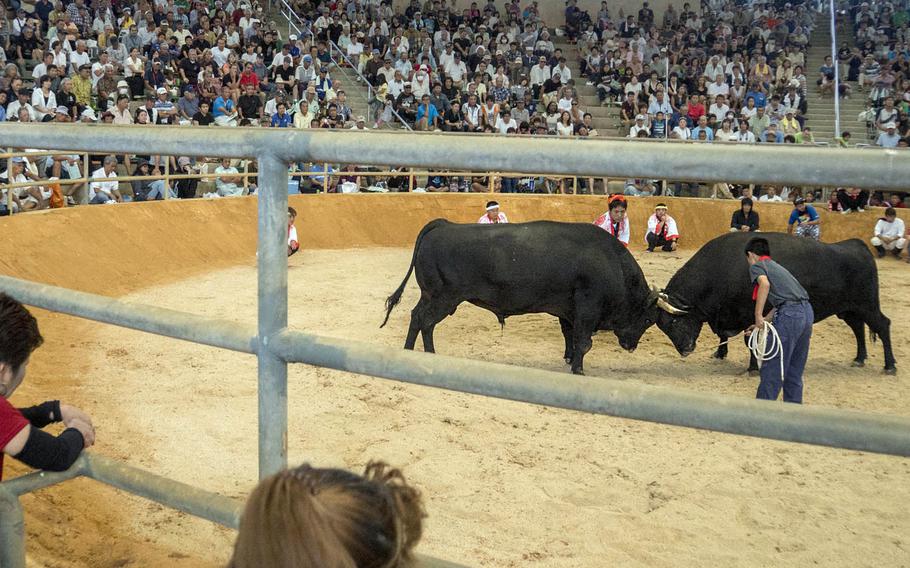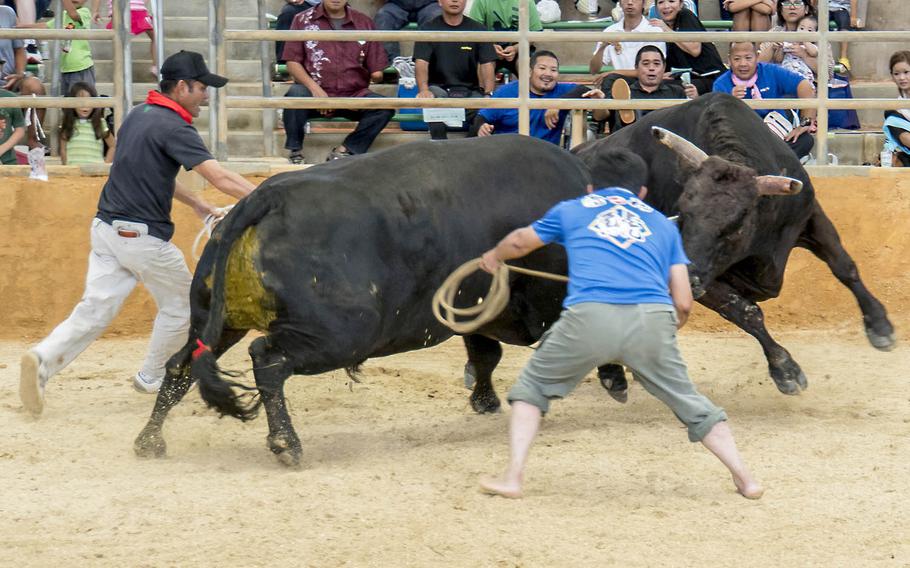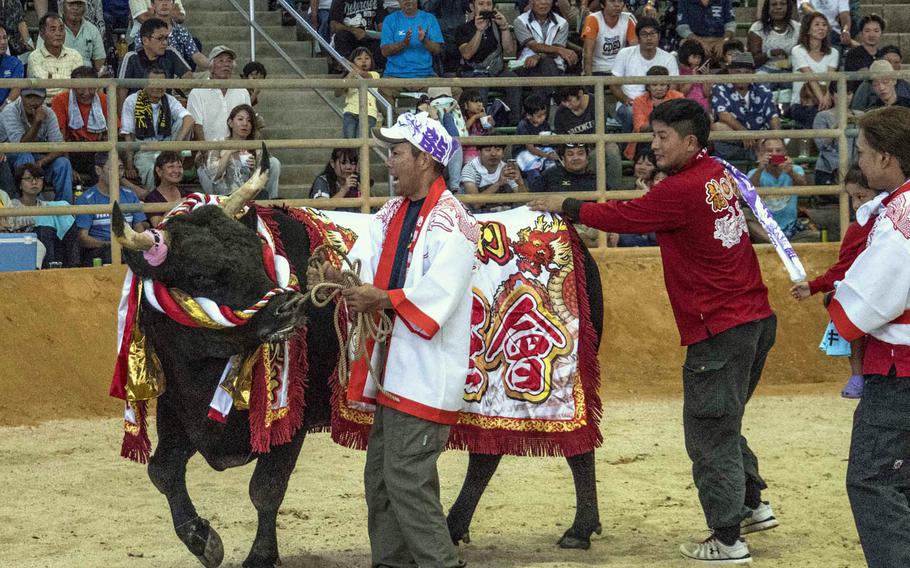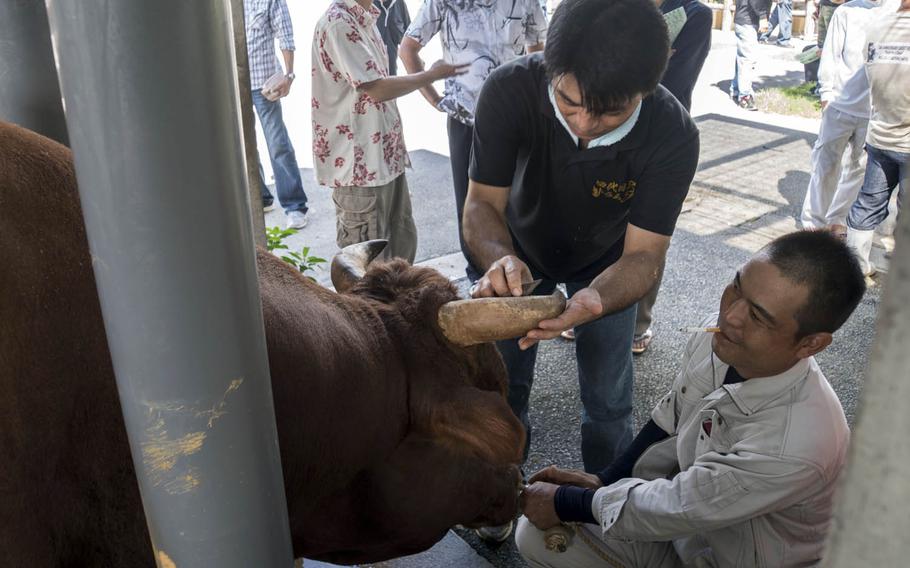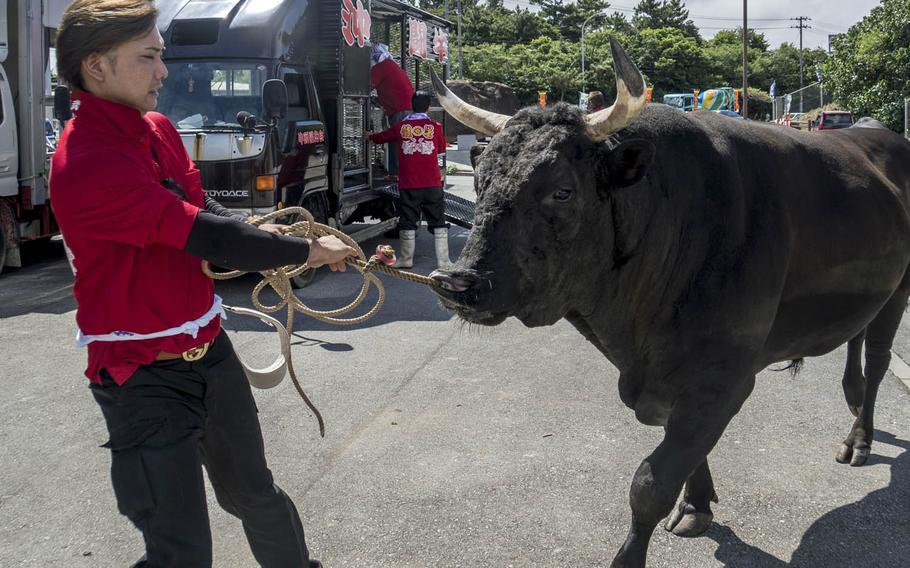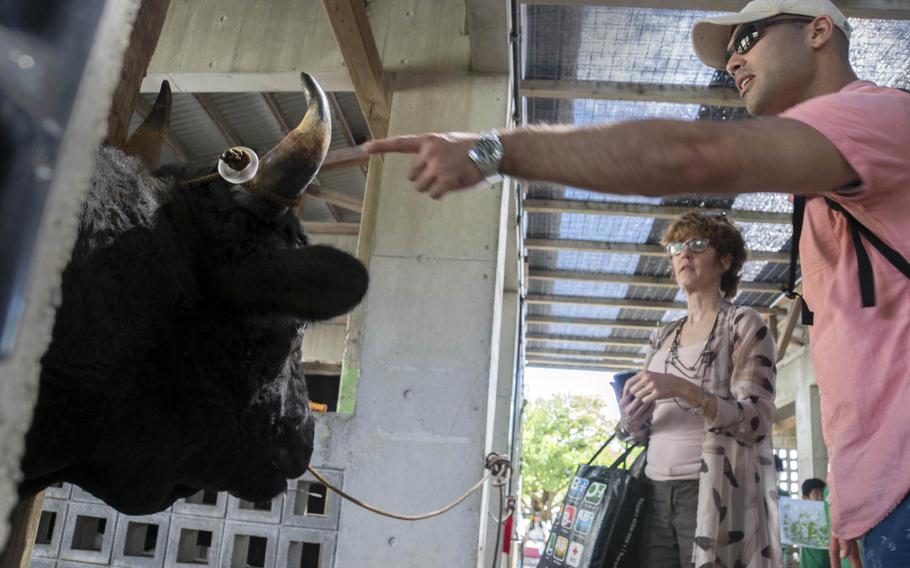 Many Westerners see bullfighting as a gory dance to the death — usually of the bull.
But bullfights on Okinawa aren't like those in Spain, Mexico and elsewhere, where the animals face off with a sword-wielding matador. For the most part, the Japanese version is bloodless.
The sumo-style fights, in which two bulls go head to head, are tests of strength and endurance between the creatures, each weighing nearly a ton.
The sport, which goes back nearly 800 years, is heavy on Japanese tradition, right down to the salt scattered in the small dirt ring to scare off evil spirits.
Crowds of locals and tourists young and old gather around. Protected by iron bars, they can get as close as 10 feet from the fight. When you're that close to the action, you're liable to be pelted with dirt from the rowdy, adrenalin-pumped animals.
The bulls are led into the ring by teams of handlers using thick ropes tethered through the animals' nostrils. Once they get in the ring, the bulls stare each other down, lock horns and the battle begins.
A handler is at each bull's side during the fight. He beckons and prods the beast as it works through a variety of maneuvers, both offensive and defensive.
The battle is a test of strength, but the animals' horns, grown and sharpened into a variety of shapes and sizes, are their No. 1 weapon.
For the most part, the fights are determined within a few seconds, but when the animals are equally matched, bouts can go on for up to 30 minutes. Judges in the stand determine the victor, but it's usually an easy decision: one bull holds his ground while the other turns tail and runs.
At the close of each brawl, the loser is led away while the conqueror takes a victory strut around the ring.
Okinawa bullfights
DIRECTIONS
Many fights take place at Ishikawa Dome, 2298-1 Ishikawa, Uruma City, Okinawa. Take 58 North toward Nago until you reach Route 73 on the right. Take 73 toward Ishikawa. You will see the large gray dome on the left.
TIMES
Fights are held most Sundays, with many starting around 1 p.m. Arrive early to take photos of the bulls.
COSTS
Admission ranges from free to 2,700 yen (about $25) depending on the event.
FOOD
Fast food, including corn dogs, polish sausages and fried chicken with French fries is available.
INFORMATION
See www.city.uruma.lg.jp.e.up.hp.transer.com/culture/1249/1382
---
---
---
---