Okinawa staff sergeant's video, class help kids exercise
by
Carlos Bongioanni
January 1, 2003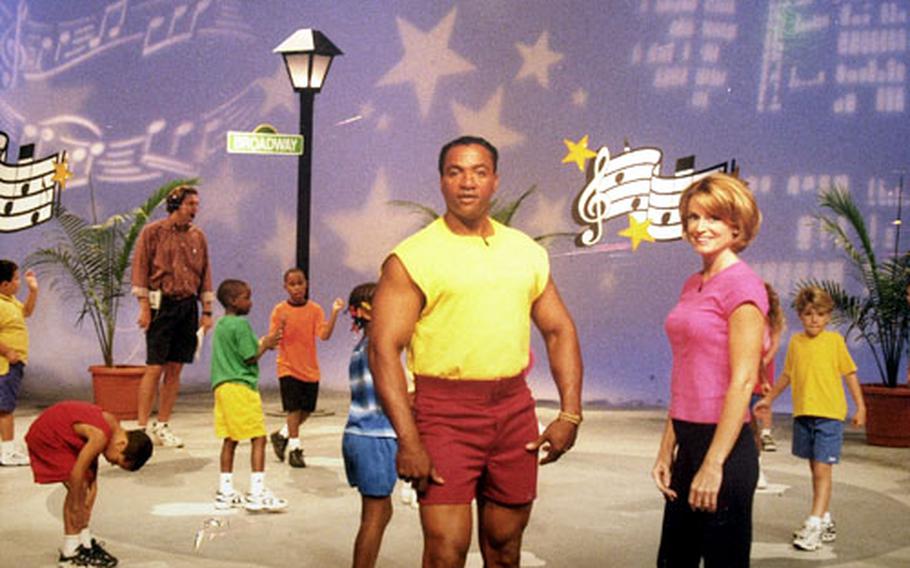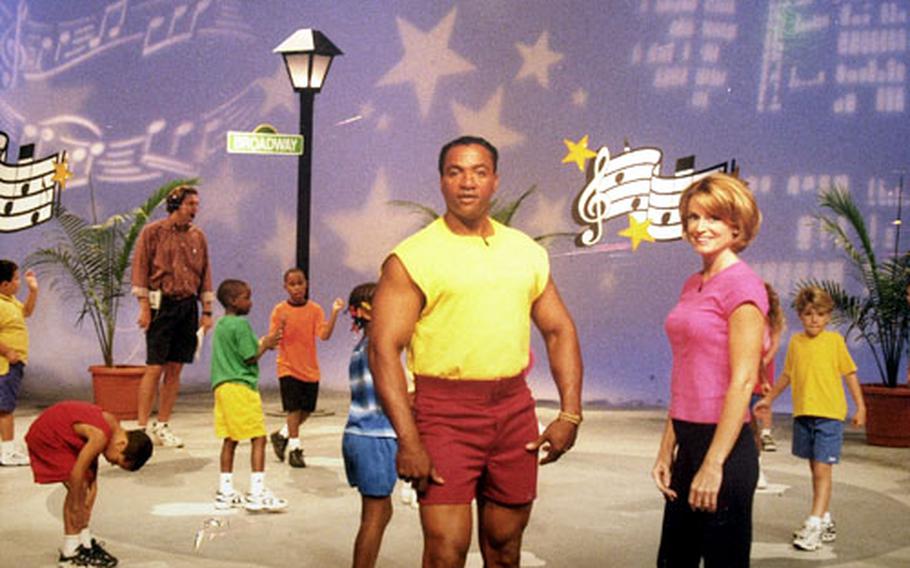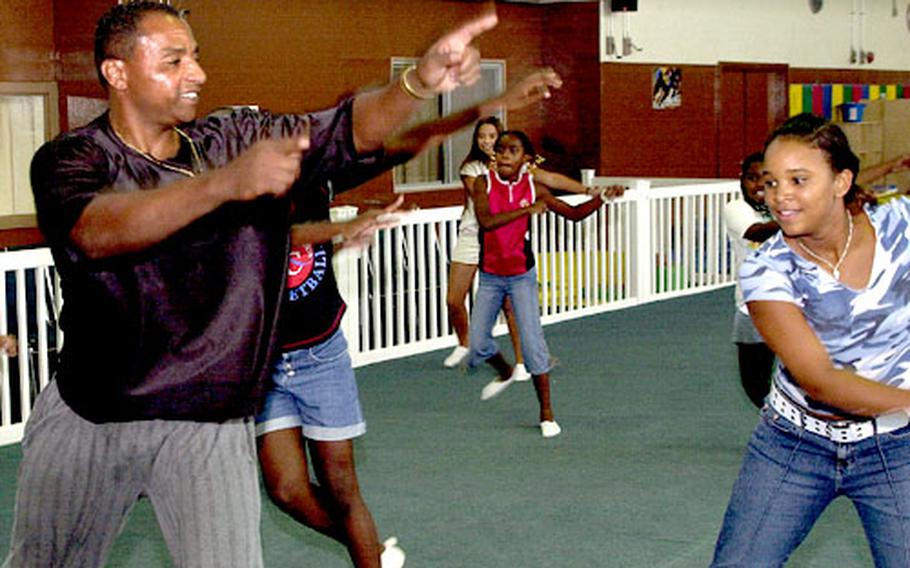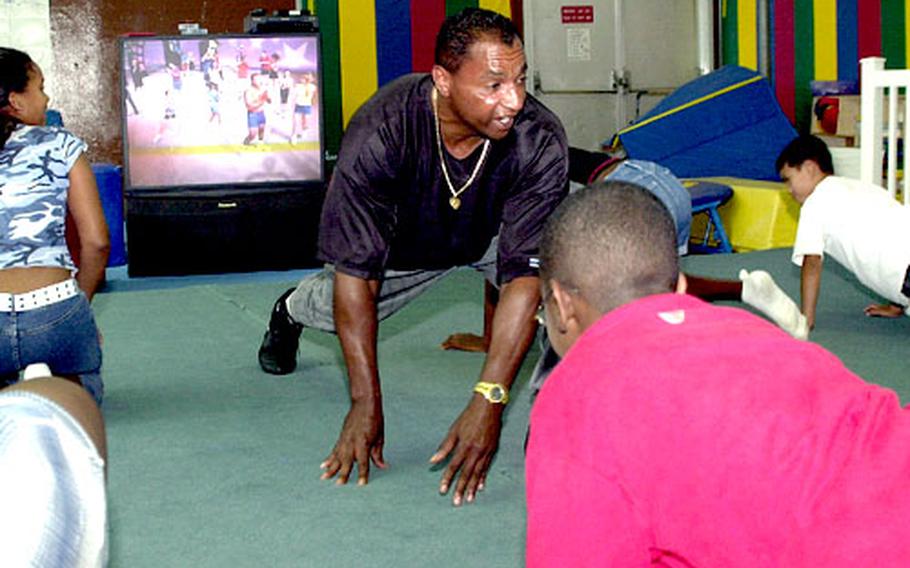 KADENA AIR BASE, Okinawa — Staff Sgt. Tony Webb shuffles to the left and shuffles to the right. He scoots two steps forward and two back again, while swinging his arms and punching the air.
He's movin' and groovin' for a fitness video that features Webb co-leading a series of exercise routines for children.
As the video plays at a Kadena gymnasium, children following along realize that the instructor on the television screen is the same person standing before them, live, demonstrating the moves.
The realization never fails to awe them, said Webb, a heavy-equipment mechanic at Kadena's 733rd Air Mobility Squadron. "They say, 'Hey, that's you,' and get more into it."
Webb was a key element in the making of two "Movin' & Groovin' " videos that hit the stateside market two years ago. In the first video, he and his partner lead a 30-minute workout tailored for kids ages 4 to 8. The second video lasts 36 minutes and has slightly more strenuous and complicated routines for children 8 and older.
Webb helped in the video production while stationed at MacDill Air Force Base, Fla. It was there that a Tampa couple, looking for solutions to their son's weight problem, asked Webb, their personal trainer at the time, to help them make an exercise video for kids. He then teamed up with a local aerobics instructor to choreograph exercise moves and dance routines for 22 original songs on the two "Movin' & Groovin' " videos.
After the videos came out, they garnered national attention with many media outlets running feature stories about them on their broadcasts and in local newspapers.
"On June 5, 2000, three days after I deployed to Saudi Arabia, the CBS 'Early Show' did a production," recalled Webb.
Interest in the video has been high, he added, because many people are looking for effective means to combat an epidemic of obesity.
Recent studies show that Americans, including children, are fatter than ever. The U.S. Surgeon General announced recently that in 1999, an estimated 61 percent of U.S. adults were overweight, along with 13 percent of children and adolescents.
After returning from the desert, Webb said he toured various school districts promoting the video. He said many schools are now using the video to enhance their exercise programs.
Since moving to Okinawa a year ago, Webb has used the videos to promote fitness locally by volunteering to lead children's classes two Saturdays a month.
"It's great," said Dean Lorenzo, 7, who was winded and perspiring after doing the exercises on both videos during a special session with Webb. "It was a good workout. I liked the exercises and the moves were fun."
The workouts weren't a cinch, though.
Most of the songs on the videos have upbeat, fast-paced tempos to give the kids a good aerobic workout. One catchy song that starts off with a thumping synthetic beat and rap lyrics gets the message across that, "Your heart is a muscle/ It pumps when you hustle/ It moves to a beat/ So get off the couch and move your feet."
And if there's any doubt what the purpose of the videos is, the song's chorus makes it clear: "Get your heartbeat up right now/ You can do it, we'll show you how/ Feeling good, you're looking great/ It's worth your while to stay in shape."
After the two 30-minute workouts with Dean, beads of sweat glistened on Webb's forehead, too.
Dean's father, Master Sgt. Ed Lorenzo, said he got a kick out of watching his son trying to learn all the moves. "This was his first time he's been in this type of exercise, so he's not yet coordinated in making all the moves, but he'll eventually pick it up," chuckled the father, who added that he was pleased with how his son responded to the videos.
"My main concern is I want my son to be more active. He's a purple belt in Taekwondo, so he gets some exercise. But at home, he plays the computer games and watches TV all the time after school."
Air Force Capt. Rosalind Abdulkhalik said she bought a video as soon as she heard about it and has already started to use it at home, even though her child is only 1. "It's geared towards kids, but I'm doing it, too," she said.
Webb said negotiations to sell the videos at base exchanges fell through. But one can obtain information on how to purchase the video by going to the "Movin' and Groovin' " Web site at www.exerciseforkids.com.
A fitness enthusiast all his life, Webb said he is thrilled with the popularity of the videos and the message they promote. He noted that a company in the States is currently negotiating to buy the rights to the videos in the near future. If that happens, Webb said he stands to earn 10 percent off the deal, which would likely be as much as $1.5 million.