Now a warning: Tattoos can come with health and career hazards
by
David Allen
May 7, 2003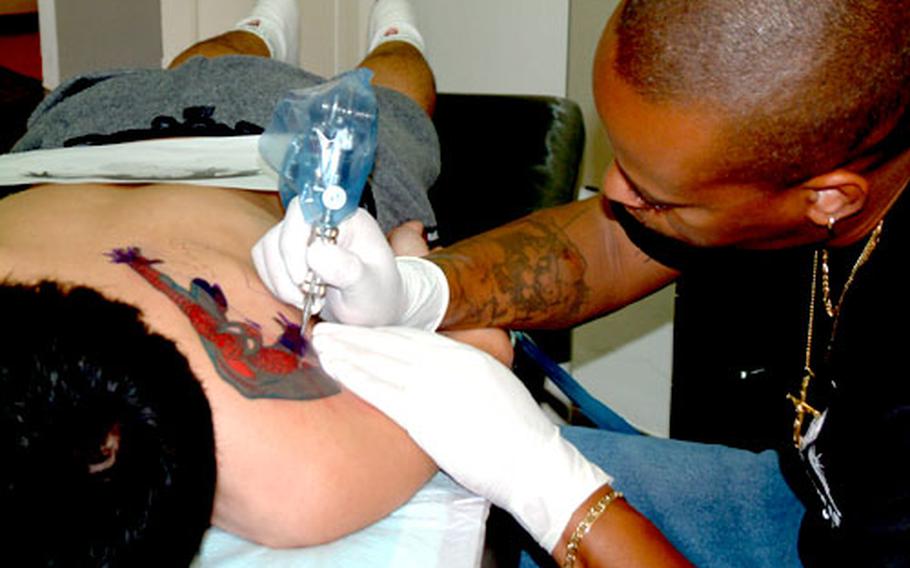 Lt. Cmdr. Dale Baker has a few words of advice for service members considering getting tattoos.
"Think before you ink," says the director of Community Health for the U.S. Naval Hospital.
"Our concerns about getting tattooed are universal, whether overseas or in the States," says Baker. "Any time you're putting a needle into your arm with some foreign substance — well, there are things your body sometimes doesn't do too well with."
There are no health regulations for tattoo parlors in Japan.
"How well is the equipment sterilized? The risk of infection is always there. And if an infection does set in it could result in the disfiguring of the tattoo so you don't get what you wanted," he says. "And then there are the concerns about contracting hepatitis B and C or being HIV positive — those are the three big ones."
Baker says there have been few such cases since he has been on Okinawa.
Besides health matters, Baker also cautions young service members on impulsively investing in a tattoo.
Removing tattoos by laser surgery and skin grafts can be an expensive and lengthy process.
"We also tell people that they need to follow their service-specific policy regarding tattoos," he says.
The language of the regulations concerning tattoos may differ slightly among the services, but it all boils down to banning any tattoo that detracts from a good military appearance. All services prohibit visible tattoos on the neck, face and hands and any body art that could be deemed gang-related, racist, sexist, obscene, extremist or drug-related.
Also, candidates for officer candidate schools can be ruled ineligible if they have tattoos on their forearms.
He suggests doing your homework before inking up."The first thing I'd do is visit the tattoo studio, talk to the operator; ask for a tour. Also, ask to see some samples of his work. Ask about whether the needles are sterilized, what kinds of inks are used?" Reputable tattoo parlors will be open to such questions, he says. "Also, be sure to talk to someone in your command first," Baker says. "Just to be on the safe side."