NICU reunion celebrates mini-marvels
by
Mark Oliva
May 27, 2003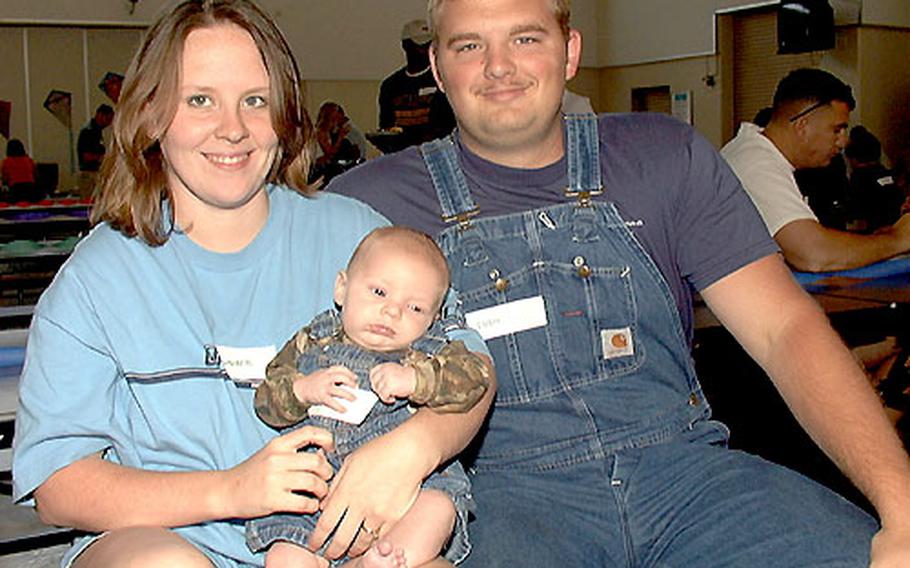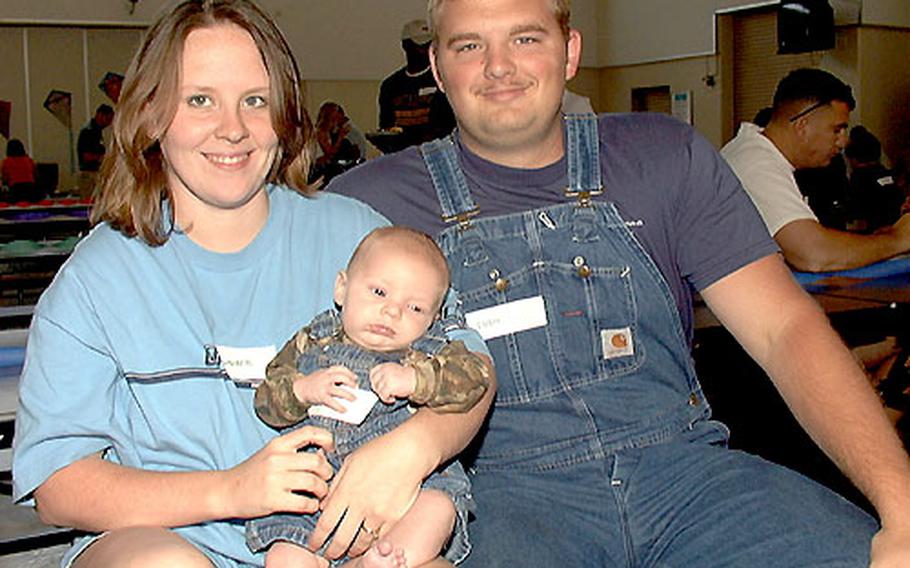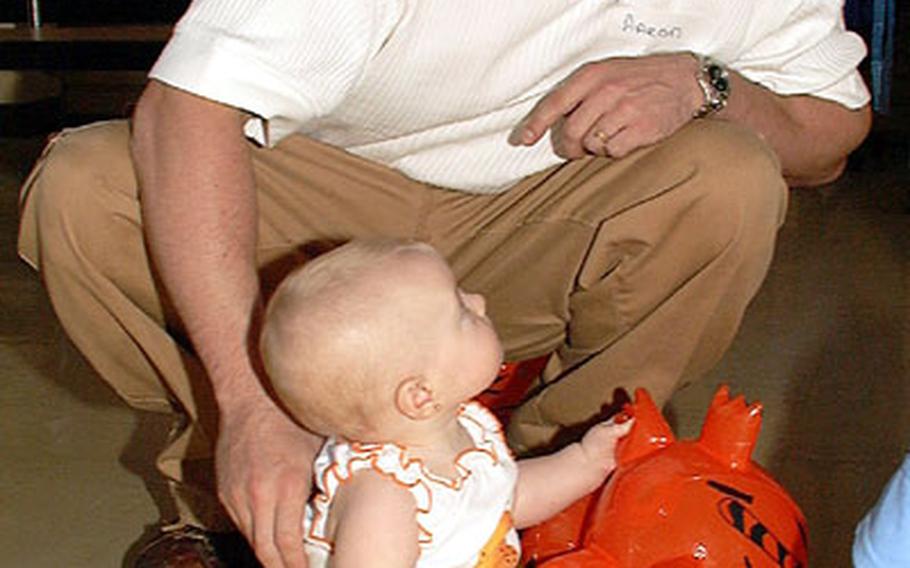 CAMP LESTER, Okinawa — Airman 1st Class Josh Bowlin and wife Jennifer beamed as they held their 11-week-old son, Eli. The infant's big eyes scanned the room and his parents mimicked his toothless grin.
For a moment, it was hard to tell if the Neonatal Intensive Care Unit's Reunion on May 10 was for the babies or the adults.
For one afternoon, more than two dozen babies, another couple dozen brothers and sisters and their doting parents gathered at Lester Middle School's cafeteria to get reacquainted with little faces and old friends. Each family is a miracle story. These are families whose children were born early or born sick. One girl was born only 23 weeks into pregnancy. Others overcame hurdles in their first days. Eli was one of those babies, fighting pneumonia and spending a week in the NICU.
"It feels really good to be surrounded by all these babies," Josh said. "It's very reassuring to see other families who have gone through the same thing we did and to see them doing well."
To see Eli now, it'd be tough to tell he had a rough start in his life. He swims in his overalls and coos in his mother's arms.
"It was very stressful," Jennifer said of Eli's stay in the NICU. "We stayed there the whole time. It felt like we never went home. One of us was always there."
At the reunion, it was like they never left. Nurses, who once stood over monitors and coaxed Eli through his first days, now hovered over him with expectant smiles.
"This gives us an opportunity to see the fruits of our labor," said Air Force Capt. Karen Larry, a NICU nurse attending her fourth NICU reunion. "They're miracles. All preemie babies in the NICU have had to fight to be here. The families had to endure some tough times."
Larry said most parents expect birth to be a joyful time. Little fingers and little toes and little cries wrapped up in baby blankets are the dream most people expect. But most of these families put off those dreams when their children were born. Instead of soft lullabies, beeping alarms and monitors surrounded them.
"It's a difficult time for these families starting in the NICU — and for us as well," Larry explained. "We get excited with the milestones and seeing the kids running around. We get sad with the setbacks too, but it's good to see they're here."
The gathering is as much about reassurance as it is about celebration, she added.
"We tell people to take it one day at a time with their babies," Larry said. "Here, they're able to see one or two years down the road and see that NICU babies do turn out to be healthy, normal children. It's a big encouragement."
The reunion, for the Bowlins, lived up to its name. The gathering was like a homecoming, complete with familiar faces and welcoming hugs for their son.
"It feels real good to be here," Jennifer said. "All the doctors and nurses remembered him. It's clear to see this is not just a job for them."