Naples: Bargain hunters head to antique and junk markets
by
Kendra Helmer
July 15, 2003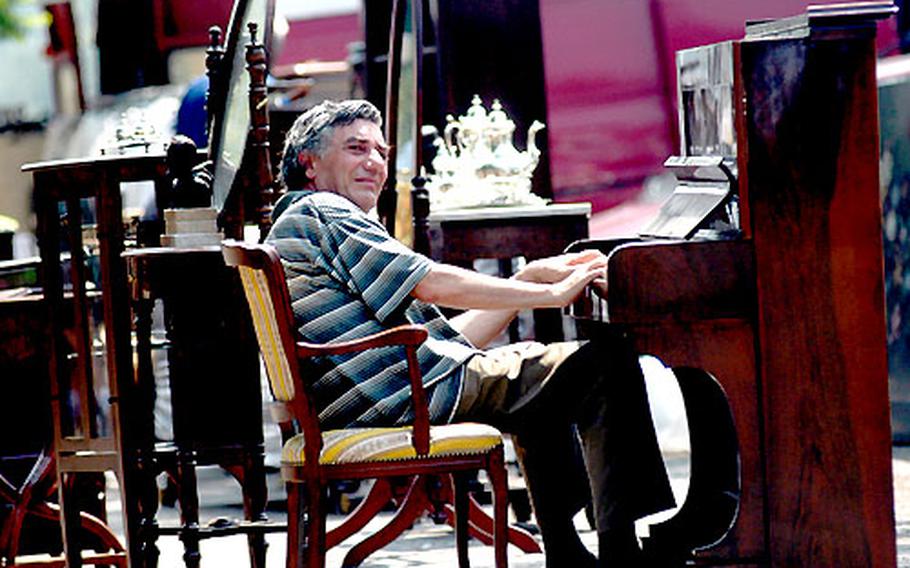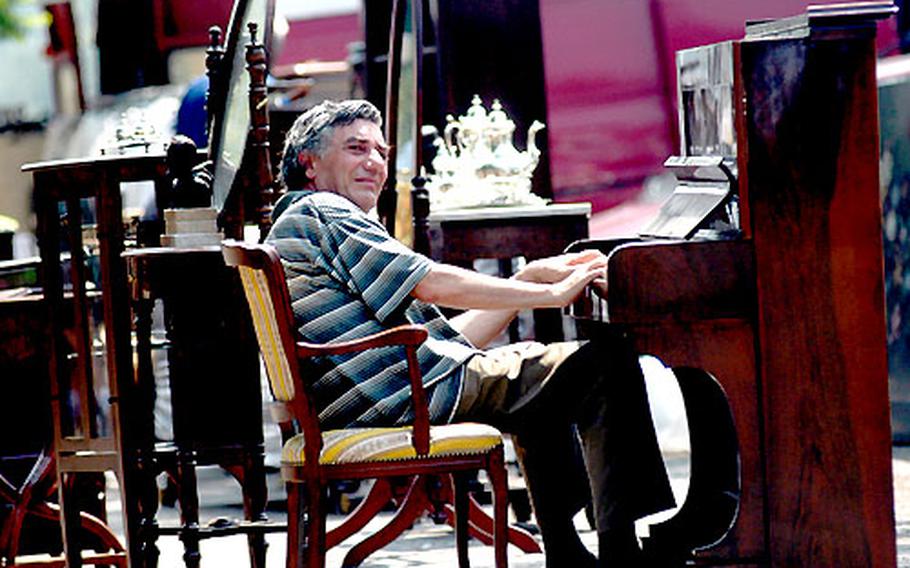 An overwhelming number of signs are plastered all around the city, pointing the way to restaurants, clubs, parks and stores.
But you certainly won't find any signs for yard sales. In Italy, the idea of selling something used (except pricey antiques) is unheard of. Ask Italians about yard sales, and they'll likely direct you to a store selling lawn ornaments.
"People just give things away or throw things away," said Loredana Volpe, intercultural relations program manager for the U.S. base in Naples. "Even with our close friends we would be a little bit hesitant of asking if they need a second- hand pot or pan. … Italians in general think it's kind of tacky."
Treasure hunters with limited funds do have some options, though.
Secondhand-goods aficionados can check out weekend yard sales on base or moving sales posted in the base newspaper for mostly clothes, toys and household goods.
If it's cheap designer goods you're after, there are countless street vendors selling knock-off purses and clothes sporting famous Italian designers' names.
If you want to leave Italy with some antiques, but prefer to avoid haughty boutique owners, head for one of the antique markets.
On a recent sweltering Saturday afternoon, Chuck and Julie Hendrickson perused several dozen tables at Naples' largest open-air antique market in Villa Communale Park.
"It is an excellent little flea market," said Chuck, an environmental specialist at Capodichino.
Nearby, an older Italian man played an antique piano to attract customers to examine his furniture, the sounds carried across the street to children scampering around rocks on the sea.
Other areas were crammed full of books, vases and World War II memorabilia. There were even some kitschy items you won't find at your local Wal-Mart, such as tiles depicting sexual positions.
Though most of the good stuff had long been snagged by antique store owners, the Hendricksons say they've gotten some good deals. They paid $350 for two inlaid wooden bedside tables in almost-perfect condition. They said they hadn't had much luck bargaining; Americans stand out in a market that attracts mostly Italian customers.
"We look like we're Americans who have money," Chuck smiled.
Markets in Naples
There is a large outdoor market in downtown Naples in front of the Aquarium, in Villa Communale Park. Take the metro to the Amadeo stop, exit and cross the piazza. Turn left onto Via V. Colonna and walk one block. Turn right down the flight of stairs and walk three blocks toward the sea.
To drive, head to the Naples port from AFSouth or Agnano. After the tunnel, veer right toward the sea. Turn left and drive along the water. The market is on your left.
It's held twice a month on the weekends, from 8 a.m. to 2 p.m. For the schedule, call 081-621-951.
A smaller market is held on Sunday mornings near the Agnano base. From the base, turn left. At the stop light, turn right. Veer left toward Terme.