'Mom, it's a job; I had to do it'
---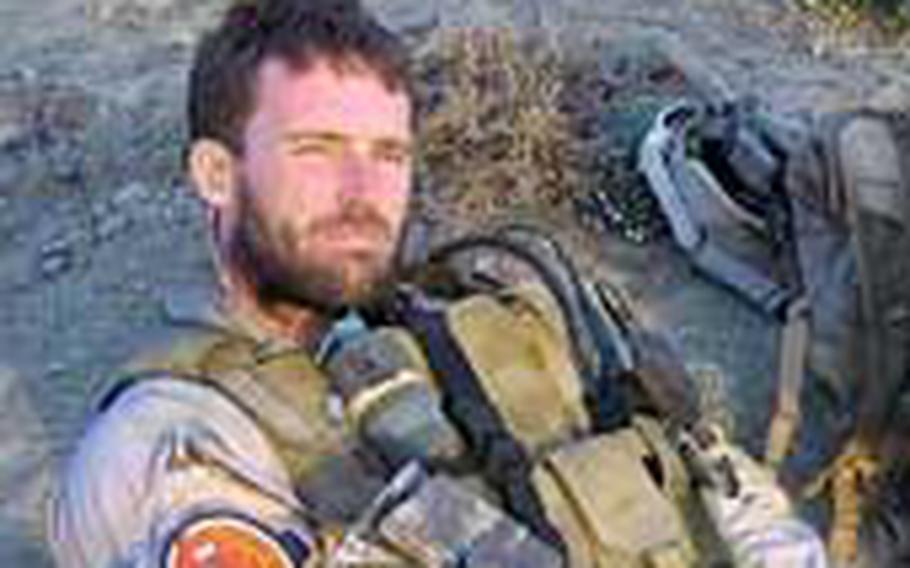 It's clear that Navy Lt. Michael P. Murphy's parents love talking about their son, whom they describe as a selfless, humble and heroic individual.
But their joy in recounting his life is tinged with an intrusive sadness.
It arrives unannounced when Daniel J. Murphy talks about how he's come to view the loss of his son, causing him to pause to regain his composure.
"The world might be a lesser place without my boy in it, but … the world was a lot better place … for 29 years with him in it," the elder Murphy said, choking back the emotion.
Michael P. Murphy was posthumously awarded the Medal of Honor last year in a ceremony at the White House. He and two other members of his SEAL team were killed on June 28, 2005, in Afghanistan.
While on a mission, the team came across some goat herders, whom Michael Murphy ordered to be released.
It is believed the herders told the Taliban where the SEALs were, and the team soon found themselves faced with an overwhelming enemy assault.
Michael Murphy was shot in the back as he called for backup, but the helicopter carrying the Quick Reaction Force was shot down on the way to the scene.
The SEALS continued to fight, but only one SEAL survived the battle — Petty Officer 2nd Class Marcus Luttrell, who was rescued later.
"By his undaunted courage, intrepid fighting spirit and inspirational devotion to his men in the face of certain death, Lt. Murphy was able to relay the position of his unit, an act that ultimately led to the rescue of Luttrell and the recovery of the remains of the three who were killed in the battle," the Navy announced in October.
Maureen T. Murphy said losing her son has left a void in her heart that can never be filled.
"There's always one part of the day where I just lose it because I miss him," she said.
The Murphys said the Navy has played a tremendous role in keeping their family together after their son's death.
"It is difficult to explain to people unless you've lost a child and, even worse, lost a child as a result of a violent death in defense of this nation, to exp— to— … to let them know how — it's not just a tragedy; it is something that pulls at the very fabric of the family unit," Daniel Murphy said.
"And it was the Navy community that kept us together," he said, his voice breaking. "They adopted us as a family and made us understand that we weren't alone."
Maureen Murphy said her son's hometown friends have also helped her with household chores. Last year, they raked up 153 bags of leaves at her Long Island, N.Y., home.
"And they always say it: 'Hey, he would have done it for us,' " she said.
She recalled the time that her son first talked to a retired Navy SEAL in college about the possibility of joining the SEALs. She said the man later revealed he was chopping wood when her son arrived at his home.
"He didn't even have to ask, but Michael took off his jacket, picked up an axe and started helping him chop the wood," Maureen Murphy said.
Her son viewed himself as a "cog in the wheel," she said.
"Everyone has got a job to do, and when you pull together, the job gets done," Maureen Murphy said.
Daniel Murphy said he hopes that quality of his son comes across in an upcoming movie about the SEAL team's fight in Afghanistan. He also said he has made some casting recommendations to Peter Berg, the actor and director who is working on the movie.
"I told him that Matt Damon would play Michael to a 'T,'" Daniel Murphy said with a laugh.
Brimming with pride, he said he also suggested that Ben Affleck could play Marcus Luttrell.
"Marcus says, 'We're in negotiations,' " Daniel Murphy said.
But Maureen Murphy said her son would not want a lot of attention.
"Michael would be like, 'Mom, it's a job; I had to do it, that's what I trained for, that's it, boom,' He would — he was very humble. He just would be, he would be — I can hear him saying, 'Mom, shut up. You need to be quiet right now. Don't be telling every little story about me.' "
Lt. Michael P. Murphy
Medal: Medal of Honor
Earned: June 28, 2005, Afghanistan
See related story here.
---
---
---
---