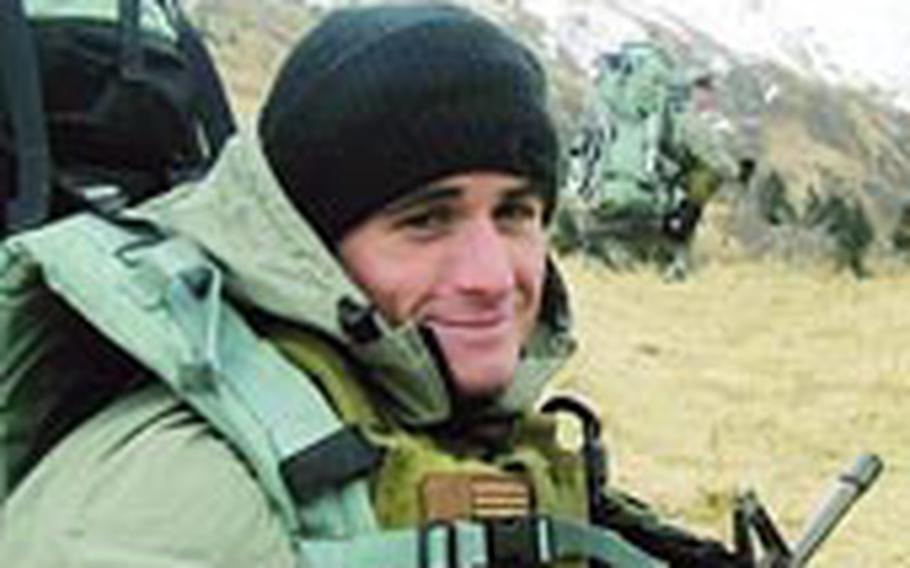 There are few awards not given to Petty Officer 2nd Class Michael Monsoor, the most highly decorated servicemember in the War on Terror.
The Navy SEAL had been awarded the Purple Heart, Good Conduct Medal, Combat Action Ribbon, Bronze Star with a "V" device, Silver Star; and in April, he posthumously received the Medal of Honor for jumping on a grenade to save his teammates.
Monsoor, 25, of Garden Grove, Calif., enlisted in 2001 and went through SEAL training later that year, but he had to drop out after he broke his heel.
From 2002 to 2004, he served on a security detachment in Sigonella, Sicily, before going through SEAL training again and graduating near the top of his class, according to the Navy.
On Sept. 29, 2006, Monsoor was on a rooftop in Ramadi, Iraq, when an insurgent lobbed a grenade at his team.
"He immediately leapt to his feet and yelled 'grenade' to alert his teammates of impending danger, but they could not evacuate the sniper hide-sight in time to escape harm," according to the summary of Mosnoor's actions, provided by the Navy.
Monsoor jumped on the grenade "without hesitation and showing no regard for his own life," the summary said.
"He is a martyr who embodies what all Americans should be striving for in terms of the survivability of our nation," said Navy Lt. Cmdr. Seth Stone, who led Monsoor's unit in Ramadi.
Stone remembers how Monsoor had a dry sense of humor that made missions more enjoyable, such as when the normally quiet SEAL belted out at the top of his lungs that an intersection was clear.
But Monsoor also was a stoic, Stone recalled.
"To be truthful, I thought he was the toughest guy in my platoon," Stone said.
Monsoor would never complain, even when he was tasked with carrying heavy weapons that had heated up to 150 degrees during the day, Stone said.
"I almost wanted him to complain sometimes," he said.
Stone said he was not surprised when Monsoor sacrificed himself to save others.
"Mike was a giver," Stone said. "He gave of himself on every mission."
To Monsoor, the choice between saving himself and saving others was no choice at all, President Bush said at Monsoor's Medal of Honor Ceremony in April.
"One of the survivors puts it this way, 'Mikey looked death in the face that day and said, "You cannot take my brothers, I will go in their stead,' " Bush said.
Monsoor's actions on Sept. 29, 2006, were not the first time Monsoor had saved a teammate. In May 2006, Monsoor exposed himself to enemy fire to rescue a fellow SEAL, who had been shot in the leg.
"He ran out into the street with another SEAL, shot cover fire and dragged his comrade to safety while enemy bullets kicked up the concrete at their feet," according to his Navy biography.
Monsoor's older sister, Sara, said he was committed to his friends.
He also applied creativity to solving problems, she said.
Once, his parents asked him to remove a palm tree, so he tied the tree to a car and yanked it out, the elder Monsoor said. Afterwards, he dragged the tree around in a victory lap.
"He just had fun with it," she said.
She said Monsoor's family is proud that he is being recognized as a hero, but she added she remembers him as a brother.
"Mike will always be my Mikey," she said.
Petty Officer 2nd Class Michael Monsoor
Medal: Medal of Honor
Earned: Sept. 29, 2006, Ramadi, Iraq
---
---
---
---