Mike's serves Tex-Mex hot and fast
by
Leon Cook
January 17, 2018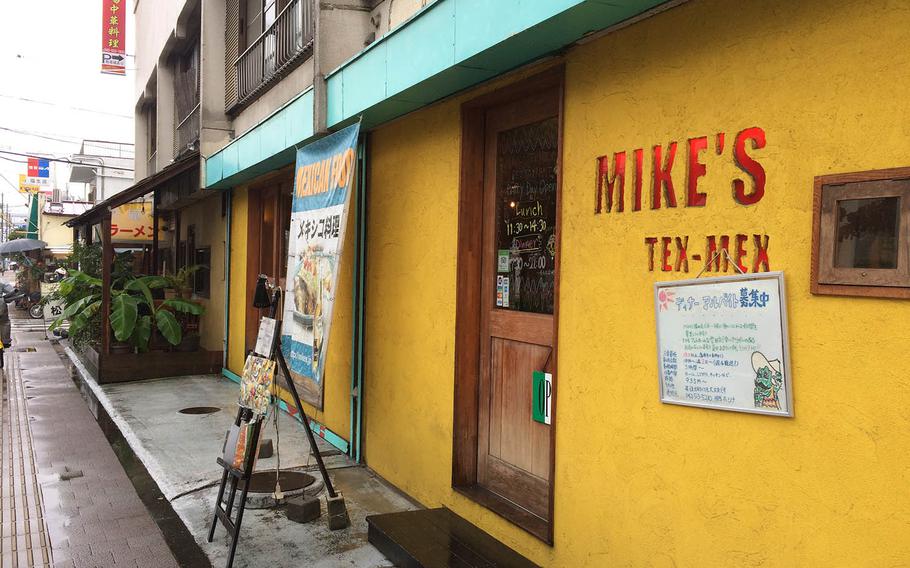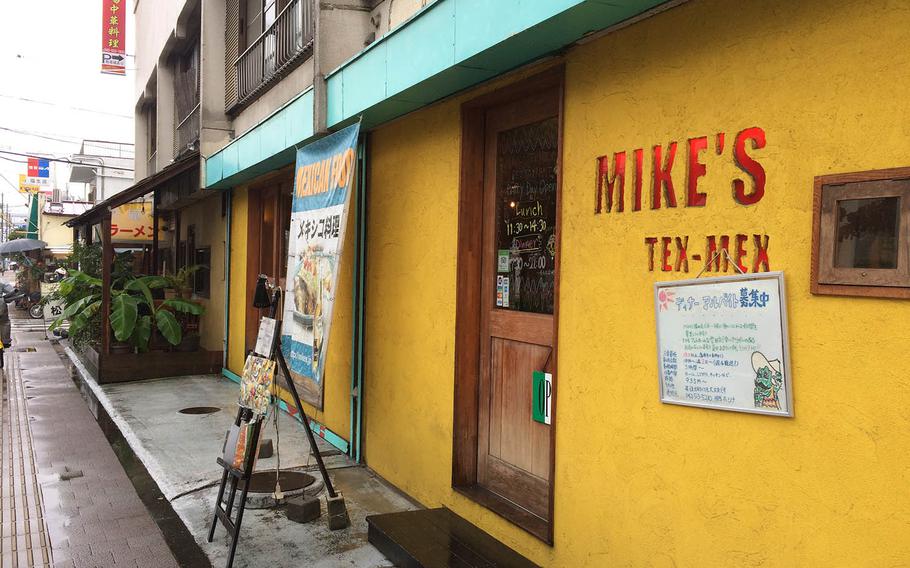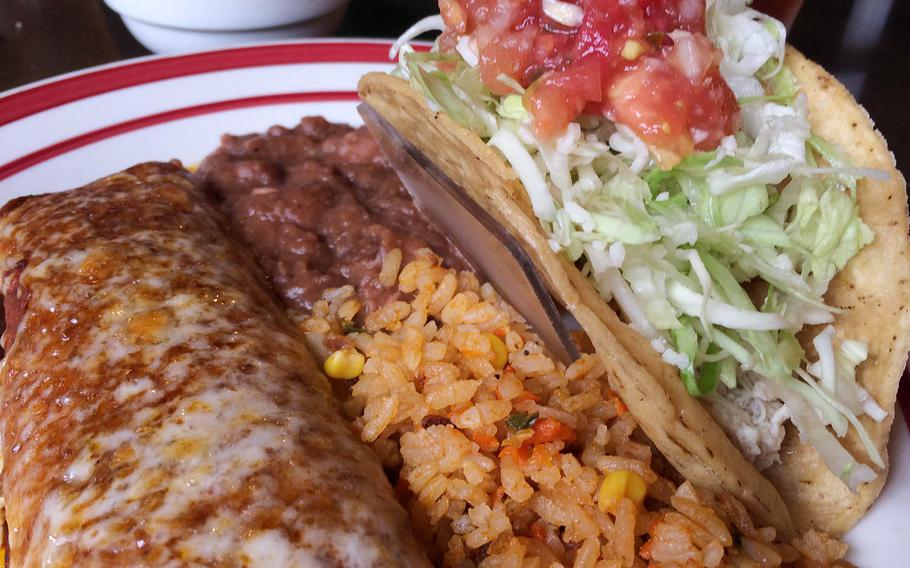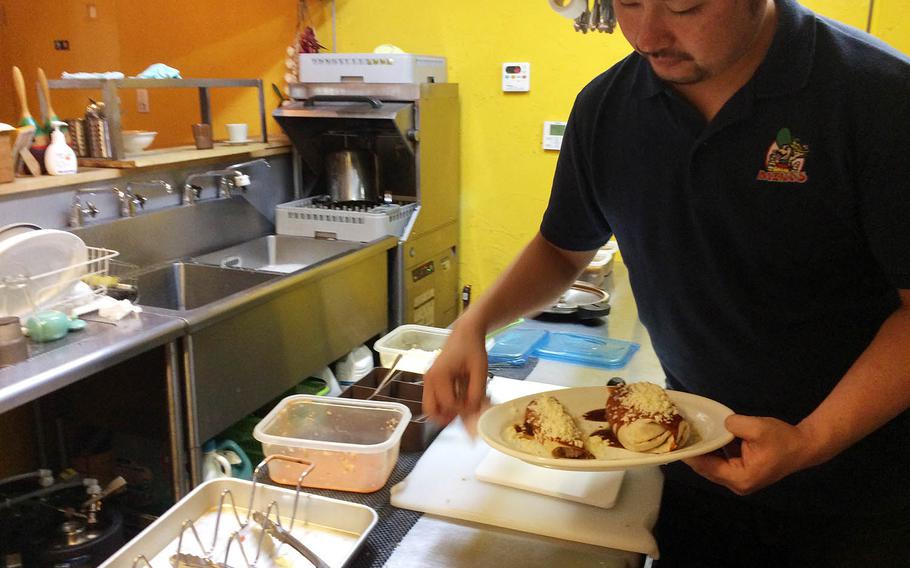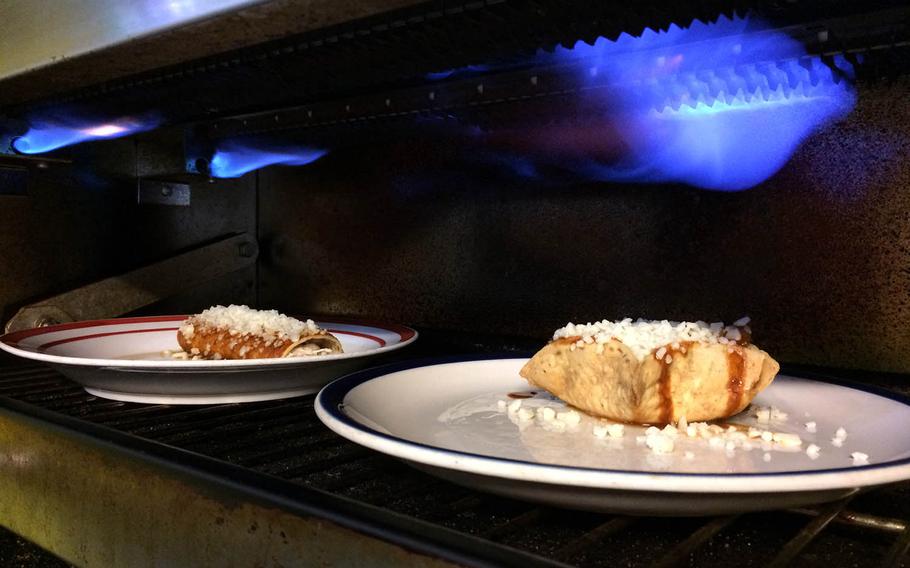 Most military folks in Japan won't have to venture far from base to satisfy a craving for Mexican food.
Mike's Tex-Mex, with seven restaurants near U.S. military facilities, offers affordable Mexican food for a largely American clientele. It's a great place for a quick lunch, though some locations are open only for dinner.
During a recent lunchtime visit to Mike's near Yokota Air Base in western Tokyo, I ordered a meal set containing a shredded chicken enchilada, a beef taco, Spanish rice and refried beans for 840 yen ($7.43). You can custom-order your level of spice, from mild to extra spicy. I opted for a mild flavor.
My food arrived five minutes later on an extremely hot plate. A generous portion of rice and beans surrounded the enchilada, while a smaller but equally hot plate held my taco.
The tasty enchilada — filled with tender chicken in a creamy, cheesy sauce — was my favorite part of the meal. The taco contained shredded beef topped by a mountain of lettuce, tomatoes and cheese. It was slightly greasy, but far less so than if it had been made with ground beef. I enjoyed it as well.
My hunger was sated by the enchilada and taco, but I tried the beans and rice out of curiosity. They were good, too.
The quick service was a plus. If the wait had been longer, I would've been tempted to get chips and salsa, which cost 360 yen (about $3.20).
My friend tried the Hungry Hombre special, which included an enchilada, taco, burrito, rice and beans for 1,580 yen (about $14). He said it was all very good, though the lunch set I ordered was a better deal.
There are plenty of drinks on offer at Mike's. The menu lists tequila, margaritas, beer and more than 40 cocktails in addition to soft drinks. They even serve milk.
Parking is available near the Fussa restaurant that I visited at a garage across the street. Mike's can't validate parking since the lot doesn't belong to them, but they offer a discount if you present your ticket.
Although there are plenty of American-style restaurants in Japan, I haven't noticed nearly as many Mexican places. The portions at Mike's were more generous than expected and the food was tasty, so I think I got good value for money. I can see myself going back.
Mike's Tex-Mex Location: Seven outlets near Yokota Air Base, Yokosuka Naval Base, Naval Air Facility Atsugi, Misawa Air Base, Marine Corps Air Station Iwakuni, Sasebo Naval Base and Marine Corps Air Station Futenma
Hours: Vary by location. The Fussa location is open from 11:30 a.m. to 2:30 p.m. and 5:30-10 p.m.
Directions: The Yokota location is north of Fussa Station and across the street from the hospital.
Cost: Expect to spend about $10 per adult.
Information: www.mikes.jp/index.html; 042-513-5210
---
---
---