Marriage, the military go hand in hand
by
Kent Harris
July 17, 2005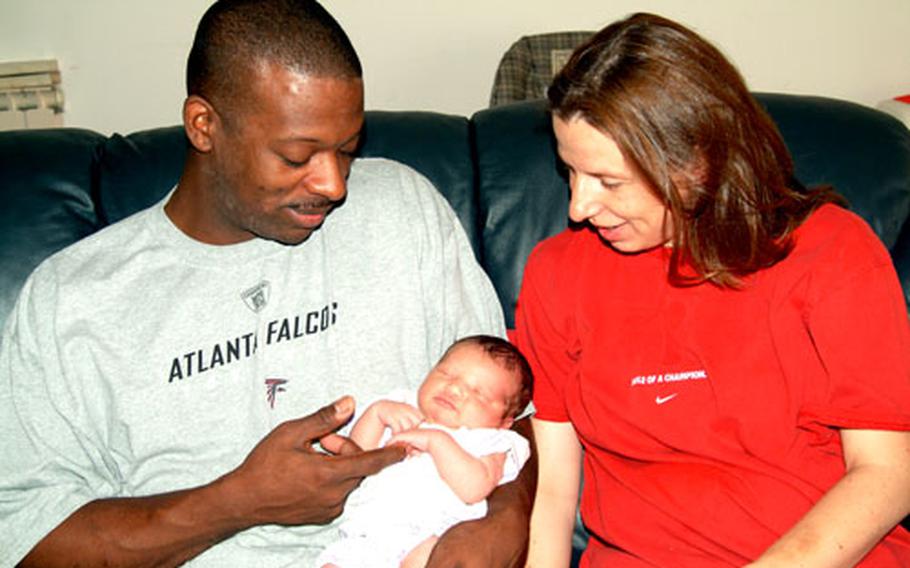 Are you a young military member, married and with a new addition to the family either just arrived or on the way?
Statistically, you're in good company. According to figures from the Military Family Resource Center, almost 56 percent of servicemembers are either married, have children or both.
Take away the Marine Corps, where only 43.6 percent of the force fits into that category, and the numbers are even higher. The Army leads the way with 59.3 percent having "family responsibilities," according to a 2003 demographics report posted on the center's Web site.
And while there's a common perception that more people in the States are waiting until they're older to get married and have children, that doesn't appear to the case with thousands of servicemembers.
The average age of a servicemember when his or her first child is born is 24.5, according to the demographics report, compiled via information from the Defense Enrollment and Eligibility Reporting System.
Even that might be a bit deceptive, because the largest numbers of first-time fathers are in the 20- to 23-year-old range. And with active-duty mothers, it's even younger, with the most prevalent years being 19 to 22.
There doesn't appear to be evidence to support a theory that military families are larger than their counterparts in the civilian world. But, because many servicemembers are in the prime baby-generating years, starting a family with the help of Uncle Sam appears to be a popular choice. There are obvious incentives to do so, with inexpensive or free medical care during the birth process and rises in benefits (such as housing allowances) paid out for additional family members.
Maj. Debra Egan, maternal child health flight commander for the 31st Fighter Wing at Aviano Air Base, Italy, said military leadership has obviously taken note that families — and starting families — are important to servicemembers. She said the situation has "definitely" improved over the last decade.
"It is a big priority," she said. "There's a lot of support available in the community to help [new parents] out."
Egan said there is an array of programs that are available before, during and after the birthing process. There's been a special emphasis in recent years to support pregnant women whose spouses are on long-term deployment, she added.
Such deployments often spur their own waves of newborns. Egan said that appears to be the case more often at Army facilities, because that service's yearlong deployments to places such as Iraq and Afghanistan are now commonplace, while the Air Force's deployments are shorter.
Statistics on how many babies are born to U.S. servicemembers in Europe are hard to come by, partially because some parents either choose to or must use local-national medical facilities.
The 31st Medical Group's operation, which Egan's a part of, at a former Italian hospital in Sacile served as the birthplace for 302 children last year. Dozens of those came to Army families from Vicenza.
That situation has changed, though, with the recent opening of a birthing center at Caserma Ederle in Vicenza that was heavily pushed by Army leadership. Egan said the hospital in Sacile would lose some customers because of that. But she pointed out that the mere existence of the hospital is proof of the Air Force commitment to those starting families.
"This hospital basically exists because of the obstetric operation," she said. The military took over the facility, which was closing, to use primarily as a place for Americans to give birth. It will close when the new medical center opens on base in 2008.
Strollers and tots running about on military bases is nothing new. According to the 2003 demographic study, 71.9 percent of servicemembers' children were 11 years old or younger, with 39.8 percent 6 or younger.
The Department of Defense Dependents Schools system is heavily designed toward educating younger students. The populations of DODDS elementary schools are much higher than those of high school counterparts.
Even in the elementary schools, the younger grades have the most kids enrolled. That was one of the reasons DODDS made a push recently to establish all-day kindergarten at all schools. The numbers of kids were certainly there to support it. "We're a big supporter of babies," O'Gara joked. "Because it keeps us in business."
Local fairs cater to parents
Where to begin shopping for all of baby's needs? The Internet is a good place. New and expectant parents living in Germany should check see the Web site www.babymessen.de. It's in German only, but gives an idea of upcoming fairs at which you can buy all kinds of necessities for babies and young children.
Here is a sampling of upcoming fairs with dates, venues and admission fees:
Ulm — Sept. 24-25, Ulmmesse, Boefingerstr. 50; 6 euros adults, 10 euros per couple.
Sindelfingen — Oct. 22-23, Messe Sindelfingen, Mahdentalstr 116; 7 euros adults, 12 euros per couple.
Würzburg — March 11-12, 2006, Congress-Centrum, Bleichtorstrasse; 6 euros adults, 10 euros for couple.
Ludwigshafen — April 1-2, 2006, Friedrich-Ebert Halle, Erzbergerstr. 89; 4.50 adults, 7 euros per couple.
Offenburg — April 22-23, 2006, Messe Halle, 1a+b, Hall 2, Schutterwaelderstr. 3; 6 euros adults, 10 euros per couple.
Koblenz — May 6-7, 2006, Sporthalle Oberwerth, Jupp-Gauchel-Str. 10; 6 euros adults, 10 euros per couple.
Naples, Italy, hosted a baby fair in Mostra d'Oltamare, in May and plans another for April 20-23, 2006. Check its Web site, www.fieradelbambino.it, for details.
---
---
---
---