Marine spouse rediscovers skill, art of writing
by
David Allen
March 14, 2010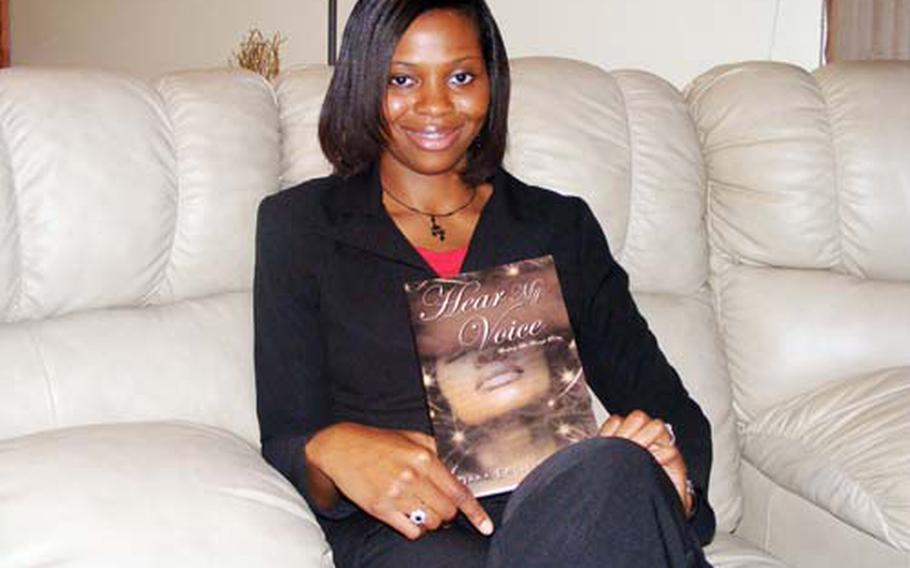 Writing poems to her deployed Marine husband has opened up a second career for Dana English-Nelson, a medical assistant at the U.S. Naval Hospital Okinawa.
Now English-Nelson, 31, spends her free time writing personal poems for birthdays and anniversaries, skits and monologues for fashion shows and special events, and is a featured poet at the Lyrical Lounge, a quarterly live poetry series sponsored by Marine Corps Community Services.
"I've been writing since the age of 11 or 12," English-Nelson said at her home on Camp Lester. "Until recently, I only did it for me. It was my outlet. Instead of acting out, I'd write. I did some stuff in school, but I was always too shy."
But when her husband deployed to Iraq in 2008, she began writing again.
It started with a poem titled "Thirst for You."
Like flowers in the spring
That have dried out and are
Dying for rain
I thirst for you …"
"It was the first one, just after he left," English-Nelson said. "It was about three months before I got out of a depressed mood. The poems helped me write through the pain."
She has known her husband, Master Sgt. Samuel Nelson, assigned to Combat Logistics Regiment 3, for 10 years, and they have been married for the past five.
But her poems surprised him.
"He didn't even know I wrote," she said. "He read them and told me, 'I feel like I don't even know you. You should publish this.'
"He was my push," she said.
The result was a 177-page book of poetry titled "Hear My Voice," self-published by AuthorHouse of Bloomington, Ind. It's offered for sale at several online booksellers, including Amazon and Barnes & Noble.
During the day, English-Nelson works for the hospital's deployment health program. She's involved with making sure servicemembers have all the proper immunizations and updated health records before deployment, and then sees them when they return for health checks.
A lot of writing time outside of work is spent with the children at the Foster Chapel's youth ministry.
"One of the ministers involved in the youth ministry asked me what I could share with the children, and I told her I write," English-Nelson said. "Eventually, my goal is to develop a poetry workshop for kids on the island. It'd be a way for them to bring out their emotions in their writing instead of acting out."
She says her favorite poets are Maya Angelou and Hughes.
"I like to read a lot of spiritual poetry," she said.
Since she started to share her poetry, she feels she's become more mature.
"I've grown a bit, and my writing reflects that," she said. "I think there's more depth."
Through the Lyrical Lounge, she's gotten in touch with other poets — especially others who, like her, had never shared their poems with anyone else.
"That's been really great," she said. "It's important to support each other because we're all so far away from home and — occasionally — our loved ones."
"Dana's a really special person," said Alfred Kennard, who published his book of poetry in 2004 when, as a young Marine corporal, he spent the hours riding the Green Line bus between Camps Hansen and Foster scribbling ideas into a notebook.
"She's an inspiration to all the other poets who perform at the Lyrical Lounge," he said.
"These poems reflect all different aspects of life experiences — love, faith, loneliness — that people go through during their lives," English-Nelson said. "I hope my writing serves as a voice that speaks out for people in a positive way. We can overcome anything if we have a little faith."
---
---
---