Making waves: AFN upgrades its system, moves to Mannheim
by
Kevin Dougherty
December 19, 2004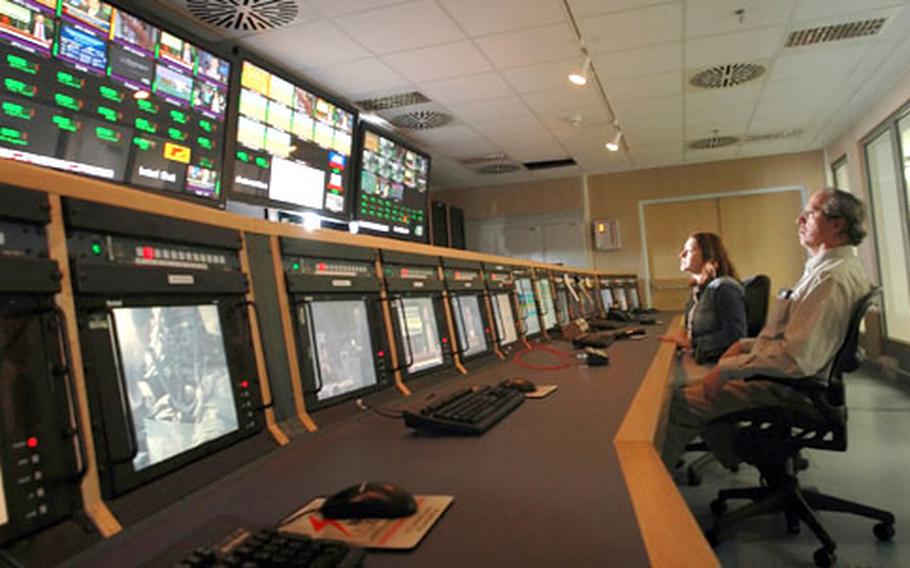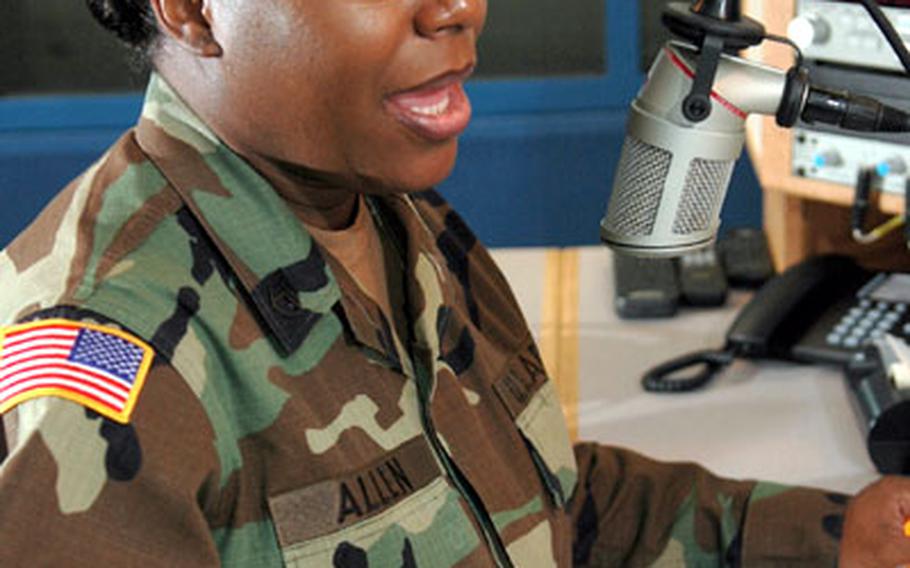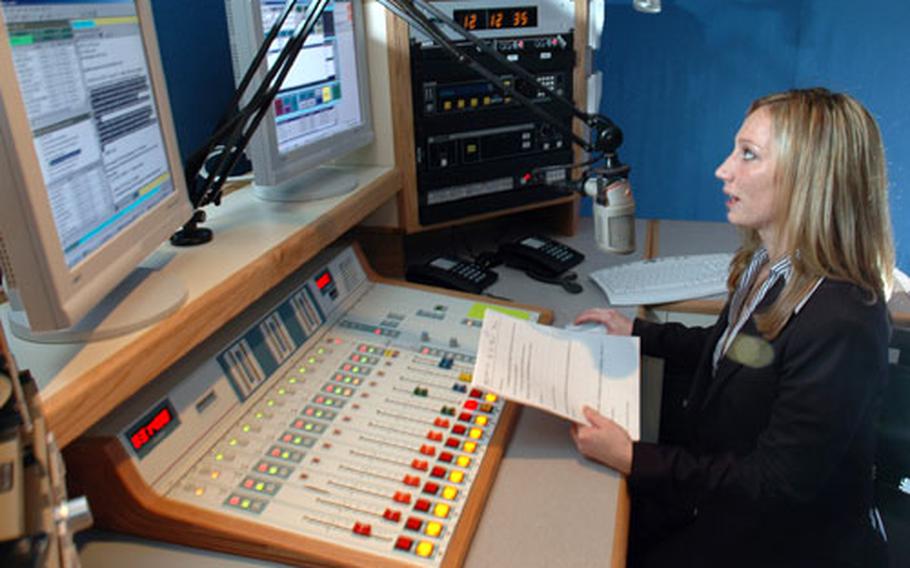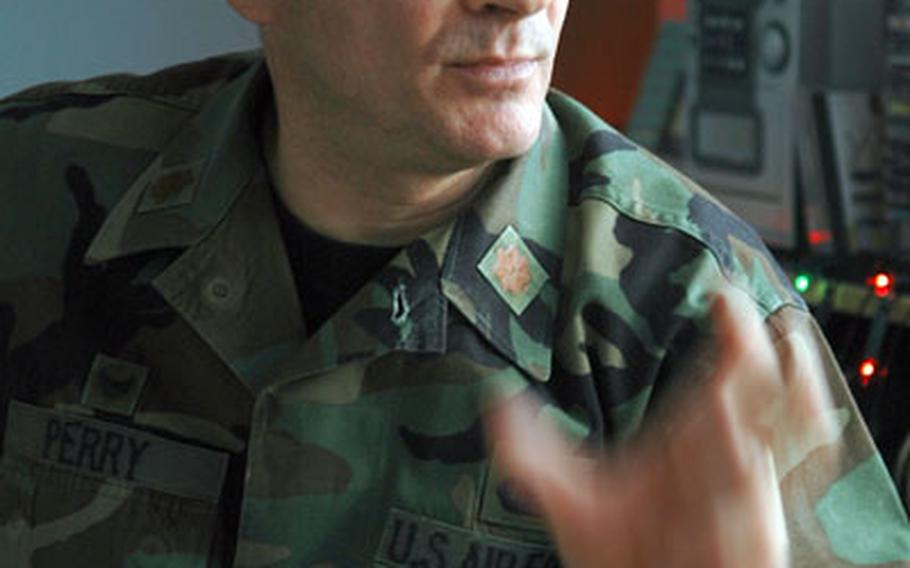 Wayne "Red" Costa is standing at the end of a long, towering row of amps, servers and receivers, one of a few such aisles located directly behind the large, multiscreen monitor in AFN-Europe's network operations center.
Except for Costa's black, well-worn Pittsburgh Steelers cap, everything in sight in the Mannheim, Germany, facility looks spit and polish. The gear, the studios and the offices are all fresh, possessing a sort of new-car feel.
On this day, Costa and colleagues are taking dozens of visitors on a tour of the new broadcast center for American Forces Network-Europe. After nearly 60 years in Frankfurt, Germany, AFN has relocated its headquarters to Mannheim.
"Everything lives and dies by Hotbird 4," says Costa, who appears to be in midseason form as he chats up three U.S. Army Europe employees.
The "Hotbird 4" Costa speaks of is a high-powered satellite AFN uses to serve its customers in Europe, North Africa and the Middle East. Thirty years ago, when Costa came to Europe as a young soldier, AFN had just one channel and six hours of evening programming.
"And we were happy," he says. "Man, were we happy with one channel."
Nowadays, of course, the radio and TV landscape is quite different for Americans stationed overseas.
In the past three decades, AFN-TV has expanded to 24-hours-a-day, seven-days-a-week broadcasting, and from one to 10 channels. Technological advances in the mid-1990s allowed engineers to digitally compress TV and radio signals, creating more band space to transmit.
Change and innovation continue to be a constant at AFN, which, like Stars and Stripes, comes under the umbrella of the Office of the Secretary of Defense for Public Affairs.
The technological boost AFN realized when it moved to Coleman Barracks in late October is something employees spoke about again and again at the open house.
And they weren't referring to objects in space.
Much of the gear now used by AFN reporters, editors and technicians is cutting-edge stuff. Reporters dispatched to austere locations, such as Iraq, use equipment boasting some of the latest advances in digital technology. The gear is enabling them to file timelier reports from a deployed location, as opposed to waiting until they return to their home base.
With the new digital equipment, Michelle Michael says, "AFN is more advanced than most commercial stations in the States, technically."
Michael knows quite a bit about commercial stations. Prior to coming to AFN, Michael worked as a reporter at WOWK, the CBS-TV affiliate in Charleston, W.Va. When she left last year, the station, located in the nation's 57th largest market, was still using videotape technology.
AFN "has advanced tenfold just moving into the building," Michael says, referring to the quantum leap in technology, "and I think our audience will be better served."
The new facility is called the Robert Harlan European Broadcasting Center, named in honor of AFN-Europe's longest-serving program director, from 1968-1986.
History means a lot to AFN, which took to the air on July 4, 1943.
Along some of the freshly painted hallways are old photos, presidential letters and other documents chronicling the past. The center's half dozen studios are all aptly named for past affiliate locations: Bremerhaven, Berlin, Frankfurt, London, Munich and Nuremberg.
There are also small, handmade models of the two previous headquarters: the Von Brüning Castle in Höchst, which is now part of Frankfurt; and the just-vacated site on Bertram Strasse.
The network left Frankfurt because the departure of U.S. forces from the city in the 1990s left AFN isolated from its audience. Officials were also worried about the safety of AFN staffers, given the high-profile mission.
Air Force Maj. Wayne Perry, the network's executive officer, says the equipment upgrade and the cost of renovating the new headquarters, a former mess hall that dates to the 1930s, totals about $12.5 million.
"We got a lot of [new] equipment," Perry says. "We didn't take anything with us."
Perry and others at AFN, from frontline reporters to technicians in the control room, admit the staff has yet to realize the full potential of the new gear. Most seem enamored by the stuff. Perry calls it the "toy factor."
But the state-of-the-art equipment has caused some problems, and probably will for some time, Perry says. Though there is greater efficiency, the time saved is often devoted to further training on the new equipment.
"When you are dealing with automation," says Jerry Bryza, a telecommunications manager, "it's not going to be perfect."
Costa, now back in his chair in the operations center — a head-turning place with its wall of miniature screens — takes the growing pains in stride.
"Every day," Costa says, "we are getting a little bit smarter."
---
---
---
---