'Lost Planet 2' just another shooter
by
Brian Bowers
May 30, 2010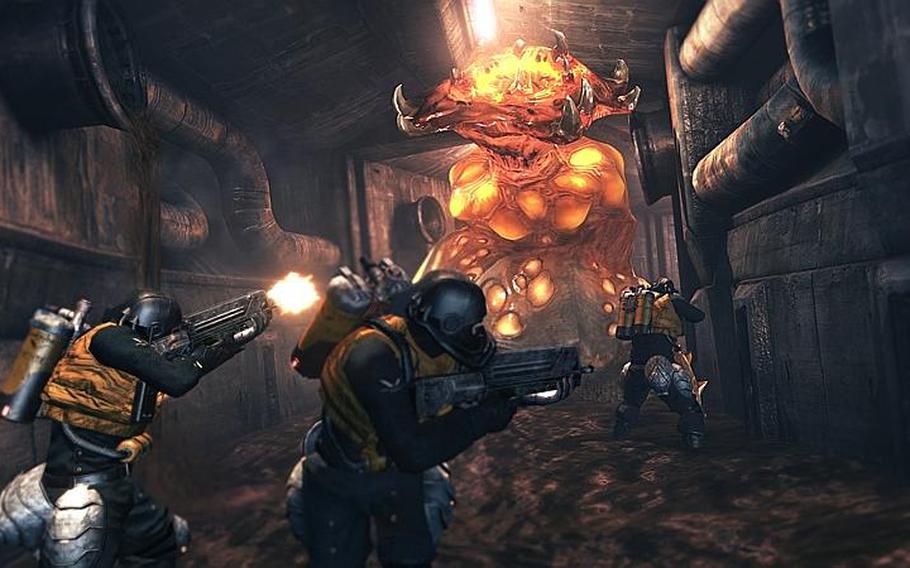 In "Lost Planet 2," life on EDN III is a bit more complex, but also a bit less interesting than in the past.
The T-rated third-person shooter from Capcom returns to the frosty planet a decade after the original game. In the intervening years, human colonists have transformed the icy ball into a world with diverse environments, including cities, jungles and deserts. They have also split into a number of factions — mercenaries, ice pirates, carpetbaggers, sand raiders and others — who compete for the planet's life-giving thermal energy.
During the campaign, you play as various members of these factions — faceless grunts who are quickly replaced as they're blasted by enemies or squashed by Akrid, the gigantic fauna of EDN III. Don't expect character development — or much of a narrative. The campaign plays like a series of semi-related missions with little sense of story until the closing episodes.
However, combat can be pretty intense, as well as fun. Human foes aren't always very bright, but there are usually enough of them to make things interesting. And you'll face plenty of enormous Akrid, which generally require concentrated firepower — and perhaps a few tricks — to take down.
Your weapon selection is pretty basic at most points — shotguns, machine guns, sniper rifles, rocket launchers, grenades and perhaps an energy rifle. However, you occasionally get access to large mechanical fighting suits, known as vital suits. These can be equipped with upgraded versions of standard weaponry for some pretty impressive results.
One big change in the game concerns the role of thermal energy. In the original game, you needed to continually collect thermal energy from defeated foes or storage tanks or you'd freeze to death. This kept the action level high, but also led to quite a bit of frustration when no enemies or T-ENG tanks were around. This time, you still need to gather energy to keep yourself healthy in battle or to activate a vital suit. However, a depleting energy level is no longer a ticking time bomb that's likely to mess up your mission, unless you're actually in a battle.
The graphics are generally pretty good, with detailed, interesting environments and good character renderings. However, visual glitches — enemies' arms poking through walls, for example — are pretty common.
The controls are well laid out and they react smoothly. However, I believe the game would have benefited from a system that allows you to take cover.
While the original game focused on its single-player campaign, "Lost Planet 2" encourages players to team with others to complete the story. Up to four friends can play online, or two can play in a split-screen setup.
In addition to its campaign mode, the game offers several versions of online competition. These offer a good selection of weapons, vital suits and other vehicles. The maps seem to be well constructed, with plenty of vertical elements for those who like to use their grappling hooks to get above their foes.
In each mode, "Lost Planet 2" certainly keeps things moving. However, the action doesn't really stand out from other shooters and the limited story line leaves the sequel feeling a bit flatter than the original.
Platforms: Xbox 360 (tested), PlayStation 2
On the Web: www.LostPlanet2Game.com