Letter-writing assignment helps class express itself
---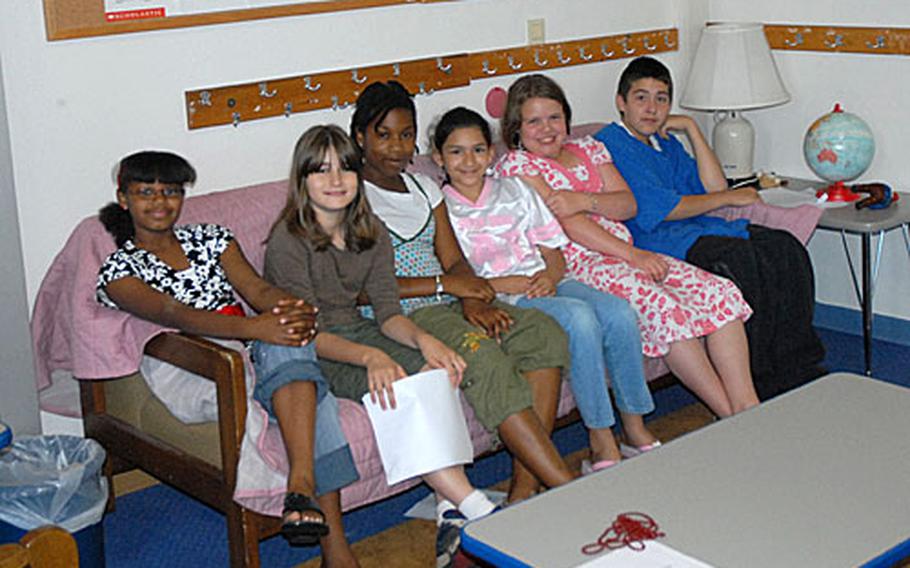 There was just one more day of school, but the future veterinarian, foster mom and guitar-playing Marine of the Reading 180 class at Würzburg Elementary School had other matters on their minds.
A few weeks before, their teacher, Michelle Winter, had given them an assignment: write a letter to the editor of Stars and Stripes. They could choose their own topic.
Out of the 10 letters written, half were about the closing of Würzburg's Leighton Barracks. Others were about expired food at the commissary, abandoned pets and an 11-year-old's take on the differences between the United States and Germany.
Due to the size of Stripes' letter section, all the students' letters couldn't be published. So talking to them as a group about what they'd written seemed like the next best thing.
The class had already lost one of its 11 members, what with families moving and the 2008 closure looming. But the remaining fourth- and fifth-graders had no reservations about making their voices heard.
"We were actually having a chance to speak out and not be one of those people in a corner," said 10-year-old Hanna Teldenhof.
Hanna, joined by classmates Alexis Colbert, Kelli O'berry, Nylah Stroud and Chris Bailey, all 11, and Juliet Trevino, 10, talked about their letters on that last day of school.
"Don't close Würzburg's Leighton Barracks! We have a great PX, commissary, schools, and more!" Juliet had written. Born in Würzburg, she said she was sad that she and her 13-year- old brother, Thomas, have to attend school in Stuttgart, Germany, next year.
"Leighton Barracks is beautiful because there are flowers, like tulips and daffodils, cherry trees, and similar nice touches.
"Everyone wants to remain in Würzburg or nearby. Remember, do NOT close Würzburg's Leighton Barracks!" she wrote.
Kelli, the future guitar-playing Marine, said of the letter, "At first I just wanted to get it over with, but in the middle I thought it was fun."
Having just returned from the United States, she wrote about how Germany's Wal-Marts don't measure up to those in the States, and how it's easier to go fishing there, too.
"I don't really know if I would prefer to live in the U.S. or Germany. All I know is that I want to live in a place that's away from danger, like volcanoes and hurricanes. I guess that I don't have to worry about that right now since I'm just a kid," she wrote.
Hanna wrote of her family's attempt to adopt a dog. Because of previous problems with Americans leaving their pets behind when they moved, employees at the German pound wouldn't let them.
"Some people are also leaving their pets in their house or outdoors after PCSing. Pets can starve to death or get hit by a car if their owners have abandoned them. It makes me feel sad that poor innocent animals are dying because their owners aren't caring for them," Hanna wrote, saying in the interview she was "shocked" to hear of people mistreating their animals and sad that she couldn't adopt a pet.
Alexis, who already has dogs, wrote about the recent stateside pet food pandemic, even including a recipe for dog food in her letter.
"In my opinion the base commissaries shouldn't sell dog food that contains any unhealthy ingredients in it," she wrote. "People's pets in the U.S. have been dying from the tainted dog food that has been said to have rat poison in it."
Asked about her letter, Alexis candidly said, "I wrote it because I love dogs and I really don't want my dogs to die."
Two things all the students shared was frankness in their writing and excitement about sharing their opinions.
The Reading 180 class, which also has elements of language arts, science and social studies, has opened her students' eyes, said Winter, a Department of Defense Dependents Schools teacher for 17 years.
"Some of the parents have told me that [their child's] desire to read has increased," she said.
Perhaps it's also increased their desire to write. Their lettters certainly seem to say so.
---
---
---
---