Japanese cheer made Tokyo Marathon unforgettable
by
Paul Newell
April 12, 2008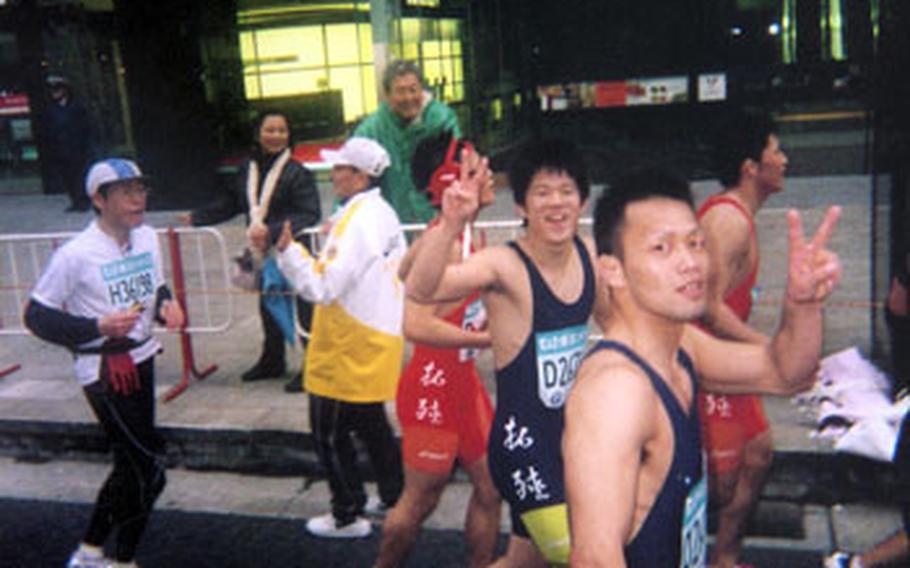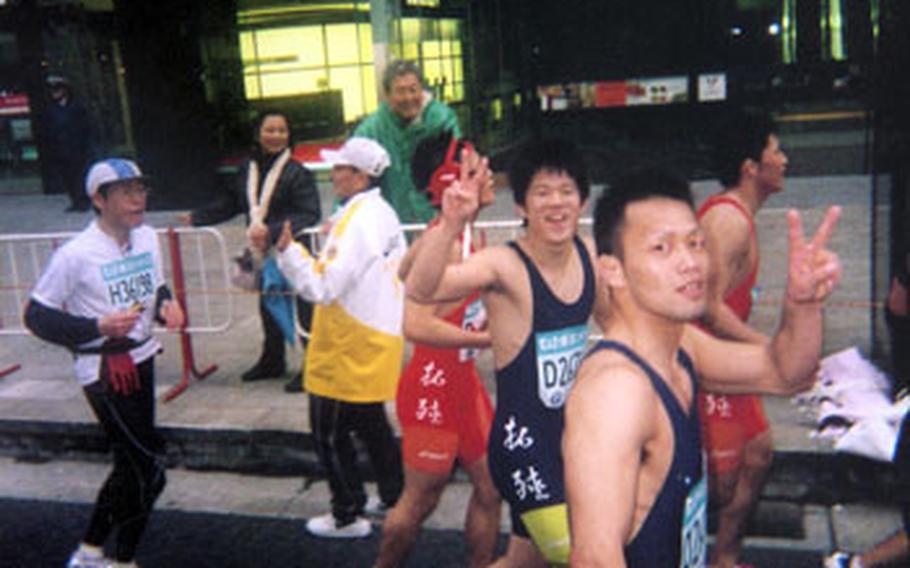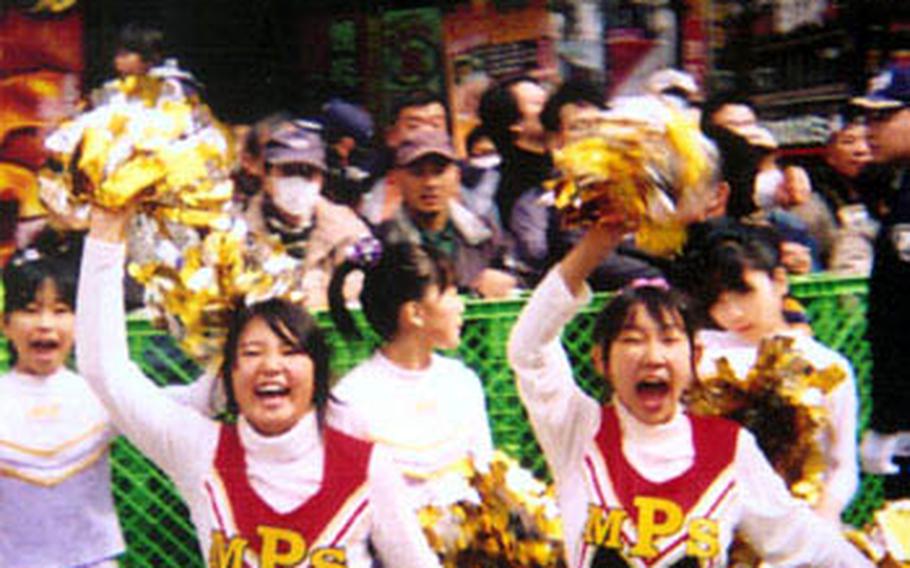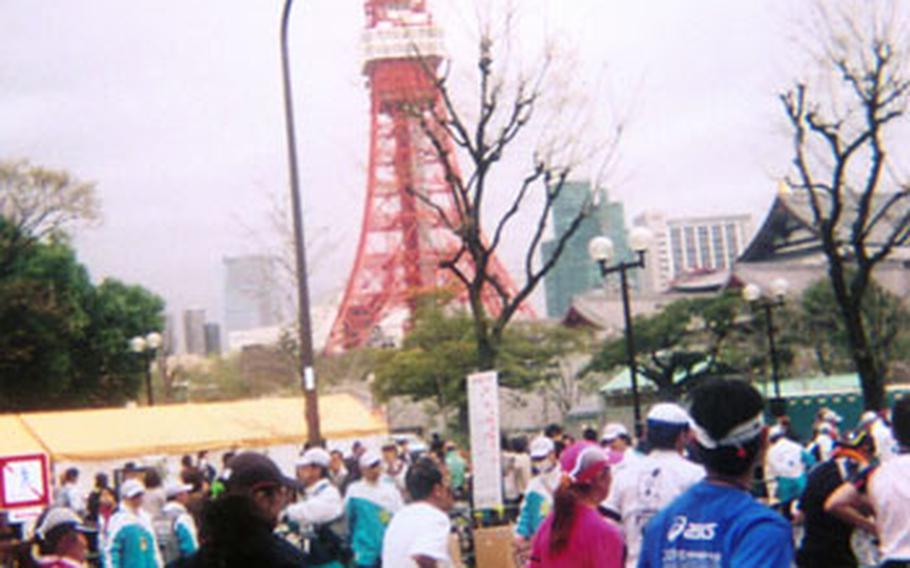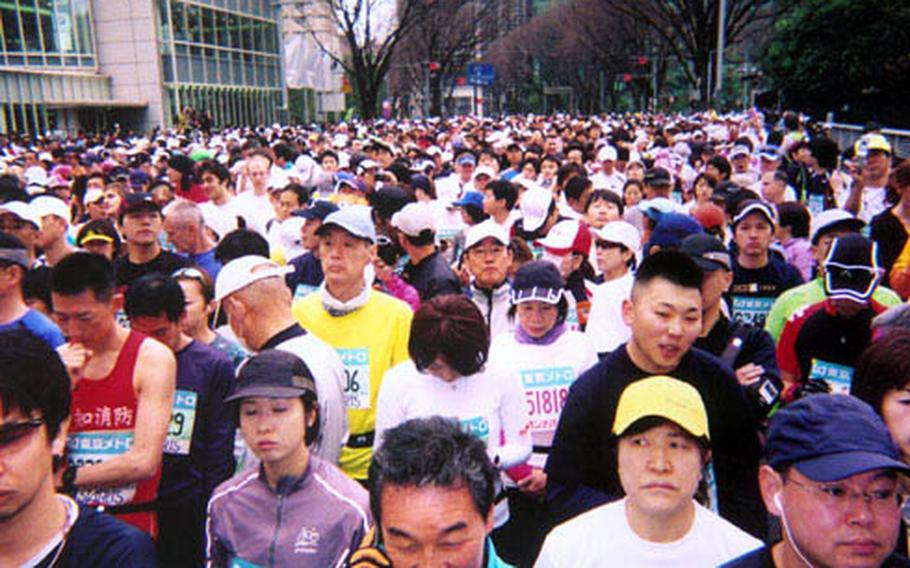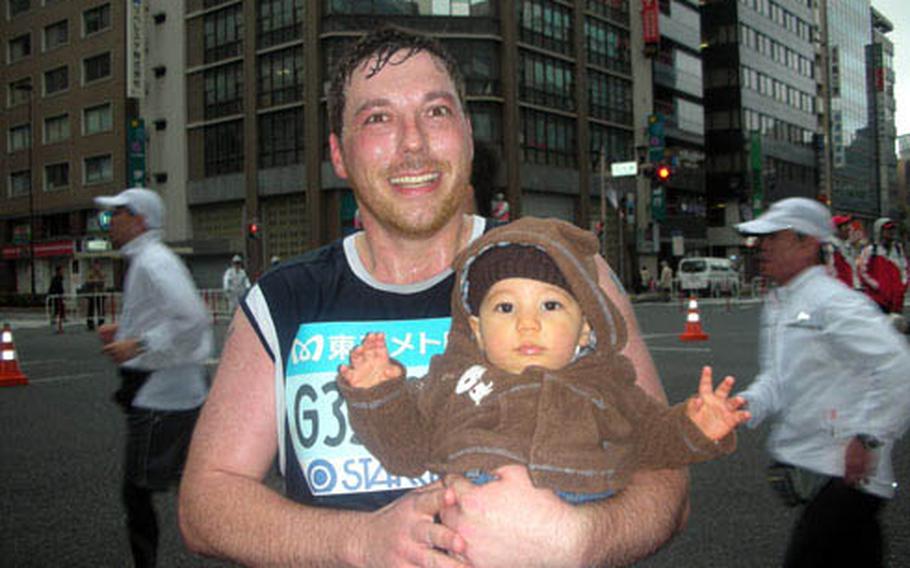 Pain, "jelly legs" and 26.2 miles were no match for the Tokyo Marathon spirit of 2009.
From the time the starting gun fired in front of the Tokyo Metropolitan Government building in Shinjuku to the finish line at Tokyo Big Sight in Ariake, thousands gathered along the streets shouting "Gambate, kudasai!" and "Fight!" — cheers that beckoned us to keep moving toward our goal.
It is one of the best experiences I've ever had. I've never had so many cheerleaders. I mean, there were literally uniformed cheerleaders along the race's path. There also were taiko drummers, brass bands and appropriately-placed gospel singers at the race's end to comfort those of us seeking divine intervention.
For 26.2 miles, parents and children urged us forward. Elderly ladies threw hands skyward to offer high fives. I was so sure the encouragement was for those behind me, I timidly botched many hand-to-hand landings until finally realizing the support was there for all.
What surprised me even more was the need for support from family and friends. The race's first three miles are downhill, so, coupled with my roughly 11-minute-per-mile pace, things were fine. Neat sights around the Imperial Palace highlighted the mark, and all was breezy. But after passing Shinagawa and creeping to the halfway point in Ginza, the legs began to stiffen, and I found myself peering to the sidelines more and more to look for those who pledged to root me on.
The toughest part of the race for me was from the halfway mark to 17 miles, which is when my legs quickly transformed from reliable transportation to dead weight. I found myself exasperated. To think, I had to still complete 13 miles, which was still longer than any distance I'd ever ran! Where was my wife and baby boy? What happened to Erica and Aki? Would Elena and Hana show? Was Luke still running? At this point, I needed my personal support team more than ever. To help ease the burden of mileage, I hit every water station. I was parched, and though most runners used discipline and spit out half the water they put in their mouths, I did a double-downing of both the amino drink and water. Fortunately, I never cramped.
And some of the costumes offered timely comic relief. One runner was moooving along as a cow. Another Japanese man was dressed as an American Indian. I couldn't help but think of the controversy that may have stirred if we were back in the U.S. But in Japan, people just nodded and smiled as he zoomed by. And being in Japan, I also noticed a few in samurai garb and others in sumo attire. And of course, many dressed in drag while others sported fantastically hideous wigs. For three or four miles, I ran beside five or so high school wrestlers in uniform running as a team. They seemed to get the best cheers, so I leeched onto them as long as I could for the adrenaline boost.
I also leeched onto the treats along the way. Japanese spectators handed out so many types of candy and cakes, I joked later that I probably consumed more calories than I burned. Others were on hand to administer a sticky muscle spray that apparently had aspirin in it. At first thinking it was silly, I got a good lacquering of it around the 20 mile mark. And that's about the same time I heard my name screamed. "Paul!," my wife's distinct yelp, finally sweet against the eardrums.
Stopping to get showered with praise was such a great moment that I stayed for a good chat and multiple photos. As great as the kudos felt, it was definitely too long a visit. By the time I got going again, my legs were mega-stiff and my left knee felt like the cartilage was missing.
Fortunately, it was not long before I saw Hana and Elena, which pumped me up and kept me going until I unexpectedly ran into two other friends, Terumi and Tamao-san, at 24 miles. They had made a bright-yellow sign with my name on it, urging me to keep it up. Knowing my goal was close, I pushed for the finish, albeit walking much of the final terrain.
Crossing those final bridges in Ariake, the fan gallery grew sparse. That's when the inspiration of those around me became my motivator. Seeing the determined faces of people who'd never be mistaken for marathoners gave me a huge emotional boost. There were blind folk being led by seeing guides; an overweight husband and wife struggling, but finishing together. And then there were the elderly competitors, whose determination never ceased to amaze even though they'd done tons of these things and would be far less sore than me the next few days. Then walking past the 25 mile mark, I reunited with the group of high school wrestlers who were now huddled. One of the boys had suffered an injury, and his mates were carrying him to the line. Seeing that inspired me to run the final mile.
Crossing the finish, stopping the punishment and getting my medal were all very sweet moments. But on that day, nothing will top the remembrance of those spirited Tokyoites behind this lumbering lad. I can't imagine a more fantastic endurance event, and it was all about the people around me. In the following days of post-race discomfort, I sat on my couch, gazed at my medal, and couldn't wait for my next wave of marathon cheers.