Instructors learn pet first aid
by
Jennifer H. Svan
July 1, 2003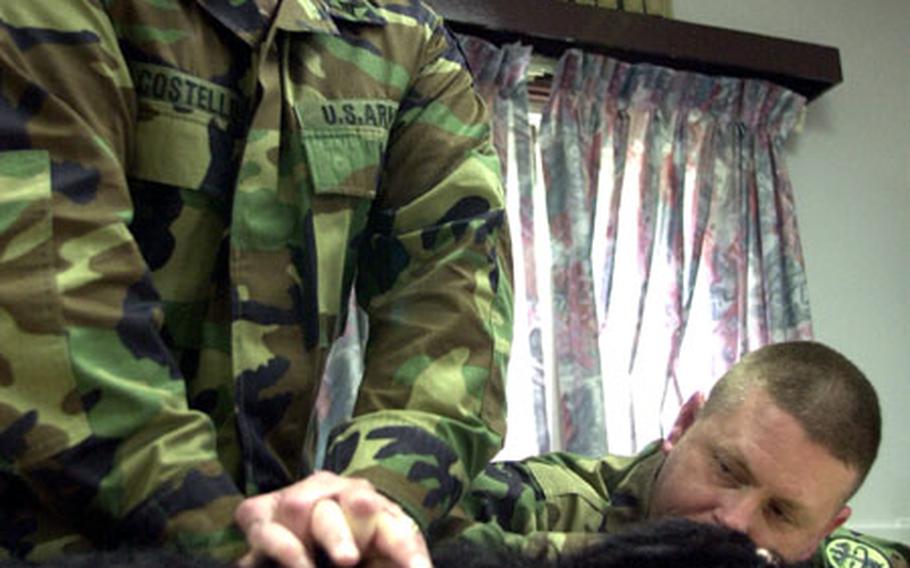 ATSUGI NAVAL AIR FACILITY, Japan — Red Cross Assistant Station Manager Sandra Potocki knows what to do if her springer spaniel- chow mix, Holly, chokes on a bone or stops breathing:
Perform the Heimlich maneuver or CPR.
Potocki, a certified Red Cross instructor for "First Aid for Dogs and Cats," hopes to bring the same peace of mind to other pet owners in Japan.
She recently taught two Yokota Air Base animal-care technicians the basics of presenting four- hour classes on emergency pet care.
They plan to certify instructors at other bases and offer the course to dog and cat owners this summer.
"We consider our pets our kids," Potocki said. "So we need to learn how to take care of them, too."
The class includes instruction on chest compressions, CPR, finding a pulse, inducing vomiting, clearing an airway and applying a muzzle to an injured animal.
Tips for cat owners include how to recognize a urinary blockage, and restraining an injured or sick tabby that may bite or scratch.
Potocki taught the class for six years in the States, she said. Now she's teaching it in Japan.
"We hope it catches on," she said.
So do Sgt. Carmine Costello and Staff Sgt. Larry Linney, Army animal-care technicians at the Yokota veterinary clinic.
The volunteer pet first-aid instructors often field after-hour calls from pet owners panicking over non-emergencies, such as cutting a toenail too short and not knowing how to stop the bleeding, Costello said.
The class will teach pet owners how to triage a sick dog or cat.
Pet first aid could also save a life, Costello says, using an example of a dog seriously injured when hit by a car.
"We would teach them (pet owners) how to move and transport the patient, how to stop the bleeding, how to prevent shock and administer CPR," he said.
CPR, or cardiopulmonary resuscitation, for a dog is similar to that for a person, but with some changes: a dog must be on its side, while a person is flat on his or her back.
If the dog is small, the owner seals its snout with his mouth when performing CPR. With larger dogs, the owner closes the animal's mouth with one hand and blows air into the nostrils.
Costello and Linney recently practiced CPR on a dog mannequin with mangy, fake hair — the same dummy they and their students will use in class.
They found its battery-powered pulse around the fifth rib and alternated chest compressions with mouth-to-snout resuscitation.
For queasy pet owners, Potocki covered the snout with a plastic bottle.
Cut in half and placed over the snout, it allowed her to still push air into the nostrils and seal the mouth while keeping her lips at a slight distance.
Costello said pet owners favoring this method should measure their dog's snout and have a bottle ready.
Call the Yokota veterinary clinic at 225-2143 Ext. 4363 for more information on the $20 class.