In Europe, the most stylish car usually isn't the smartest
by
Rick Emert
November 20, 2005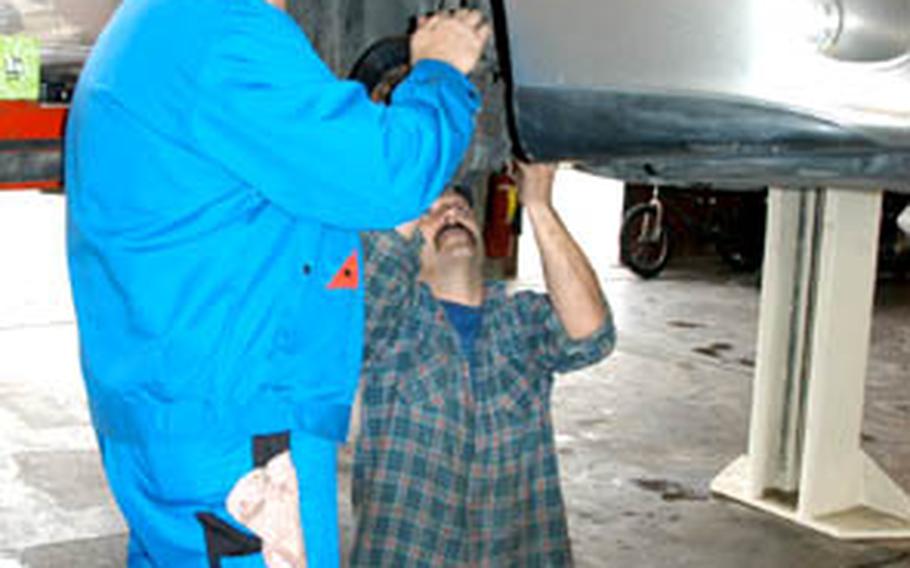 You just bought a 2006 HUMMER H3 SUV so loaded that Xzibit and the other guys from "Pimp My Ride" would be jealous.
So should you drive this dream car in Europe and possibly run it into the ground on the superhighways or into the side of a building on narrow cobblestone streets? Or should you buy a new or used vehicle with European specifications to drive around while here?
It's not a simple decision.
Things to consider are the cost of repairs and availability of parts for American cars on the economy, regular driving at high speeds on autobahns in Germany, the cost and taxes for buying cars and parts in Europe and requirements for taking a car purchased in Europe back to the States.
"When I was a soldier over here, I didn't have a car," said Bill Moran, who runs the Warner Barracks Auto Skills Shop in Bamberg, Germany. "It's much cheaper to use public transportation."
Of course, buses are not practical for a family of five. And forget about the sound systems.
A big consideration is that American-made cars were not built for the high speeds of German autobahns, Moran said.
"German cars were made for driving at high speeds on the autobahn," he said. "Overall, they are better vehicles for the road conditions. You can drive an American car fast, but over a period of time on the roads here, the brakes are going to give out."
People who will be living in Europe may opt for a used car for driving on the autobahn.
"A hoopty might be a good idea, but you have to remember that if you are buying it from a [servicemember], they may have done nothing to it in the last three years but add gas and oil," Moran said. "On the German market, used cars are pretty good, if you can get one for about 2,000 euros.
"Economically, the best bet would be to avoid BMW or Mercedes and go for a Ford or Volkswagen. With BMWs and Mercedes, the previous owner probably drove the crap out of it, putting maybe 200,000 miles on the autobahn."
And, even if it might look like a hoopty, a 1980s BMW could still take a bite out of your cash flow, since the parts for German luxury cars — and the cost of labor — is considerably more than for the less-sexy Volkswagen.
"When you buy parts on the economy, you're looking at 16 percent sales tax and a 25 percent import duty," Moran said. "If you have a BMW or Mercedes, labor costs for repairs will run $150 (per hour) compared to about $35 an hour for Ford or VW."
Opting to lay down a pile of cash for a brand-new car with European specs could lead to paying another large sum when you try to take it to the States, said Linton Heidrich, who runs the Bamberg Auto Parts Store. The Army and Air Force Exchange Service facility also does auto repairs.
"I checked online with a conversion company, and they wanted $12,000 to convert my Audi to U.S. specs," Heidrich said.
Although newer model European cars are very close to meeting U.S. specs, the conversions, which involve changes to make sure the vehicles meet emission, safety and, in some cases, anti- theft standards, still can't be done anywhere.
And the conversion should never be done in the host nation country before shipping the vehicle to the States, Heidrich said. The Department of Transportation and the Environmental Protection Agency only accept work done and warranted by licensed companies in the United States, according to a U.S. Army Europe Web site.
"Do nothing to it in Germany," Heidrich said. "I had a friend who paid 5,000 euros on the conversion here, and then in the States had to pay $8,000 to get it to where it actually met U.S. standards."
Anyone planning to take a European specs car to the States should do some research, he said.
"Check with military customs, look online and e-mail one of the conversion companies to get an estimate of what it would cost," Heidrich said. "Maybe you should do that before you buy the car."
Help with the decision whether to buy a car may be as close as a Morale, Welfare and Recreation program at your local base.
"I can't speak for all Auto Skills shops, but here, if people are interested in buying a car, they can bring it in," Moran said. "I'll look at it and say: I found this wrong with it and this wrong with it.
"I'm not going to discourage them from buying it, but I'll tell them whether or not I would buy the car.
"The thing I see most when people bring their cars here to work on them is that think they can finally get that Porsche they always wanted. Yeah, they can get it, and it's going to bleed their bank account dry."
Auto hobby shops abound in Europe
Looking for a place to work on your car, or somewhere to get advice? Here is a list of existing auto hobby shops on bases in Europe and how to contact them:
AIR FORCE
Aviano, Italy — 0434-661016
Incirlik, Turkey — DSN 676-6655
Lajes, the Azores — DSN 535-3513
RAF Mildenhall, England — DSN 268-3701
RAF Lakenheath, England — DSN 226-2452
Ramstein, Germany — DSN 480-2956
Sembach, Germany — DSN 496-7804
Spangdahlem, Germany — DSN 452-6842
ARMY
(Germany unless otherwise noted)
Ansbach — DSN 468-7662, 0981-183-662
Babenhausen — DSN 348-3744, 06073-38744
Bamberg — DSN 469-7546, 0951-300-7546
Baumholder — DSN 485-6634 or 485-6684, 06783-6-6634 or 06783-6-6684
Darmstadt — DSN 348-6471, 06151-69-6471
Dexheim — DSN 334-5766, 06133-69766
Friedberg — DSN 324-3218, 06031-81-3218
Garmisch — DSN 442-2580, 08821-759580
Giebelstadt — DSN 352-7225, 09334-87-7225
Giessen — DSN 343-7050, 0641-402-7050
Grafenwöhr — DSN 475-6239, 09641-83-6239
Hanau — DSN 322-8247 or 322-8625, 06181-88-8247 or 06181-88-8625
Heidelberg — DSN 379-6181, 06202-80-6181
Hohenfels — DSN 466-2609, 09472-83-2690
Illesheim — DSN 467-4608, 09841-83608
Kitzingen — DSN 355-2699, 09321-702-699
Landstuhl — DSN 486-7335, 06305-5355
Mainz — DSN 334-4880, 06132-508-880
Mannheim — DSN 381-8649 or 381-7153, 0621-718-8649 or 0621-718-7153
Miesau — DSN 486-3683, 06372-842-683
Pulaski — DSN 489-6162, 0631-536-6162
Schweinfurt — DSN 353-8224
Stuttgart — DSN 431-2555 431-2859, 07031-15555
Vilseck — DSN 476-2521, 09662-83-2521
Wiesbaden — DSN 334-2955 334-2460, 06134-604-955 or 06134-604-460
Brussels: DSN 365-9743, 0032-2717-9743
SHAPE, Belgium — DSN 366-4693 or 366-4635, 0032-6544-4693
Brunssum, Netherlands: DSN 360-3173, 0031-45-526-3173
Camp Darby, Italy — DSN 633-7009, 05054-7009
Caserma Ederle — DSN 634-7014, 0444-71-7014
NAVY
(no telephone numbers available)
Keflavik, Iceland
Sigonella, Italy
La Maddalena, Italy
Naples, Italy
— Rick Emert