In Bosnia, holidays might be even happier for troops deployed with kin
---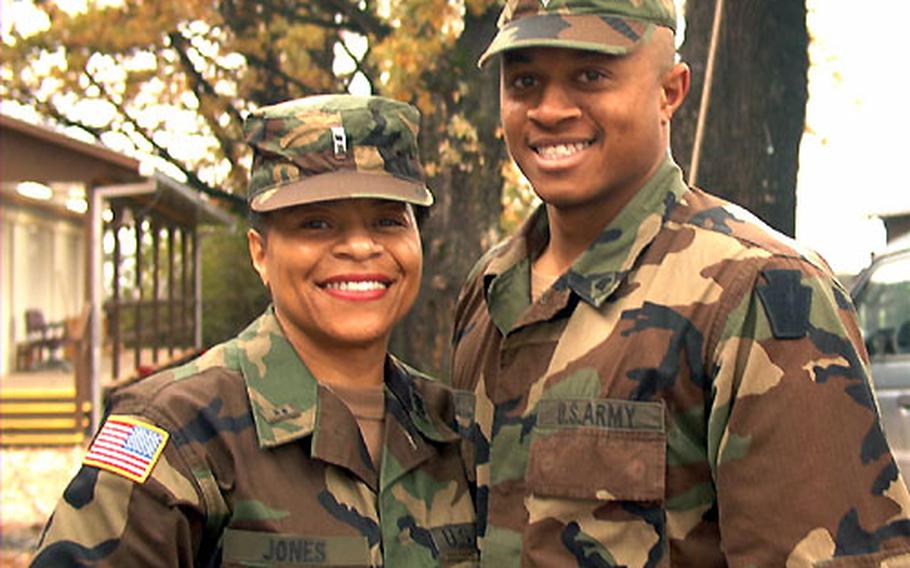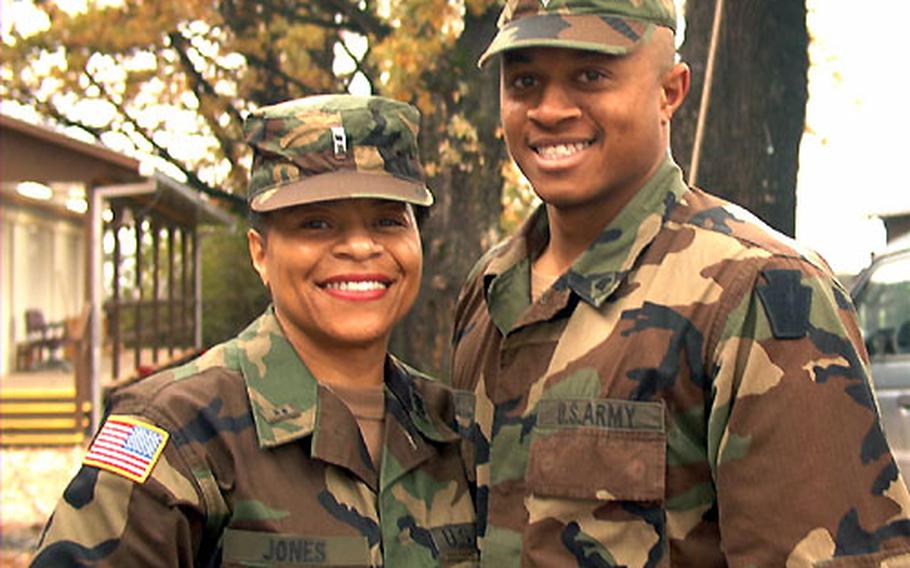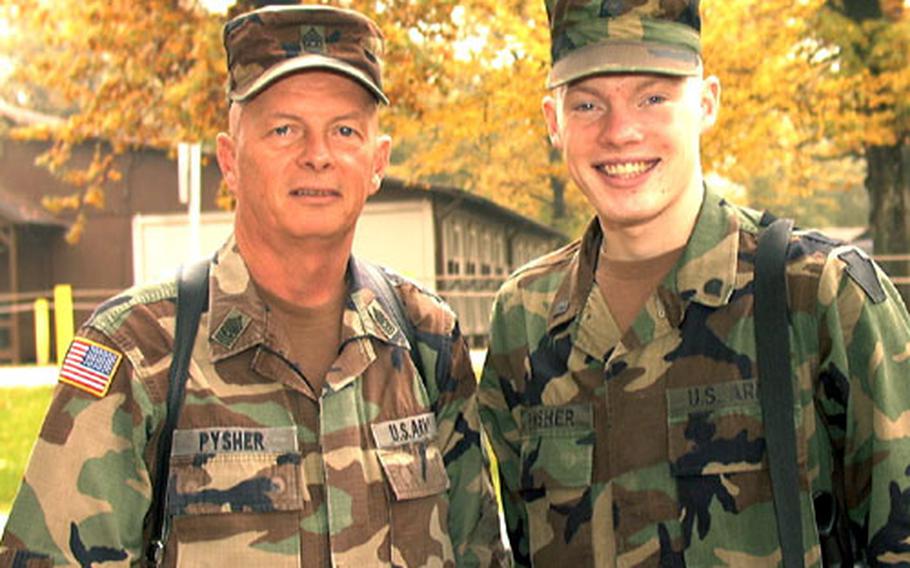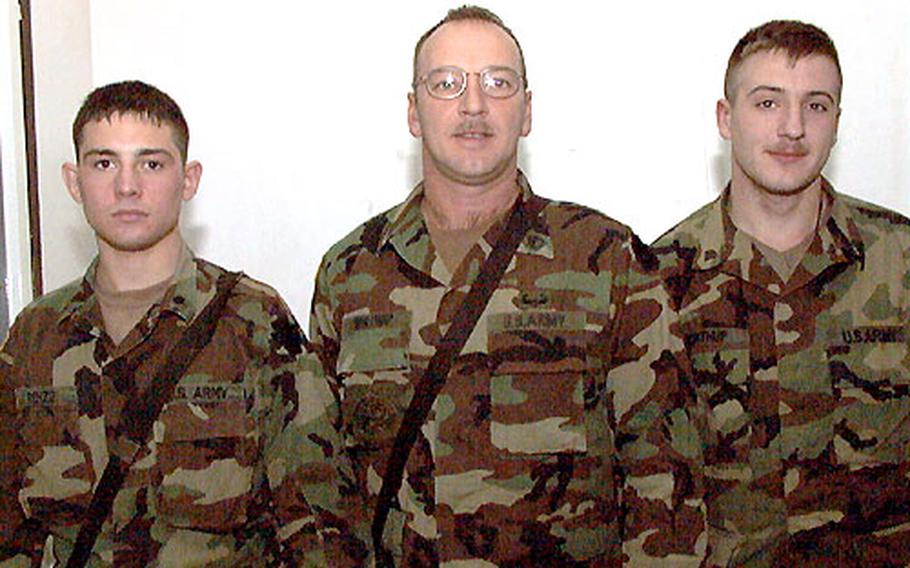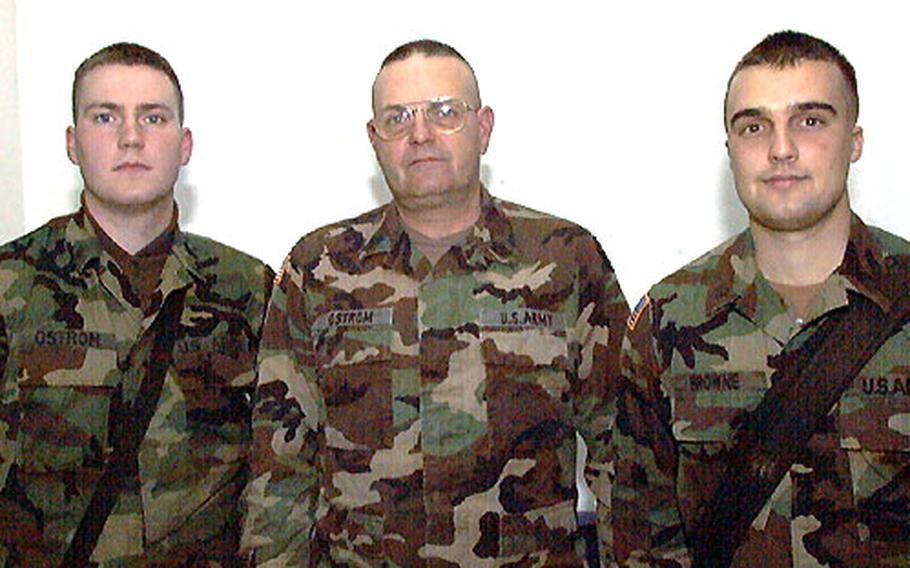 While overseas servicemembers might long to be with families in the States during the holidays, some have the distinct honor of serving along with their relatives.
Some Pennsylvania National Guard soldiers deployed to Bosnia and Herzegovina merely have to go to a different office or base camp to find a familiar face.
Just before Spc. Juston Jones of Troop C, 104th Cavalry Regiment deployed to Bosnia, his mother, Chief Warrant Officer 2 Brenda Jones of the 281st Personnel Services Detachment, threw him a going-away party.
Then she got called up herself.
"When holidays roll up, although I have other sons, this is just a special link, the military special connection," Brenda Jones said.
"It's a great to have a parent here. A lot of people do their morale call. They're paying for cards," Juston Jones said. "For me, I just pick up the DSN line."
While Brenda Jones is at Eagle Base, and her son Juston is at Camp McGovern — two hours away — they still manage to squeeze in visits.
"Whenever he's here, he looks me up," Brenda Jones said.
Though the younger Jones admits he sometimes makes a mistake when he's with his mother.
"I respect the rank, but there are times I slip and say 'Mom,' " Juston Jones said.
In fact, Brenda and Juston Jones are geographically closer in Bosnia than they were in Pennsylvania. Here, it's only a two-hour trip to visit, there it's four.
The 28th Infantry Division's Command Sgt. Maj. Chad Pysher doesn't even have to leave the building to visit his son, Spc. Ryan Pysher, of Company C, 2nd Battalion, 112th Infantry Regiment.
"He's always keeping an eye on me, see if I'm causing trouble," the younger Pysher said.
But there are good sides to the most-senior enlisted soldier being your father.
"It's very comforting to know I can go to sergeant major as sergeant major and my father for issues," said Ryan Pysher who never fails to address his father as sergeant major.
On deployment, the professional relationship takes precedence over the personal.
"My concern is he just be treated as any other soldier, not as my son just because of my position," Chad Pysher said. "I just want people to accept him for who he is."
A deployment with a son, for the first time in 23 years in the Army, has given Chad Pysher a different perspective.
"He seems to do a good job," Chad Pysher said. "Seeing him grow and mature with his position, it's a good feeling."
While higher rank and more years in the military are an advantage for the parents, the children have an edge too: youth.
"We were supposed to run together, but he was a lot faster than me," the older Pysher said.
The same seems to be the case with Staff Sgt. Michael Northup, his son Spc. Josh Northup and stepson Spc. Gared Renzo of 1st Battalion, 109th Infantry Regiment.
"It's really good thing to have family with you, but also really hard to keep up with two young ones," Michael Northup said.
And a father's shoulder can certainly help make a difference for son in morning.
"I just recently lost a child, and it was great to have him, talk to him about it," Josh Northup said.
"It made it a lot easier to deal with," he said. "The whole thing's just brought us a lot closer together."
Staying together has always been a family motto for another group of men from Pennsylvania. First Sgt. Scott Ostrom, his son, Sgt. Ryan Ostrom, and stepson, Spc. Wade Browne, all of 1st Battalion, 109th Infantry Regiment, used to hunt together. Now they're keeping the peace in Bosnia together.
Separated by different camps and heavy workdays, they have learned that the military family comes first, but that won't take away from family bonds.
"The whole family aspect you gotta put aside," Browne said. "You really don't have time to be family."
When they do meet, they talk about home, what they missed and pass on messages.
Sometimes the family at home gets the latest news before everyone on the ground gets it.
"He tells [his mother] before he tells me," Scott Ostrom said about is stepson, Browne.
But other times, they count on the father or the son to call or e-mail home.
"I call my mom a lot. She knows what's going on with me through him," Renzo said of his stepfather, Michael Northup.
Dad is sometimes around not only to see that you are doing your job, but also to make sure you do not forget to keep in touch with family.
"I had to remind him that he had brothers he had to e-mail," said Chad Pysher, who has another two sons at home.
Although everyone agrees that it is nice to have family near, the holiday twist actually reaches back to the States, as those left behind have to more to miss.
"It's rough not having one of us around, doing some of the labor. It makes it really complicated," said Scott Ostrom.
Around the holidays, Ostroms at home will miss four family members: the three deployed to Bosnia, and Ostrom's stepson (Renzo's brother) who is deployed with the Navy.
Two daughters and a son are still at home.
"I think they miss their brothers a whole bunch," Scott Ostrom said.
The first lady of the Pysher family had concerns about the deployment of the family members in the Army.
"As a typical wife and a mother has had some apprehension," Chad Pysher said.
"At least it's comforting that we're together, and we can give each other support if we need it," he said.
Brenda Jones has her friends taking care of a 9-year-old boy for whom she is a guardian.
The neighbors make sure the mail is picked up and passed on to her, and they watch the house since her other son is studying in Florida, and there are no other adult family members at home in Pennsylvania.
While some soldiers don't deploy with their family, a few get a chance to plan small reunions with their wives, mothers and girlfriends during a pass in Budapest, Hungary.
But for the rare few, reunions are easier to come by.
"At least I have family that is here, that I can physically hug and kiss." Juston Jones said. "It gives you sense of being home."
"It's always a pleasure if I look up in my office and he's there. Our gatherings are good," Brenda Jones said. "I find (the deployment together) to be a blessing in disguise."
---
---
---
---