Hot wheels: Car shows give the auto lover a chance to dream
by
Kevin Dougherty
September 25, 2005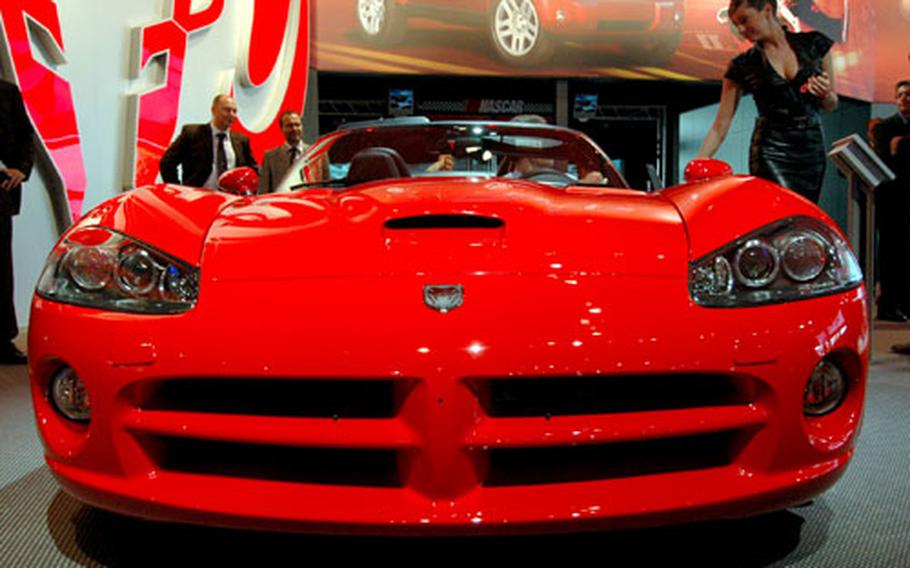 In any given month of any given year, there is an auto exposition tooting its horn somewhere around the world.
Currently, the road show is finishing its run in Frankfurt, an extravaganza with few peers. Over the next month there are shows in Bucharest, Budapest, Amsterdam and Sydney. Included in that mix is another biggie — Tokyo.
Staged north of the Japanese capital at the Makuhari Messe (or exhibition center) in Makuhari, Chiba City, that car party is open to the public from Oct. 22 to Nov. 6.
To visit an auto show is to step into a world that dabbles in both fact and fantasy. Many of the display cars are available to the general public, or will be shortly. Others, however, are either way too expensive for the average Joe, or are conceptual vehicles that may never shift from the showroom to the streets.
But, according to Stefan Lamm, a Ford executive: "You never know what will happen in the future."
Lamm, the company's chief designer for exterior product development in Europe, was interviewed during the opening days of the 61st International Motor Show (IAA) in Frankfurt.
As he spoke, one of his company's concept cars, called the Fordiosis, slowly rotated on a display platform. Its two doors were flipped up, instead of out, much like a Lamborghini.
The car reflects what Lamm called Ford's drive toward a more "kinetic design" for its vehicles. Ford's new philosophy, he explained, is all about "energy and motion." The doors are an example of that.
One cool feature, and something other automakers have latched onto, is the addition of small cameras in lieu of side-view mirrors. Want to know what's behind you? Look to the video screen on the dashboard.
"You will see elements of them in the future," said Lamm, referring to some of the design changes.
Such gee-whiz gadgets are only part of the fanciful scene.
Another component is the displays themselves. Some car companies spend hundreds of thousands of dollars on elaborate sets and hire an army of people to promote their product.
"There's a lot that goes into setting these up," said Dave Ewing, an industry analyst who evaluates auto manufacturers' display areas.
Many of the people who have already attended the 2005 Frankfurt auto show probably stepped into the hall where Opel has its show space. If their timing was right, or if they lingered long enough, chances are they glimpsed one of the most impressive displays of the entire show.
On a round dais rippling with water was a new Astra Twin Top equipped with a removable hard-top roof. Periodically, fountains would shoot streams of water skyward as three paper-thin screens rose from a nearby elevated platform to reveal singers and musicians. Other screens remained still and images of performers were projected onto them, creating the illusion of a large ensemble swinging to Bobby Darin's upbeat song, "Beyond the Sea."
As with any auto show, models play a major role in drawing attention to the cars on display. The attire ranges from evening gowns to skimpy leather outfits to blue jeans, sporty motorcycle jackets and go-go boots.
"I'm here to answer questions," said Sandra Stoltz, clad in a tight black leather get-up.
Stoltz, who drives a blue 1993 Ford Fiesta, stood next to a fire-engine-red Dodge Nitro. Business seemed good.
In another hall was Kristin Menzel, who tools around town in a red 1991 Mitsubishi Lancer. On this afternoon, Menzel was in a dress. Her auto assignment was to stand alongside a beautiful black Maybach Exelero.
"I'm here for security," Menzel said with a knowing smile.
Nowadays, one of the hippest places of any car show is the Mini Cooper section. The one at Frankfurt was attracting a lot of attention.
"This is Mini," Felix Schlebusch, a local college student hired to serve as a company representative, said as he waved his arm at the whole trendy display.
Schlebusch doesn't own a car; he rides the tram. Someday, though, he'd like to climb into a Mini and scoot away.
"This is the power of Mini," Schlebusch said. "All ages buy it."
For the record, he was wearing jeans and a T-shirt. Not that it matters, right?
See Stripes' photo gallery for more pictures of hot cars from the Frankfurt International Motor Show.