Hitting the heights — all 1,092 feet of them — at spectacular Tokyo Tower
---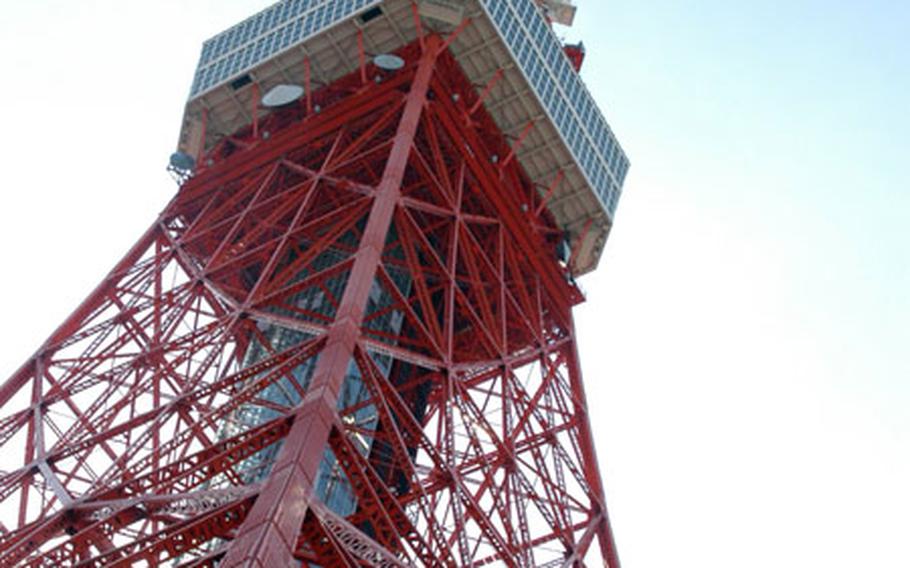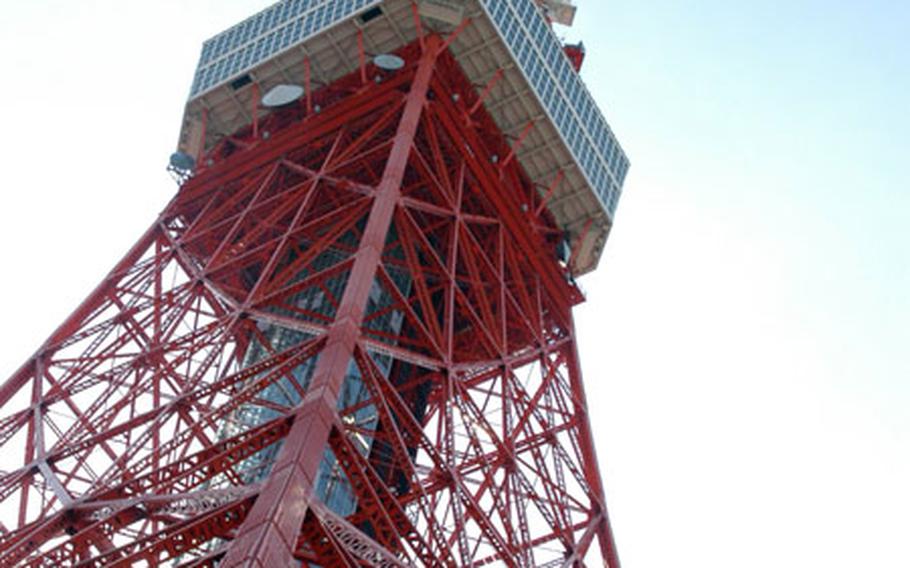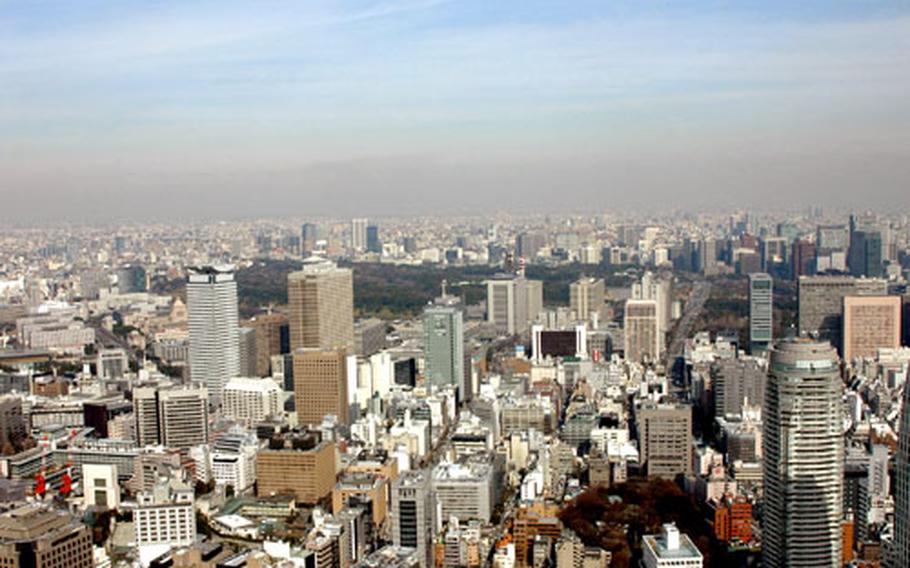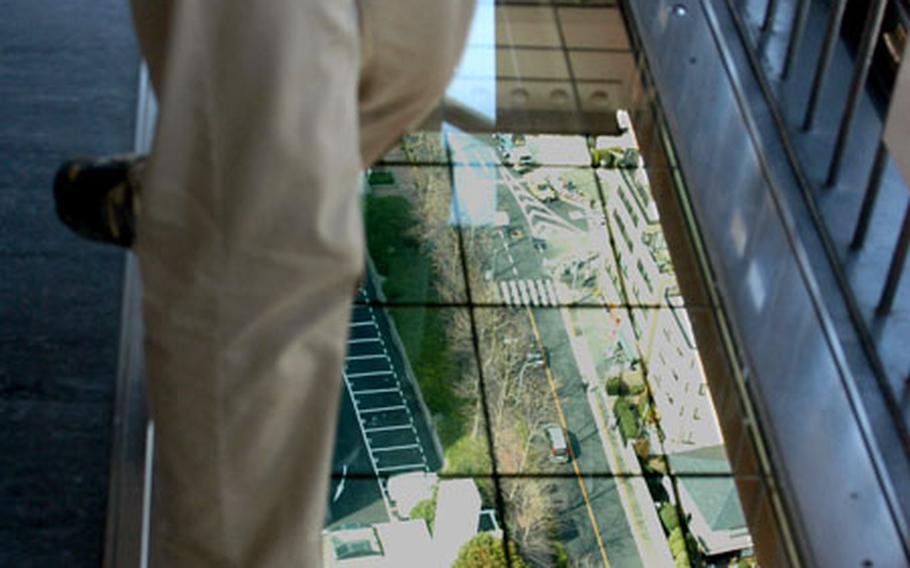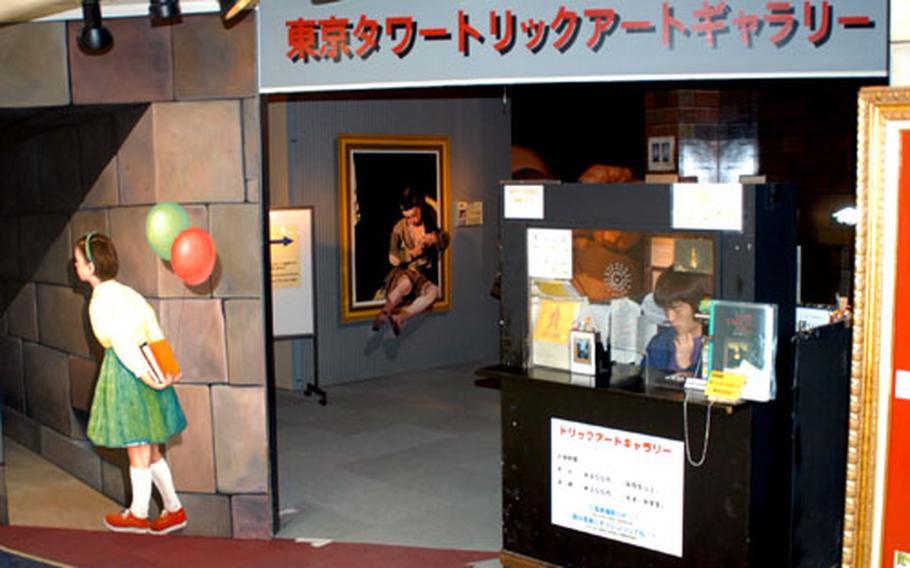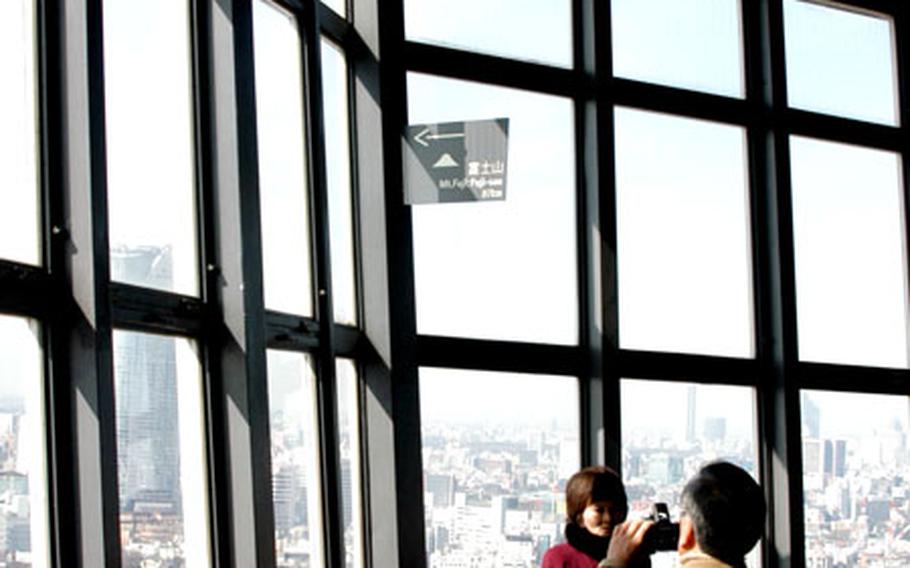 One of my earliest fears, one that haunts me to this day, is my fear of heights.
It's the fear of being hundreds of feet above the ground, teetering on some metal girder, like a scene from some Three Stooges movie. It's not the best image to have in mind as I'm in an elevator racing up to Tokyo Tower's 820-foot-high special observatory area, rising so quickly I can feel the pressure change on my eardrums.
It's also not reassuring to keep in mind that Japan is one of the most earthquake-prone countries in the world, and if one happens to hit while I am "observing," I will have to make my way to ground level by the stairs. Stairs that I can see circling the elevator shaft as I travel upward. Stairs that seem to be made for someone whose average height is much less than my 6-foot, 2-inch frame.
More comforting, however, is listening to the voice of an elevator attendant, who I'm sure is explaining in very polite, soothing Japanese the different landmarks I can see as we make our way to the tower's top observation deck.
The elevator trip, thankfully, was short and I arrived at the upper observation deck, fears in check, earthquake-free and ready to enjoy my bird's-eye view of the world's most populous city.
At 1,092 feet, Tokyo Tower, in the heart of Tokyo's Minato Ward, is taller than the Eiffel Tower — which inspired it — by 42 feet, lighter by 3,000 tons and holds the record as the world's tallest self-supporting tower.
It's a must-see for residents or visitors to Tokyo, but don't forget your camera. With spectacular views from 820 feet up, it's a trip you'll want to remember.
Opened in 1958 and built largely with melted- down metal from World War II- and Korean War-era surplus U.S. tanks and armor, the orange-and-white tower is one of Tokyo's most visible landmarks. It is visited by thousands of people each day and is the origin of 23 broadcasting signals, according to the tourist brochure.
If you don't want to spend the extra 600 yen (about $5.75) to visit the tower's top observatory, there is plenty to see and do from the two-floor main observation deck 492 feet above the city. There you can dine in the small café or listen to music in Club 333 on Wednesday or Friday nights. And, of course, there are observation windows.
Underneath the tower is the Tokyo Tower Building, starting point for the tower's elevators and home to a number of shops and museums.
On the building's fourth floor is the Tokyo Tower Trick Art Gallery. The gallery features a number of optical illusion paintings and 3D art.
One floor below you'll find the Tokyo Tower Carnival Wax Museum and Mysterious Walking Zone. If you buy a carnival package ticket, admission to these galleries is included, but if you have gone "a la carte," pass these by. Holograms like those in the Mysterious Walking Zone were neat to look at in the '80s, but nowadays, when holograms are on everything from money to trading cards, it just doesn't warrant the ticket price. And while the wax museum features likenesses of Brad Pitt, the Beatles and Jesus, pass on this and you won't miss anything.
If you're hungry, go to the second floor. A number of Japanese restaurants occupy space there, along with a pizza place and a McDonald's. Also available on the second floor are a number of kiosks offering everything from good luck charms to Tokyo Tower models.
Back on the ground floor, you'll find the Tokyo Tower Aquarium — Japan's "foremost aquarium with a collection of 50,000 fish composed of about 800 varieties," according to the Tokyo Tower tourist brochure — another restaurant and a convenience store.
The whole trip cost me a little more than 2,500 yen (about $24), but that's because I bought the all-inclusive Carnival Ticket Book at 1,900 yen (about $18), and I bought the trip to the upper observatory, which tacked on an additional 600 yen.
Would I recommend visiting? Fear of heights and earthquakes aside, definitely. No other view is quite like Tokyo Tower.
If you go ...
Near a number of Tokyo's subway metro stations, the tower is a great day trip from any base in the Kanto plain.
HOURS: Observation decks are open from 9 a.m to 10 p.m. daily, but the Special Observation deck sometimes closes due to bad weather.
PRICES: A Carnival Combination Ticket, which includes admission to the main observatory and museums, costs 1,900 yen ($19) for adults, 1,100 yen ($11) for children 4 and older, and 950 yen ($9.50) for infants.
* A LA CARTE PRICES:
Tokyo Tower Aquarium: 1,000 yen ($10).Main observatory: adults 820 yen ($8), students 460 yen ($4.50), children 4 and up 310 yen ($3).Special (upper) observatory: You need to pay for the main observatory to get to the special observatory, plus an additional fee: adults 600 yen ($6), students 400 yen ($4), children 4 and up 350 yen ($3.50).Wax museum: adults 870 yen ($8.50), children 460 yen ($4.50).Mysterious Walking Zone: adults 410 yen ($4), children 300 yen ($3).Trick Art Gallery: adults 400 yen ($4), children 300 yen ($3).GOING BY RAIL: After arriving at stations follow signs to the towers.
On the Hibiya line, go to the H-05 Station (Kamiyacho); it's about a seven-minute walk.On the Mita line, go to the I-06 Station (Onarimon); it's about a six-minute walk.On the Toei Oedo line, go to the E-21 Station (Akabanebashi); it's about a five-minute walk.On the Toei Oedo line, go to the E-20 Station (Daimon); it's about a 10-minute walk.Taking the JR Yamanote line to Hamamatsucho Station, it's about a 15-minute walk.— Jim O'Donnell
---
---
---
---