Hardwood heroes
by
Brian Bowers
November 22, 2008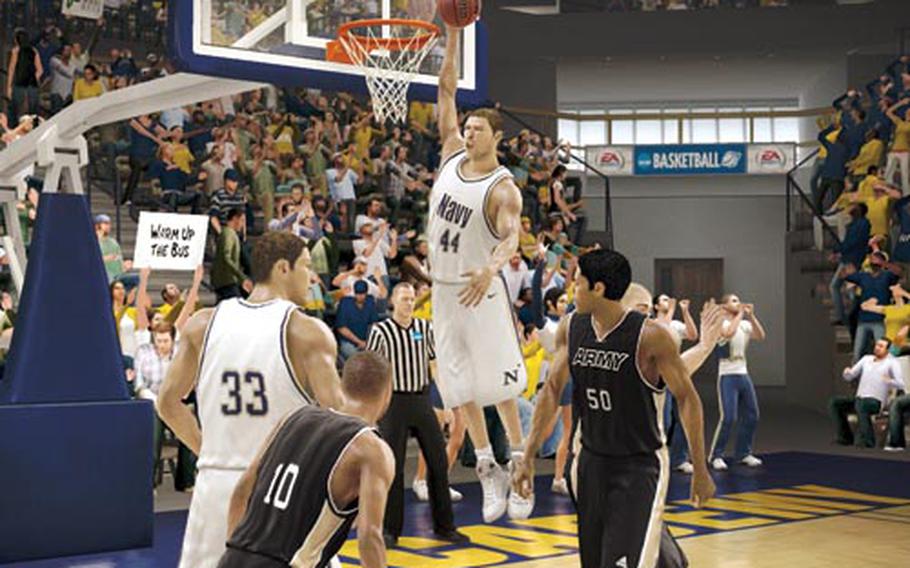 I went to Penn State, so the excitement of March Madness is something I can only imagine — or experience through a video game.
Thanks to "NCAA Basketball," I can finally immerse myself in college basketball's fast-paced action, traditional rivalries and cheering crowds.
This season, EA Sports' E-rated game offers a few new features that are designed to make it flow more like real NCAA action.
The first thing you'll notice is the coaching advice that pops up on the screen. The feedback — based on input from real NCAA coaches —might recommend that you change the tempo, switch the defense or substitute a player.
Another major addition is the ability to set your team's tempo. You can press from one end of the court to the other or play more of a half-court game. And the game monitors whether you're playing to your team's optimum style. If you are, the players are more likely to handle the ball well and make baskets.
The game engine has also been revised, tweaking the defensive options and offering a few new moves on offense. However, the basic game play is pretty similar to previous editions. The controls are smooth and efficient, although they do require a learning curve from the uninitiated.
Although I noticed a few visual hiccups in the player animations, the graphics are generally very good.
EA Sports takes great care in re-creating the NCAA experience through the game's look and sound. The arenas closely match the real areas. The fan's clothing, signs, mascots and fight songs add to the authentic feel.
Almost everything about "NCAA Basketball" helps emphasize the fact that college ball is centered on teamwork, tradition and coaching. Those who prefer individual heroics and showboating are more likely to prefer EA Sports' other title, "NBA Live 09."
Platforms: Xbox 360, PlayStation 3, PlayStation 2
On the Web: www.easports.com , www.ncaabasketball/home.action