Gueuleton does French and Italian, using fresh Okinawan ingredients.
---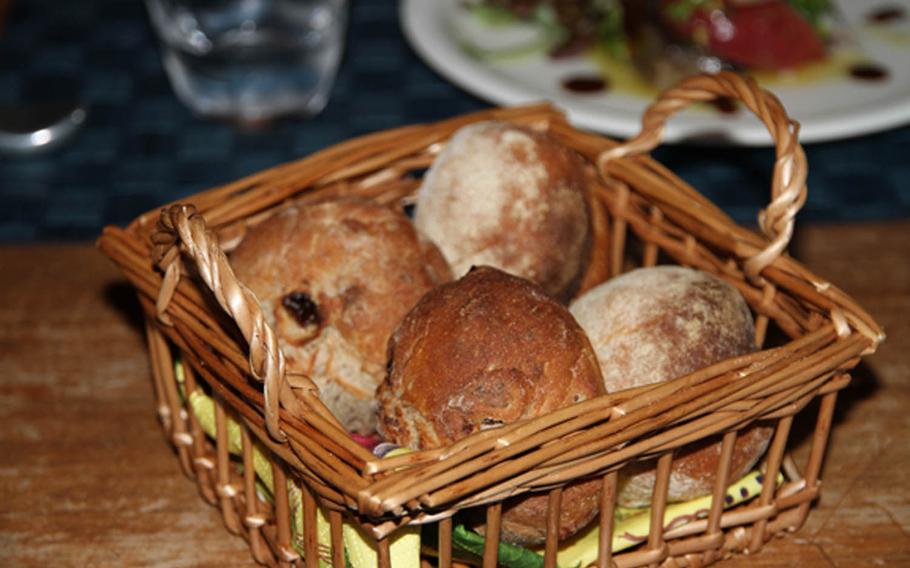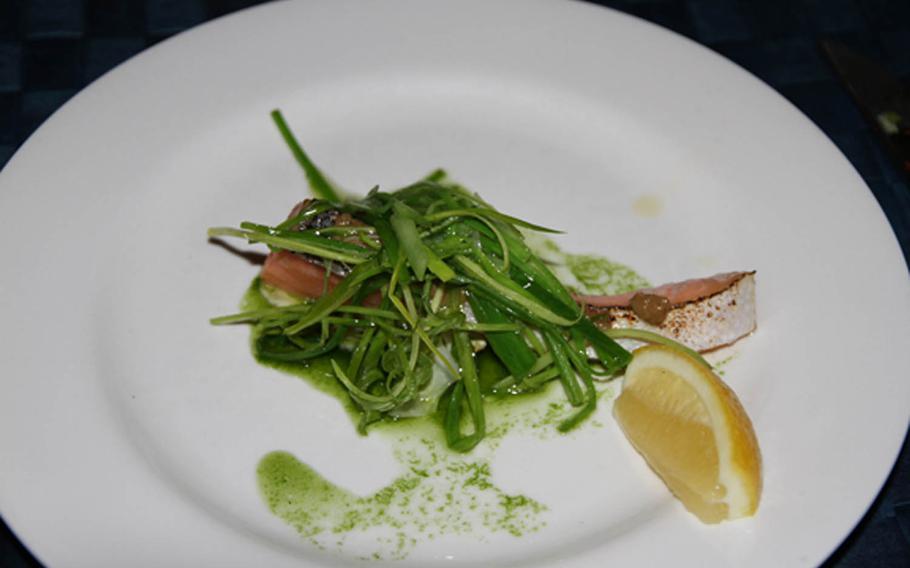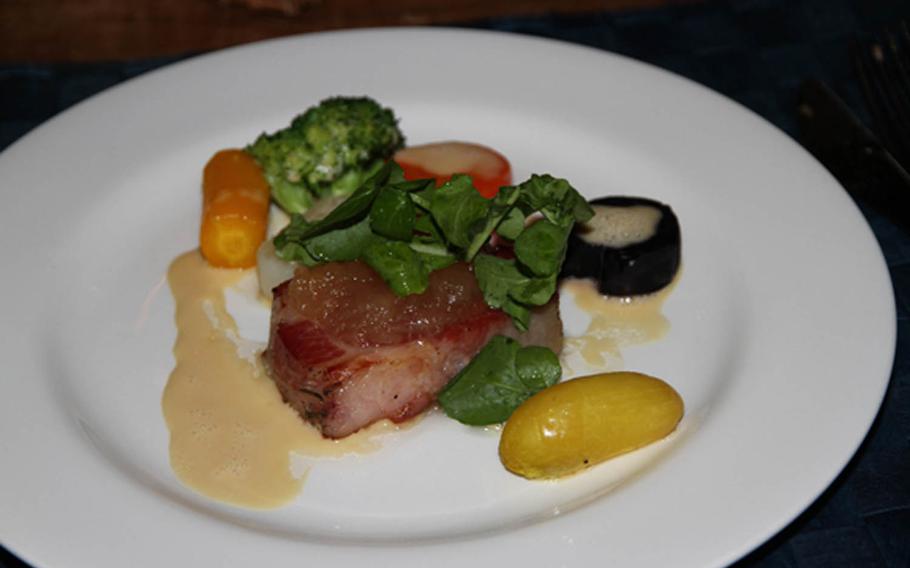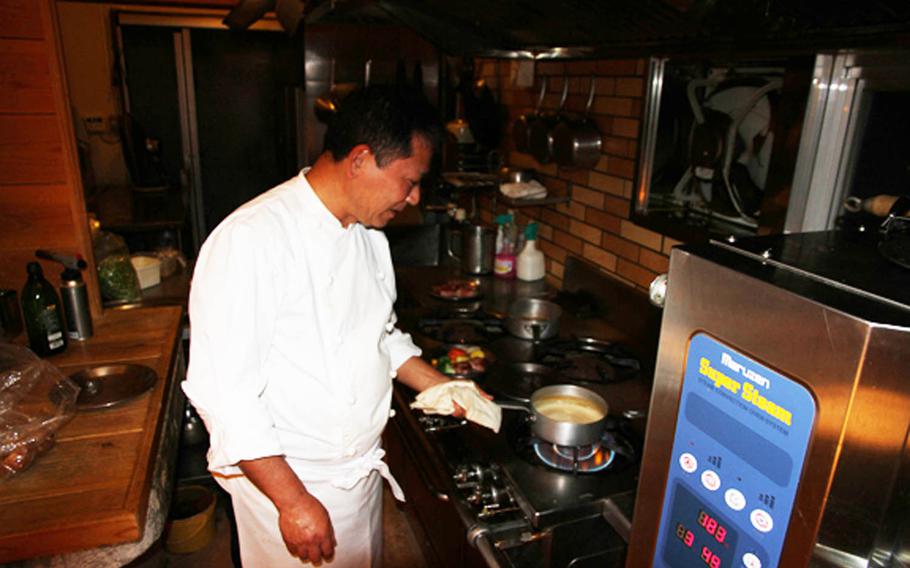 Gueuleton's owners have worked hard to hide their restaurant from the outside world — something that truly makes unmasking this fine dining experience in the hills of Okinawa City a delight.
Obscured by thick shrubs, plants and flowers, Gueuleton's exterior screams quintessential European cafe; its smothering gardens whisk visitors away to a French hedgerow.
The restaurant's dimly lit and immaculately clean interior is simple but elegant, in keeping with its European theme. With World War I-era music playing softly, the restaurant is a spacious time portal, decorated with just the right amount of antiques so as to avoid approaching tacky. Multiple nooks and dining rooms provide opportunities for large parties as well as cozy privacy.
The dinner menu changes daily, depending on which ingredients are in season and fresh at the local market. There are no choices on the menu. All diners eat virtually the same thing, market to table.
A five-course meal costs only 2,500 yen. During our most recent visit, patrons were started off with a salad made of lettuce, cucumbers and tomatoes, lightly drizzled in an oil-based dressing and tossed with fish and eggplant. The eggplant was a new addition from the week before.
Next came mustard greens on salmon that had been cooked with seaweed and sprinkled with lemon. Rustic, fresh-baked bread satiated diners between courses.
As each course was finished, wait staff cleared plates and promptly put a new one at each setting.
Next up was a frothy cream and sweet potato soup, light with explosive flavor, that left diners craving more. It was a perfect prelude to the main course, Italian pork shoulder topped with applesauce and flanked by perfectly grilled vegetables, including a black carrot (something this writer had never seen nor tasted before).
The pork was sublime and melted in your mouth. The vegetables were equally magnificent. The carrot added a "holy cow, that's a black carrot" factor to the plate.
The meal was washed down with gourmet coffee or tea with a fudge brownie with vanilla ice cream and fresh fruit on top.
The plates were simple, yet refined.
Courses featured the perfect amount of food. They seemed small, but when taken collectively, could satisfy even the biggest appetite.
The chef said he was self-taught. He never attended a fancy culinary school in southern France or in Japan for that matter — despite his flavors making the case.
Gueuleton's style is the beautiful marriage of French and Italian, using the freshest Okinawan ingredients.
The restaurant's wine list is much like its menu, leaving few options; however, Gueuleton's staff knows best. Both the red and the white options were fine vintages from Europe.
Gueuleton has been in its current location for 16 years after a decade in Ginowan.
It offers a fine dining experience and a touch of class at a very affordable price. It is great for birthdays, anniversaries, Valentine's Day or just a relaxing Tuesday evening after work.
Gueuleton doesn't seem interested in packing the place, although it can get full for dinner. The ownership seems more at ease, maintaining the establishment as a hidden treasure, an escape, a trip around the corner, a trip to another region.
Gueuleton Location: 1-4-14 Takahara, Okinawa City
Directions: Close to Kadena Air Base, Gate 2. Directions are difficult to explain, but follow these GPS coordinates: 26.323069, 127.813750
Hours: Lunch, noon to 4 p.m., with last order at 2:30. Dinner, 6 p.m. to 11 p.m., with last order 9:30. Closed Sunday and Monday.
Prices: Course dinner menu costs 2,500 yen per person, and includes coffee or tea and dessert.
Dress: Casual
Information: 098-933-7607 (reservations suggested but not required); www.hotpepper.jp/strJ000600657
---
---
---
---