Guam exercise a chance for Kitty Hawk wing's pilots to hone their skills
by
Juliana Gittler
November 2, 2003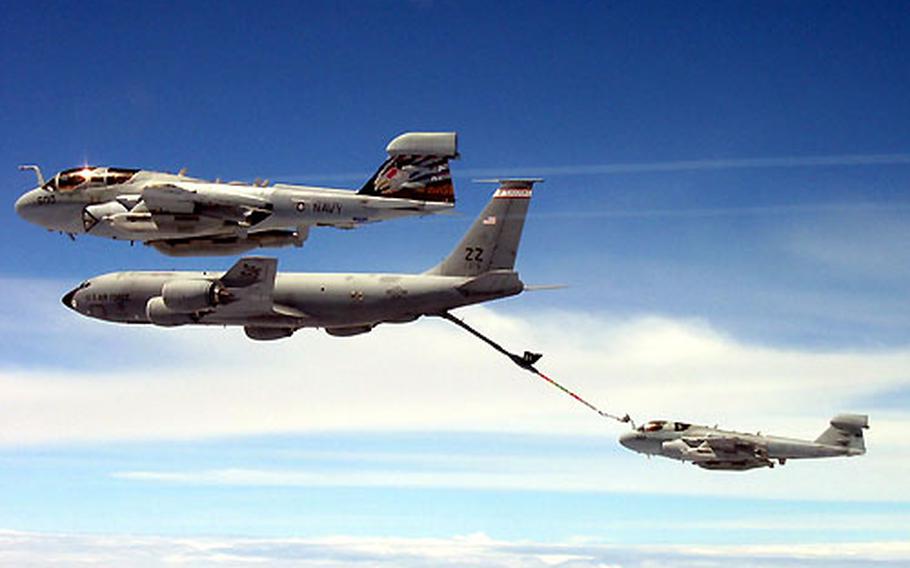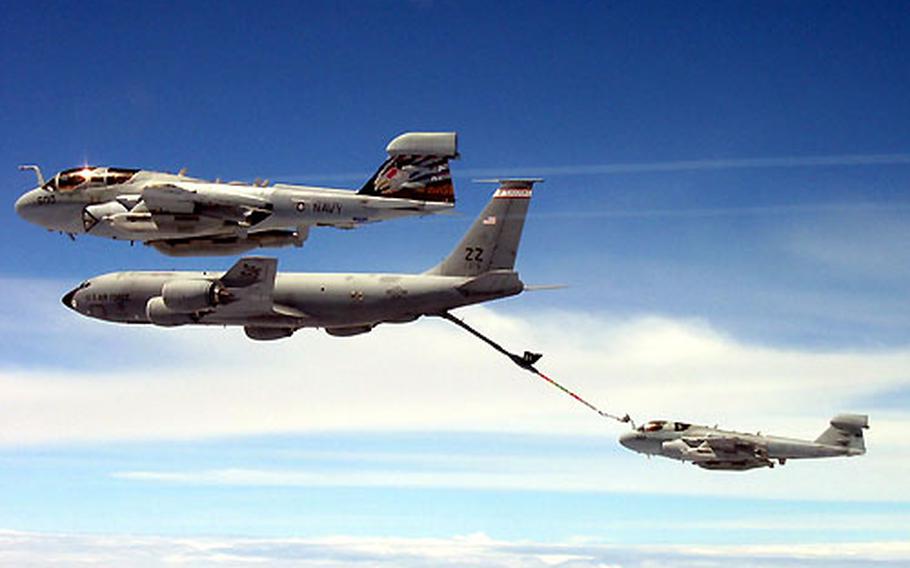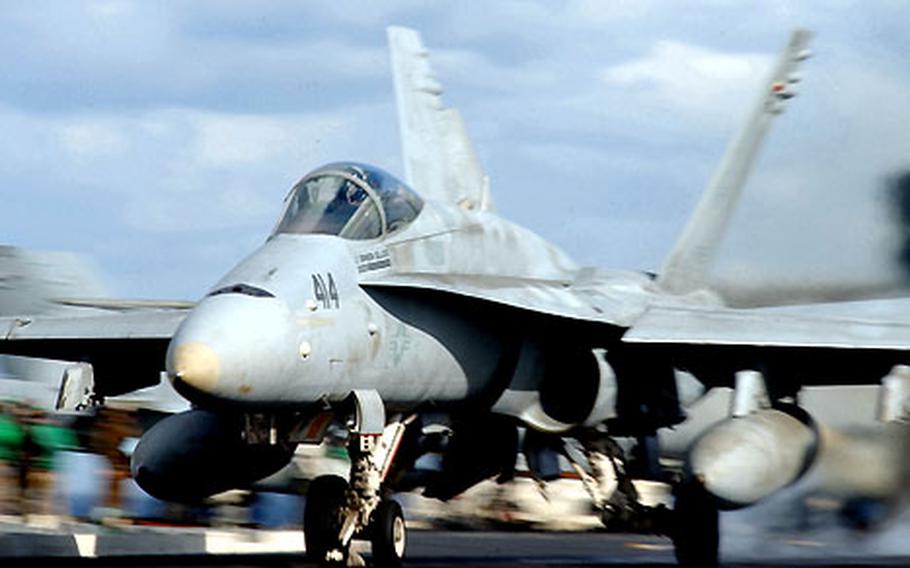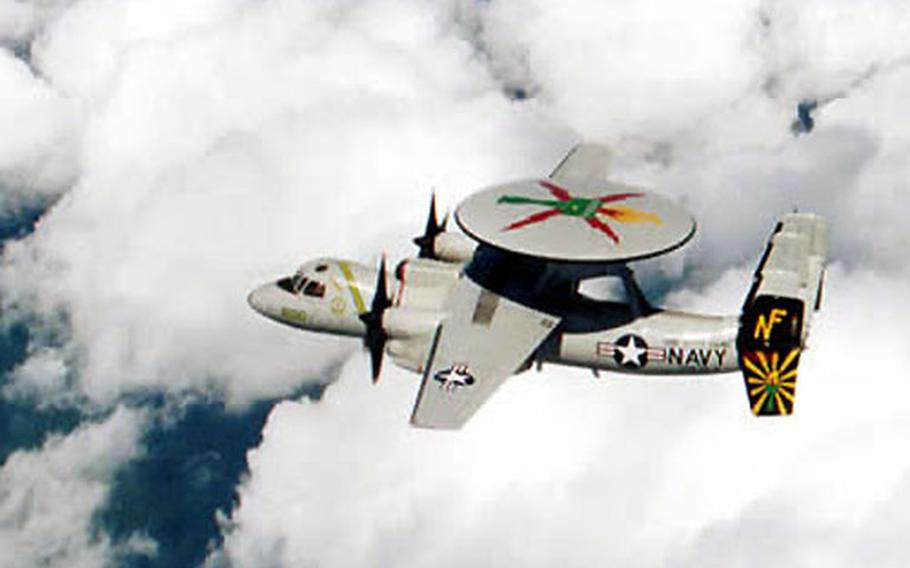 Months ago, the sorties took place over desert, the targets were real — and a real enemy lay in wait.
After the thrill and fear of war, it seems like a training exercise would be a breeze for a fighter pilot.
The USS Kitty Hawk's Carrier Air Wing 5 conducted a training exercise for several weeks in September in Guam called the Strike Fighter Advanced Readiness Program.
It offered unique challenges — even for the combat-hardened pilots.
"Coming from combat and going to [the exercise] is a great opportunity," said Lt. Brandon Sellers, a Hornet pilot with the wing's Strike Fighter Squadron One Nine Five, known as the Dambusters. "There's a tendency to get complacent. You think you're top dog."
Pilots say that in combat they pay less attention to detail and more to survival. In an exercise, the emphasis is on detail and perfection.
"When you're in war, you're expected to be able to act on the fly, whereas training is more regimented," said Lt. Caz Hashigami, who flies with the wing's E-2C Hawkeye squadron — Carrier Airborne Early Warning Squadron One One Five, nicknamed The Liberty Bells. "Combat is totally different. It happens then and there."
"War is more about getting the job done, while training is more precise, more exacting," said Lt. Chris Hulitt, also with The Liberty Bells.
The training is annual and allows U.S.-based weapons school trainers to test pilots' skills and introduce new technology.
The squadrons began with classroom training on new tactics and technologies before leaving for Guam. Once there, trainers evaluated every second of the missions during hourslong post-flight debriefings.
This year's exercise was one of the largest in recent years for the Atsugi air wing. It involved air-to-air and air-to- ground missions from Guam to a nearby island range.
Hornet pilots flew about 20 sorties each weekday and more on Saturdays. Some added more flight time by posing as enemy aircraft for air-to-air battles.
Sellers said the program aids aircraft operators by allowing them to practice with live ordnance, which also helps ordnance handlers gain experience. He also said different squadrons — flying different aircraft — work together in integrated missions, and they have trainers visiting from the States with watchful eyes and new skills to impart.
Having trainers pick apart every mission detail can be humbling and reminds pilots that, war or not, they can always learn something.
"The potential is there to make you think you know it all" after combat, Sellers said. But, he said, the trainers are always evaluating new ways of doing business.
While geared for the Hornet strike fighters, the program benefits all aircraft operators.
Operators of the Prowler aircraft learned to work better as a unit and in conjunction with other aircraft, said Lt. Marcus Dodd, with Electronic Attack Squadron One Three Six, known as The Gauntlets.
The training used skills they didn't use during the war; the pilots benefited from instructor feedback, said Lt. Silas Bouyer, Naval Flight Officer with The Gauntlets.
The exercise gave Hawkeye pilots and operators a chance to work more on tactics. Since it's a difficult plane to fly, they often spend much of their training on operation instead of mission and working as part of the wing.
"The integration of the E-2 as it should be, that's one thing you don't learn when you're learning to fly it," said Lt. j.g. Chris Swanson, a new pilot to the squadron. "It was good experience, how we are applied to the strike package."
The training helped the E-2C pilots practice offensive and defensive skills they didn't use in the war, like protecting the Carrier Group from attack.
Swanson, who is newly assigned, missed the war, but he can learn from his fellow combat-hardened pilots.
"They draw on those experiences," he said, adding, "as the new guy, it is somewhat intimidating."
Aircraft pilots and operators say even though they use the same tactics and training, an exercise is somehow not the same as the real world.
"You train like you fight," Hulitt said. "Both use the same skills, but somehow, in the back of your mind, there is a difference."