Geocaching catches on in Japan, Okinawa
by
Matt Orr Hana Kusumoto T.D. Flack
May 23, 2010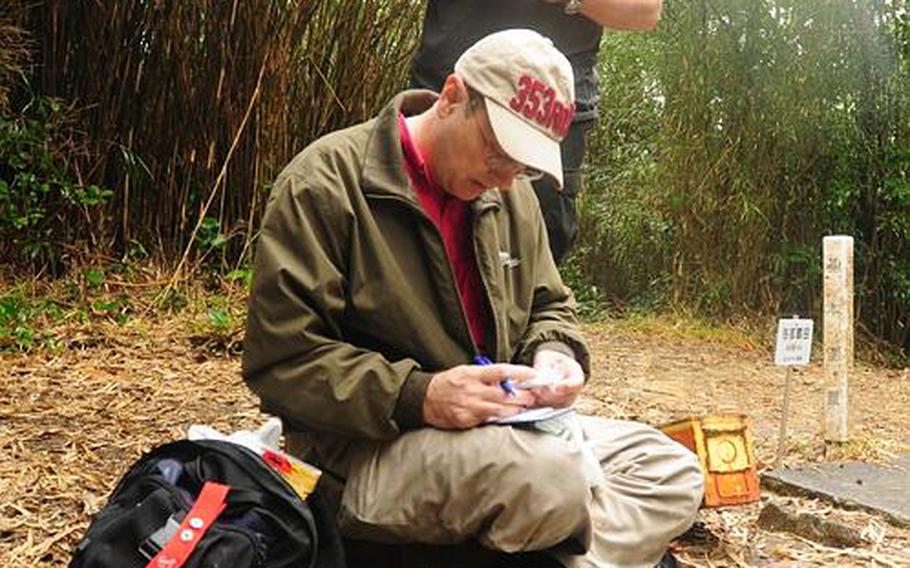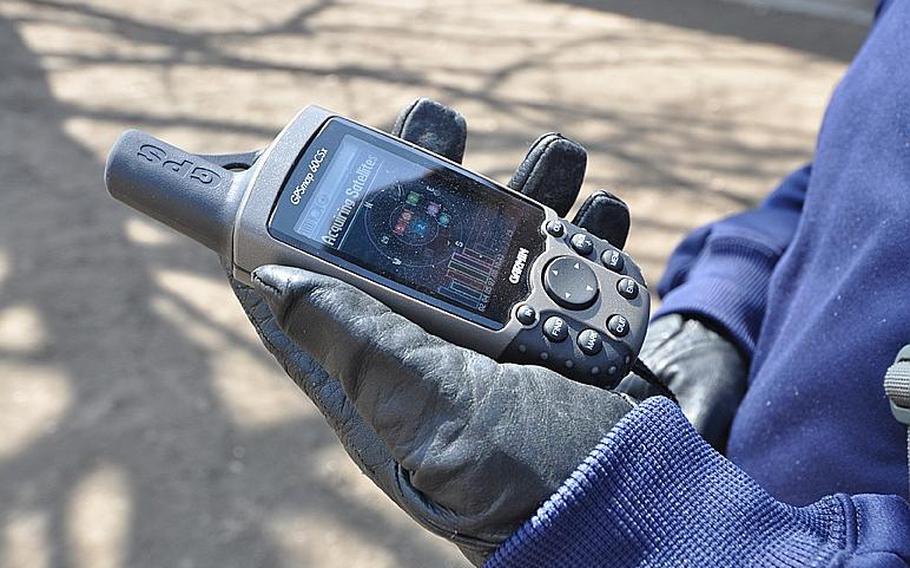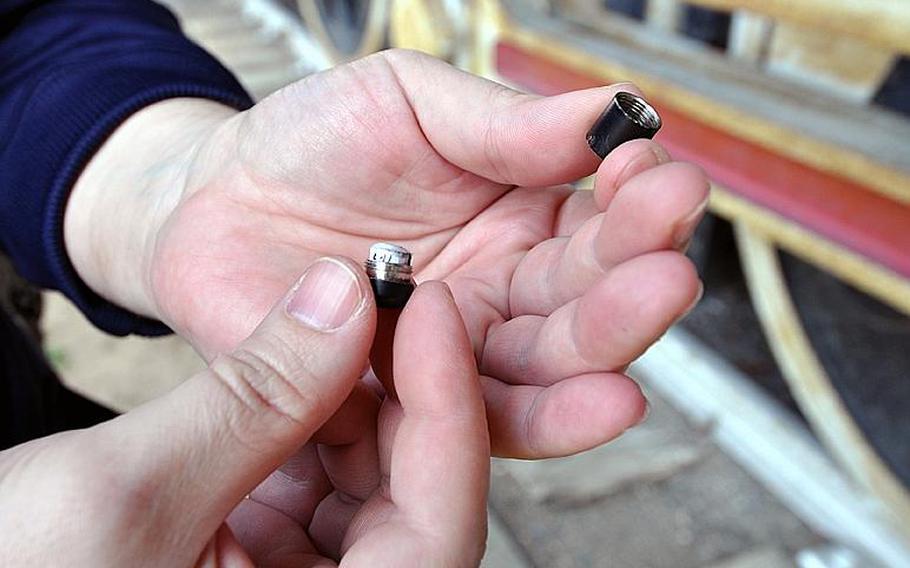 When Air Force Tech. Sgt. Robert Slagle first heard about geocaching — a high-tech treasure hunt using GPS technology — he was a bit skeptical.
It was 2004, and his friend was trying to talk him into going on a search. The goal is to use GPS coordinates — posted on geocaching.com — to track a hidden object, often contained in a watertight container. The caches must be accessible to the public and cannot be buried, but practitioners pride themselves on being as creative as possible with camouflaging and hiding them.
"He explained it to me and I gave him the whole, 'Well, you're a dork,' " answer, said Slagle. "You can go trounce through the woods on your own, dude."
But after researching it himself, he decided to give it a try.
He was hooked with his first hunt, in swampy land in Washington state. In the past six years, he's found himself scaling down rocky cliff faces, hiking up mountains, and even waiting for low tide so he could scramble out onto rocks in the ocean to find a hidden cache.
Now, as the president of the Misawa Geocachers Organization on base, he's promoting the hobby to others as a family-friendly way to explore a foreign country.
He's not alone. The hobby is popular worldwide, including within the U.S. military community.
"When GPS first hit, the only people who even knew what it was, was the military," Slagle said. "So a lot of those people have passed on friend to friend to friend."
Army Col. James Cummings said he's one of about 50 active geocachers stationed on Okinawa. Cummings said that of the roughly 984,000 worldwide caches posted on geocaching.com, about 400 are on Okinawa.
He said the hobby has taken him to "many historical and nature-related sites."
"For example, several caches on Okinawa are at old castle ruins," he said. "Others are placed on beautiful and peaceful nature trails."
Slagle said that major cities – like Tokyo and Seoul – will have hundreds, if not thousands, of hidden caches. He also said many people are surprised that there are nearly 100 hidden within a 90-minute drive of Misawa, located on the northern tip of the main Japanese island.
He's logged 60 finds near Misawa, and said he prefers to go on the most challenging hunts.
"I like to hike through the woods and up over cliffs and that kind of stuff," he said.
He said the gear is affordable — a good hand-held GPS cost him about $200 — and can be found at base exchanges.
A GPS device must connect with at least three satellites to triangulate and work. Slagle said that if he's in a clear area with good connectivity, he can end up within an arm's reach of a hidden object.
Getting to the spot is one thing, but finding the cache is another, said Slagle. Caches can be as simple as an ammo can with a notebook and pen inside so you can record your find. But he's seen them as complicated as a fake mushroom with a screw-on cap. And he actually hid a magnetic nano-cache — smaller than the tip of his pinky finger — at a park within a few blocks of Misawa's main gate. He said there are underwater caches for scuba divers and one on a glacier in Iceland that can only be reached three months a year.
Many offer trinkets — such as key chains, custom-made coins, military patches and rank insignia — and etiquette dictates that if you take something, you leave an item of similar value.
Some hide trinkets with serial numbers to see how far an item will eventually move, tracking each new location when somebody posts its new spot on the web.
Slagle hid one near Misawa and it's currently registered at a spot about 6,200 miles away, in the center of the United States.
He said there are websites that offer English-language roadmaps of Japan that can be downloaded for a price, but it's not required for the GPS to work. The device will still point you in the right direction and tell you how far you need to go.
Misawa's club is open to all nationalities, and a Japanese couple — Takuya and Midori Masaka — drive nearly five hours from their home in Akita prefecture to attend events.
Slagle said that's part of the joy of the club: You don't have to speak another language to read GPS coordinates.
Takuya Masaka said he and his wife first discovered the hobby in 2007 and joined Misawa's club last year. The first cache they looked for was hidden by an American woman who had visited Japan. When they couldn't find it, they posted a note on the geocache website and she told them she had asked it to be moved because of snow, but that she forgot to post the update.
They returned, found it and were hooked.
He said he enjoyed connecting with a foreigner and learning that the location — a Bible camp — was important to the American woman because she had been there as a child.
The fact that he can speak a little English — and uses online translation sites — allows him to interact with others on the website.
Masaka also said he was surprised at how much fun it is to hide caches, not just find them. "This was something I didn't expect when I started," he said.
He said an American man visiting Akita as part of a sister-city program found one of his hidden caches and posted his surprise at finding one in the area.
For Masaka, that's part of the attraction: leading strangers to an area of interest.
Slagle agrees and says he appreciates the chance to explore Japan.
"I knew the GPS could get me there and get me home, so there is no fear of language barriers or inability to read" the Japanese signs, he said. "You put a lot of faith in technology, I guess, but as long as you've got a signal, you're good."
For more information on joining Misawa's Geocacher's Organization, visitwww.misawageocachers.org.