Find uber-traditional German fare at Wolpertinger
by
Martin Egnash
January 4, 2018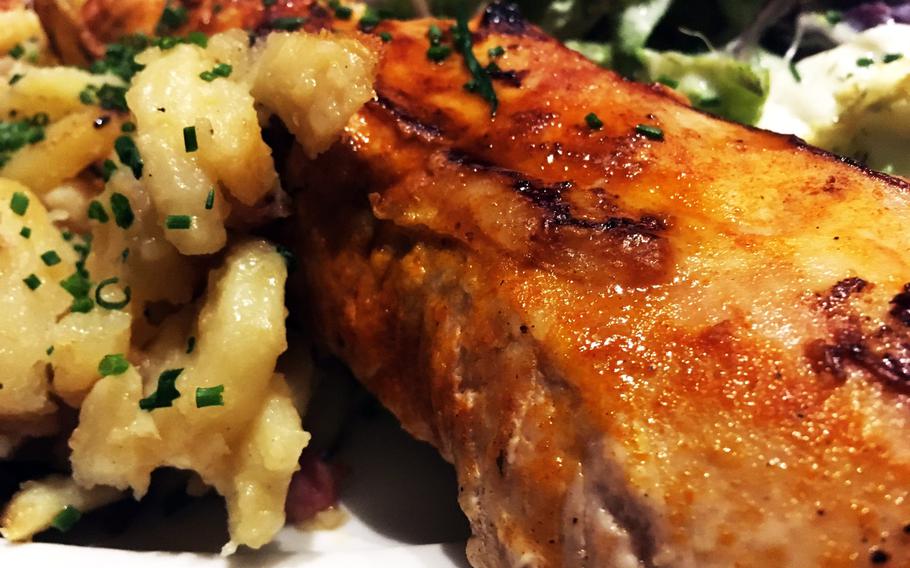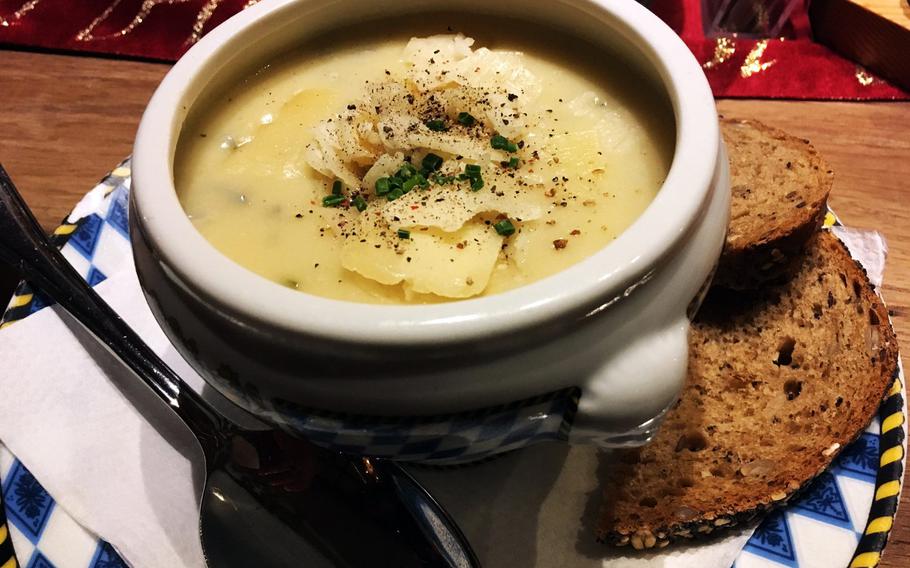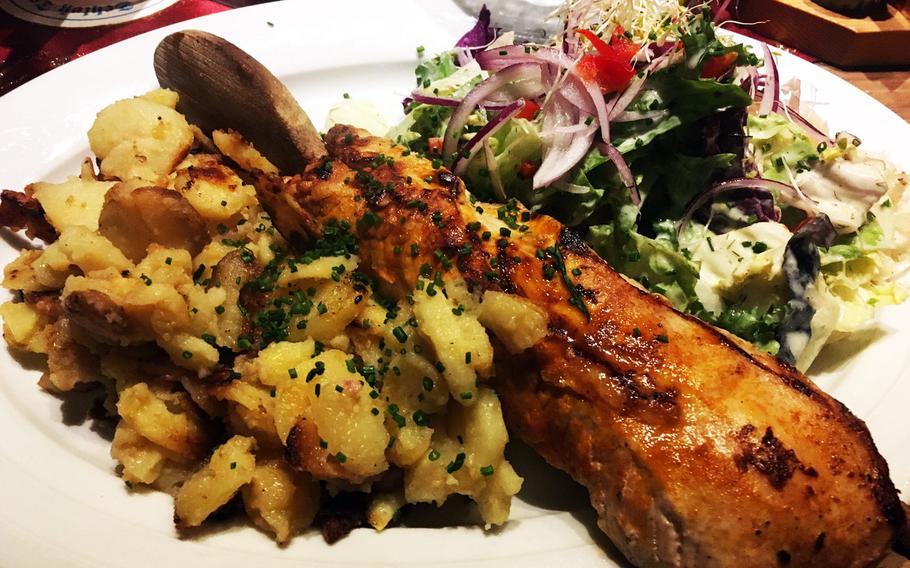 I don't usually eat German food outside the canteen on Grafenwoehr, but since I found myself in Garmisch without my wife, who hates the stuff, I decided to give it a try.
I picked the most over-the-top, outrageously German place I could find, which turned out to be Wolpertinger.
Wolpertinger is located on the main road in Garmisch and can be identified by the bright red lettering on uber-long words. The interior is all dark wood, with every nook and cranny packed with Bavarian kitsch, like a life-sized monk figure chugging beers tucked into one corner, antique beer steins lining one wall and enough antlers to satisfy Gaston of "Beauty and the Beast."
My favorite part of the restaurant was the misspelled English description beneath every dish. For every two sentences in German, there's only one in English, so you know it's not telling you everything. But if you keep an open mind, you should be fine.
Wolpertinger specializes, not surprisingly, in schnitzels. It prepares them in dozens of ways, from standard Vienna style to more exotic styles with curry or cognac sauce. I even saw a breakfast-like schnitzel with bacon, eggs and cheese on it.
I ordered a thin turkey schnitzel, stuffed with peppers and mustard, that claimed to be "wrapped around a wood." Wrapped around a wood what? I had to know. To my surprise, it was wrapped around a wooden spoon. I was a little let down, not from the taste of the schnitzel, which was fine, but I was expecting it to be wrapped around a fire log or something.
Another highlight of the description of my meal was that it claimed, right on the menu, to be "garnished with a lot of salad." Now this in fact was not a mistranslation. My schnitzel did come with a lot of salad. It was bigger than most salad entrees I've seen. It made me wonder how big their full-sized salads were, if this was just a garnish.
They also serve several very traditional soups. I had the Bavarian cheese soup, which was superb. The soup was surprisingly spicy — German dishes are rarely hot and spicy — and it had a very Old-World feel about it.
Wolpertinger brews its own special beer, which is fantastic. I had the fest-style beer, and it was a crisp, unique beer that you can't get anywhere else. It also has an extensive list of schnapps to choose from, if you need to warm up from the cold.
There are several good-looking desserts on the menu, like the fried apple-rings in vanilla sauce, and what would surely be a strudel to write home about, but it was the holiday season, and I was eating too much already.
If you're in the German Alps, and just want to be smacked over the head with a sack of German, Wolpertinger is your place. Come for the old-school food; stay because you can't read the exit sign.
egnash.martin@stripes.comtwitter.com/Marty_Stripes
Wolpertinger Address: Zugspitze Strasse 27, 82467, Garmisch-Partenkirchen, Bavaria
Hours: 5 p.m. to 12 a.m., closed Sundays and Wednesdays
Food: German fare
Drinks: German beer, schnapps, wine
Prices: Entrees 8 euros to 16 euros; drinks about 5 euros
Dress: Casual
Phone: (+49) (0) 171 5544330 Website: www.wolpertinger-garmisch.bayern
---
---
---