Famed bamboo flute artist to play near Sasebo Naval Base
---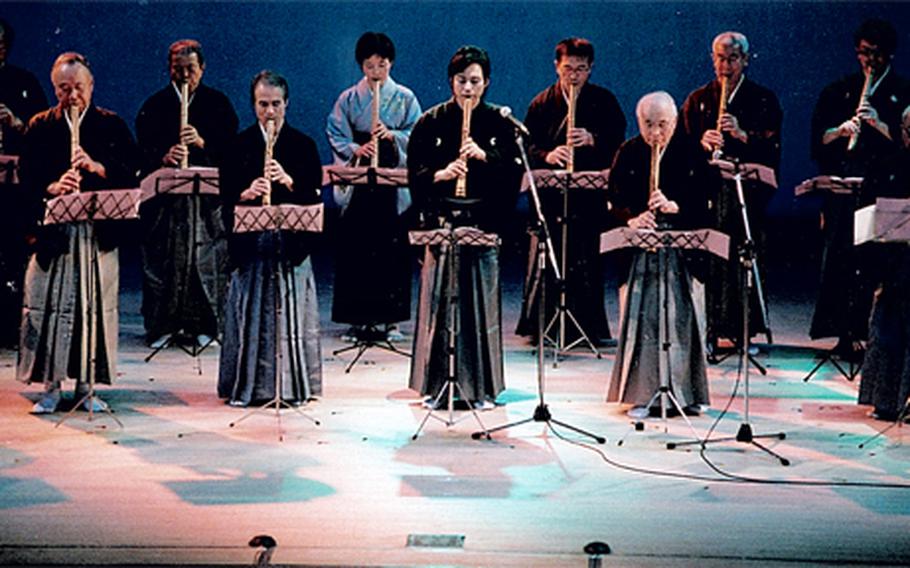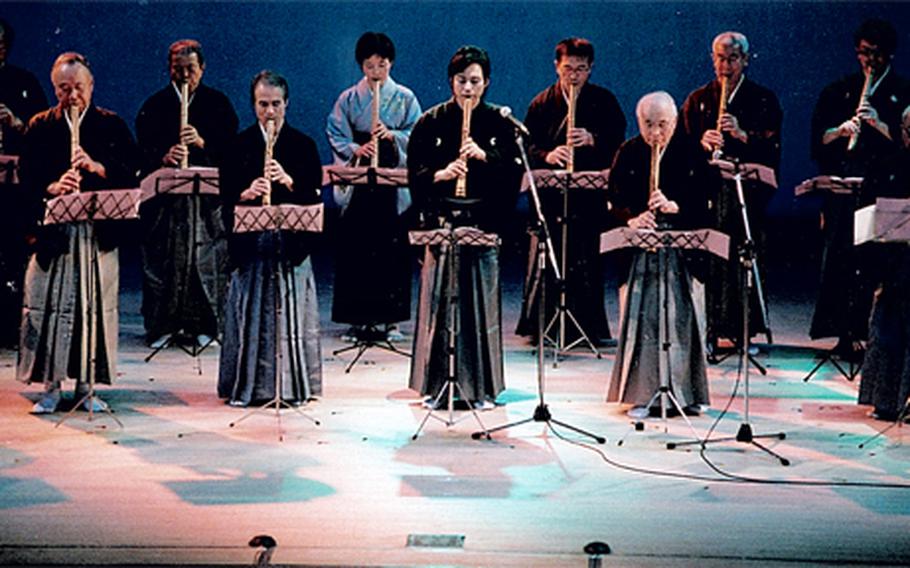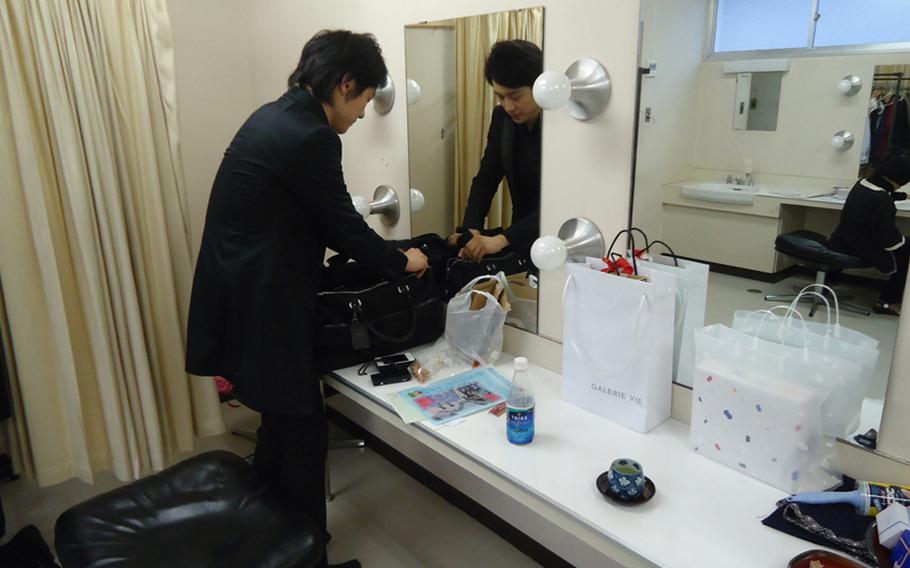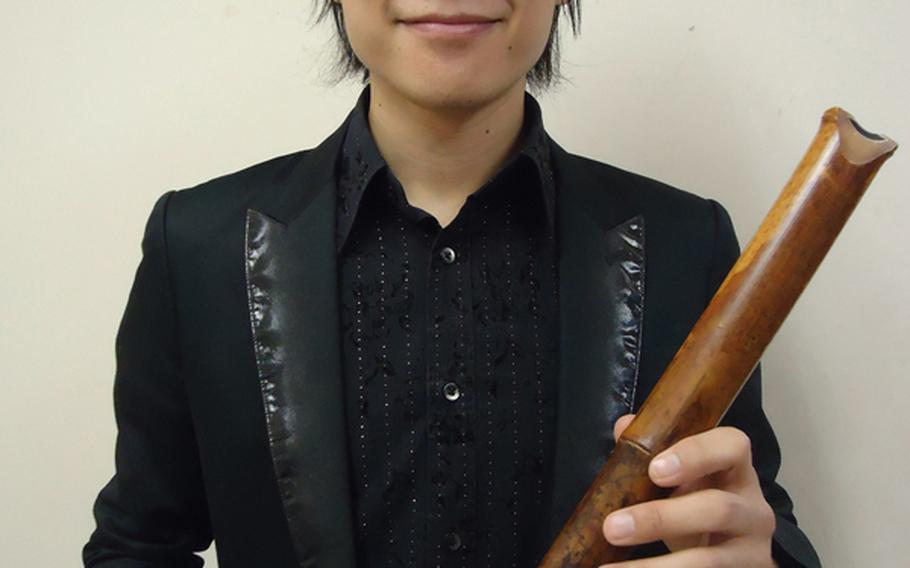 It begins like the wind whipping through a bamboo grove, then flutters like the flight of a crane and sustains. As lungs expand and fingers hammer the small circular holes of the instrument, its sound continues to waver, dripping with the certain sadness of a funeral song, inspiring immediate introspection — the soundtrack to an epic samurai battle.
It is as timeless as the traditions of the geisha coupled with the beauty of the cherry blossom and just as culturally identifiable: It is the shakuhachi, or bamboo flute, and the artist is a man they call "the prince of shakuhachi," Fujiwara Dozan.
Dozan came to Sasebo to perform at the Koto to Shakuhachi ni yoru Nihon no Hibiki concert (Japanese Sound with Koto and Shakuhachi). I was invited to attend by a Japanese friend and shakuhachi player, Kizan Takahashi of the Tozan ryu, or Tozan school of shakuhachi.
"It's kind of a form of meditation," Dozan said after his set in Sasebo, Japan, as well-wishers showered him with flowers and praise. "It's quite different from Western-style instruments, melody, rhythm, harmony."
Nevertheless, the Japanese pop icon promises Americans will enjoy it.
The shakuhachi's origins are elusive and it has transformed since 590 A.D., American shakuhachi disciple John Kaizan Neptune wrote in a history of the instrument. It is believed to have come from China, but some scholars trace its origins to ancient Egyptian and Arabian instruments. In Japan, it was taken up by wandering beggar priests, and it became longer and thicker so it could be used as a club. It was later played by the samurai, then the geisha, followed by all classes in Japanese society.
Dozan is in his 40s and is known for boy-band good looks that contributed to his nickname.
He has been playing shakuhachi for 30 years, studying under Yamamoto Hozan, a renowned Japanese master who in 2002 became the first shakuhachi player to be chosen as a living national treasure. He has released several albums, scored Japanese films and released popular music videos, on his way toward taking the traditional Japanese art form mainstream. He is the anti-Kenny G, part Japanese John Williams, part Yo-Yo Ma, part George Harrison and Johnny Cash, sometimes dressing in all black.
In Sasebo, he played the traditional Japanese standards "Tsuru no Sugomori" ("Nesting of Cranes"), whose sound represents the calls of a male and female crane, their flapping wings and the baby crane's chirping, as well as "Shika no Tone" ("Far Calls of Deer") He exhibited his special skill of exhaling to play while inhaling at the same time to play long, piercing, notes.
His version of "Amazing Grace" was riveting, one of the most beautiful and dramatic renditions I have ever had the pleasure to hear.
Dozan has played around the world, including the U.S. to India, and he plays again at Solaria Stage in Tenjin, Fukuoka prefecture, on June 2, not far from Sasebo Naval Base. He will be playing "Bolero" by Ravel, "Pictures of an Exhibition" by Mussorgsky, "The Four Seasons" by Vivaldi, and "Orchestral Suite No. 2 in B Minor" by Bach with percussionist accompaniment in what is being billed as the smallest orchestra in the world.
If you want to experience the sounds of Japan while in country, shakuhachi is the sound of the nation, the sound of the wind through a bamboo grove, the sound of the geisha, the sound of the samurai.
KNOW & GO"Fujiwara Dozan and Sinske: The World's Smallest Orchestra with a Shakuhachi and a Marimba"
When: June 2
Where: Solaria Stage in Tenjin, Fukuoka, 2-11-3, Tenjin, Chuo-ku, Fukuoka City. The venue is adjacent to Nishitetsu Tenjin Station and Tenjin Bus Center, a four-minute walk from Tenjin Minami Station
Cost: 5,000 yen reserved or 5,500 yen at the door; tickets available through http://yolanda-office.com (Japanese only) or http://eplus.jp (Japanese only) or at Lawson convenience stores
---
---
---
---