Face-to-face taunts just one benefit of on-base game parties
---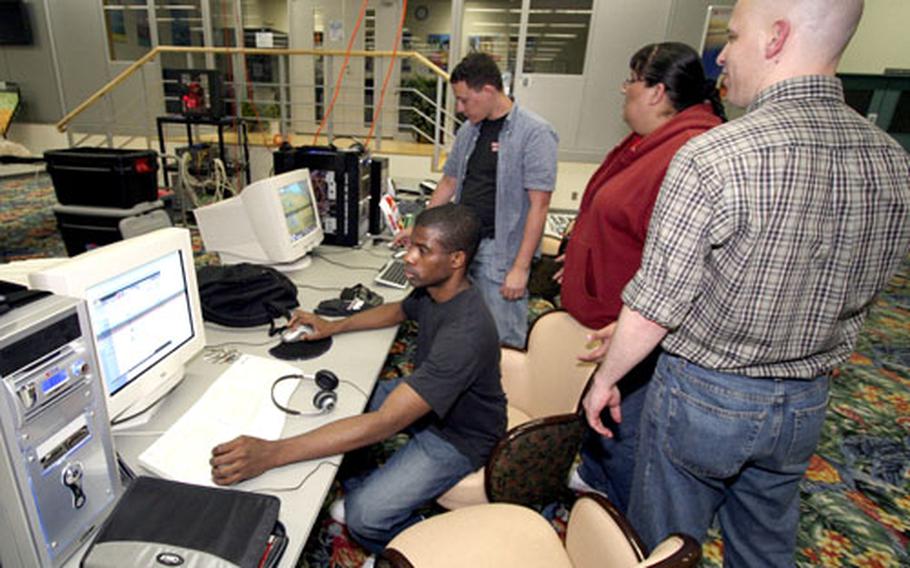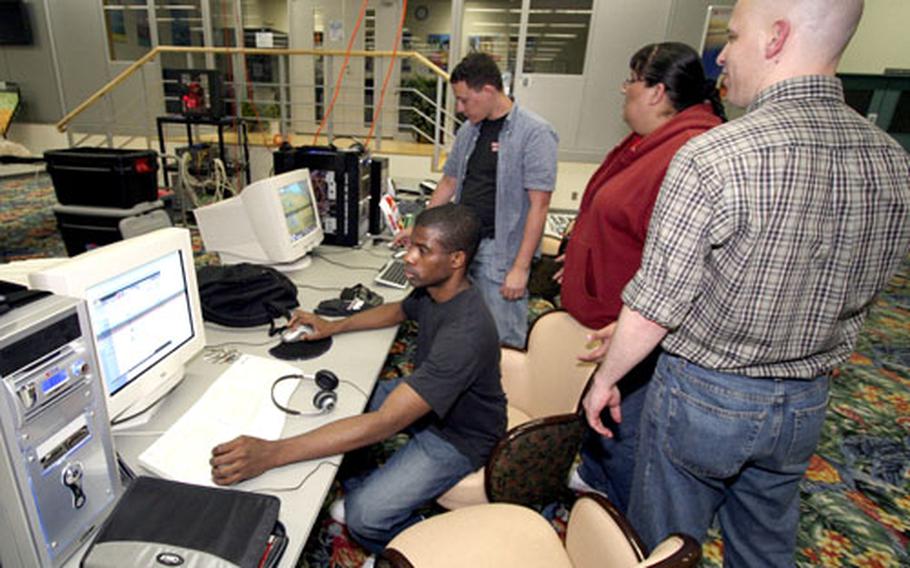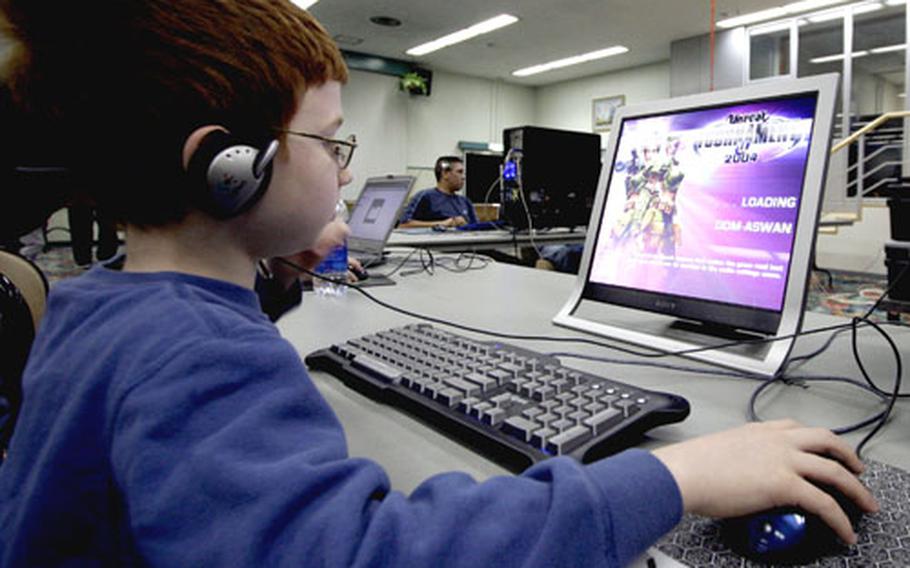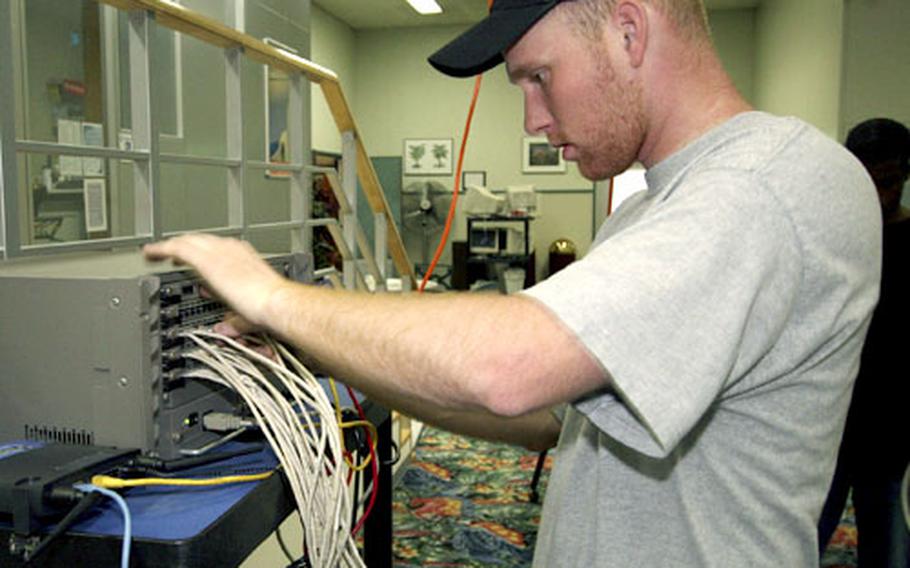 Since the arrival of high-speed Internet about three years ago, the Computer Users Group of Yokota has seen a steady dip in participation at its LAN parties.
Weekly gatherings used to attract more than 40 gamers. They're staged roughly once a month these days at the Yujo Recreation Center, and attendance might be half that figure — but only on a good night.
It's now much easier to find a good game online — and in the comforts of a den or living room at home. But CUGY's hardcore members insist there's just no substitute for seeing that mortified look on an opponent's face after a quality "kill."
"When we were still on dialup, the only way to get a decent game going was through us," said Master Sgt. Robert Sanders of the 374th Operations Group, the CUGY president since April 2000. "Dialup was too slow. You can hook up on the Internet now and get a decent network setting, but it's anonymous. You don't know who you're playing against.
"Here, it's an opportunity to laugh in their face. Win or lose, you know you can stand up and say, 'Ha! Ha! I got you.' … You don't have the camaraderie in online gaming that you do here. Also, we don't push it, but this is a good no-alcohol option for people on a Saturday night."
According to Sanders, CUGY's roots date to 1979, when several guys would meet at Yokota's Skills Development Center to talk about routers. Over time, the technical discussions gave way to games. He said members still engage in that "sharing of local knowledge," even encouraging newcomers to solve home computer problems by hauling parts to a party.
"Bring a box in here and we'll show you how to put it together," Sanders added.
The group has about 20 active members and another 20 who'll make less-frequent appearances. People from as far away as Yokosuka Naval Base and Naval Air Facility Atsugi have attended.
"There's basically no age limit, but if children come, don't just drop them off," Sanders said. "Parents should stay, too. These are expensive toys."
As a private base organization, CUGY conducts periodic fund-raisers to help pay for club monitors and equipment, most of which is stored at the Yujo. Players may bring their own gear as well.
Everyone supplies games based solely on preference, he said. Among the most popular: "Counter-Strike," "Command & Conquer," "Age of Empires" and any first-person shooter.
Occasionally, someone takes off for the Base Exchange in the middle of a party to purchase the "hot item of the week," Sanders said.
Other bases around the world have similar clubs. For example, Aviano PC Wars sets up about once a month at the community center or the Army and Air Force Exchange Services foot court on Aviano Air Base, Italy. For further info, check www. avianopcwars.com.
Back at Yokota, 1st Lt. Charles Gilbert of the 374th Communications Squadron has belonged to the club for about a year.
"There were 20 or 30 people here my first visit," he recalls. "I was like, 'Sweet, I've been missing this.' I enjoy these thoroughly because it's fun putting faces to names. In this situation, you can lean across the table and tell them you're gonna get 'em.
"You get to meet new people and learn new games. It saves money, too, since you can try out a new game before buying it."
The Yujo allows CUGY to stay after hours and parties often last until dawn, Sanders said. "Far too many times, I've seen the sun come up as I leave," he added.
Senior Airman Korlacan Khanthavilay, also of the 374th Communications Squadron, is expected to take over as the group's president when Sanders leaves Yokota early next year. He says he joined a year ago after spotting an online ad.
"I like to play computer games and figured it'd be nice to play against other people," Khanthavilay said. "Also, you can get tips and tricks on building computers. I play online too but it's not the same as being right next to the guy and telling him, 'I got you.'"
CUGY members decide how often parties are held in a vote on the group's Web site at http://cugy.net/. All Kanto Plain residents, including Japanese locals, are welcome and there's no fee to join.
"Come in for the games," Sanders said. "If you're interested in talking tech stuff on a geek level, great. If not, then we've got another person to shoot at during the games."
---
---
---
---