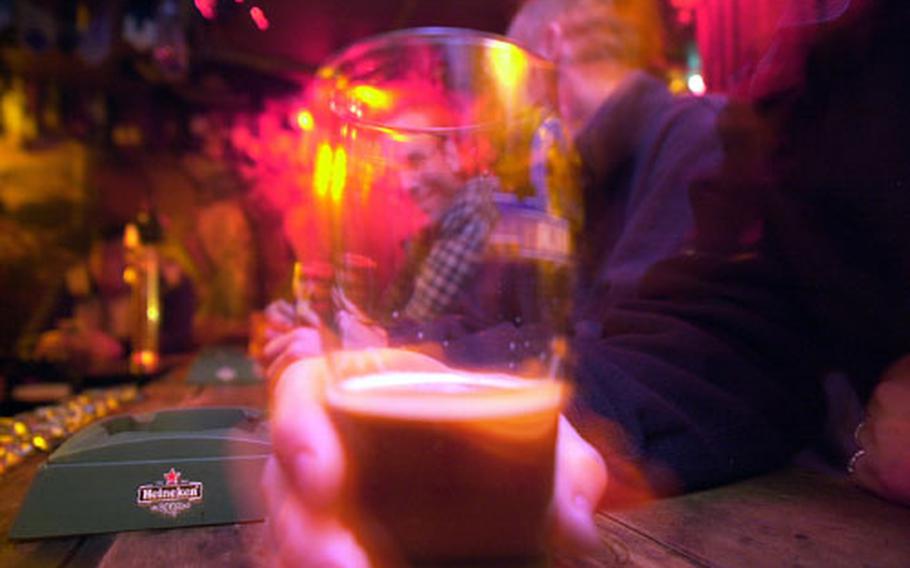 SASEBO NAVAL BASE, Japan — If you walk into the Navy Exchange Mini-Mart here in search of a six-pack of Coors Light at 7:01 p.m., you're out of luck, pardner.
One measure in the base's new alcohol policy dictates that there be no retail alcohol sales on base after 7 p.m. If you need a bottle of Zinfandel, you better buy it before then.
Sasebo's command master chief petty officer said the policy, implemented this summer, helps prevent off-base incidents related to alcohol abuse.
And according to figures provided by Navy officials in Japan, the new Sasebo policy — and other measures — appear to be reducing incidents.
A few high-profile cases — including August's violent robberies in which USS Kitty Hawk sailors are suspected — have garnered headlines. But Navy officials say the number of incidents has shrunk in the past three years.
And while Sasebo's top enlisted sailor admitted the changes were somewhat related to recent incidents, he said they're also in line with servicewide modifications.
"Navy leadership has had an eye on personal-conduct issues anyway … not just up in Yokosuka, but Navywide," he said. "They asked all the commands to take a look at what things could be done to improve personal conduct ashore."
The base diligently works to enhance the good relationship it has with the city of Sasebo, "not only among the city leaders, but also among Sasebo citizens," he said. "So we are looking at where we can improve ourselves."
Main base Navy Exchange facilities — including two convenience stores and the Bayside Food Court restaurants — no longer sell alcoholic beverages after 7 p.m. The rule does not apply to the Hario Housing Village NEX Home Store. Hario is about a half-hour drive away, where alcohol related incidents are rare, said Sasebo Naval Base's Command Master Chief William Lowman.
Also, public alcohol consumption at base facilities is restricted to pavilions and parks at pre-approved command-sponsored events, for a pre-determined time period under the direct supervision of an E-7 or above.
"We're trying to get senior leadership involved. That's why we're saying an E-7 or above needs to be at an event. That way it forces the senior leadership to be there, and be aware of what's going on," he said.
In addition, all Morale, Welfare and Recreation facilities that serve alcoholic beverages must limit the purchase to one drink per person at a time. A customer cannot buy rounds, or several drinks at once for several people at a table. Under the new policy, only single-strength mixed drinks can be sold.
Base security will escort all personnel identified as perpetrators of excessive alcohol consumption or disruptive behavior directly to their ship or quarters, and will have their access to base MWR facilities denied for 30 days.
"Right now, this is where we stand," said Chief Petty Officer Brian Davis, in charge of Sasebo's command Drug and Alcohol Prevention Program.
Lowman and Davis said base officials identified a "trend" indicating that alcohol was involved in a distinct majority of reported misconduct incidents.
"Every morning I get incident reports, and there is nonalcoholic stuff in there, too, like traffic accidents. But it doesn't take much to see a pattern," Lowman said. "It's not all junior guys, but most of it is."
Davis echoed Lowman, saying it is "pretty obvious."
Ernest Perez, a 12-year Navy veteran who separated from the service as a petty officer first class, works as a civilian on the base. He drinks rarely but said he doesn't think the changes will spark much change.
"I mean 1900?" he said, referring to the 7 p.m. time limit. "I've heard of places in the States where you can't buy alcohol after midnight, but 1900; that's ridiculous."
The new policy "could work if the young sailors were more responsible, or maybe they should place some age limits, or rank restrictions on things," he said.
In some cases, misconduct is simply bound to occur, Perez said.
"Some of the younger guys are just very immature … young and stupid. Believe me, I've seen it, and that's just the way it is. Some of them are going to get in trouble, no matter what."
Objections to the new rules seem to be minimal.
"There's always opposition to change. But it's mild," Lowman said.
"Everyone has been real supportive for the most part. There was some low-level grumbling, but not after the first two or three days. People just adapted and moved on," he added.
Davis added, "The grumbling is usually from guys trying to buy a six-pack at 1905."
Precipitating the tightened alcohol measures were a series of ugly and widely reported incidents involving sailors from the USS Kitty Hawk earlier this fall. In a period of three weeks this August, several violent incidents — including the robbery and beating of a elderly Japanese man and a car-jacking accomplished with a replica pistol — ended in the arrest of a half-dozen junior sailors by Japanese police.
Alcohol was reported to be a factor when two Kitty Hawk sailors were arrested after causing a disturbance at a Yokohama restaurant that month. But neither Japanese police nor Navy officials would say explicitly that alcohol was involved in the other incidents.
But after the first two incidents were reported, Navy officials implemented strict liberty policies for all junior sailors at Yokosuka. Those measures included a midnight curfew for anyone below the rank of E-5. In the weekends after the curfew went into effect, Shore Patrol members would start sweeping local drinking establishments at around 11:30, sending most patrons home.
Though the rule applied to all Yokosuka sailors, the Kitty Hawk went one step further, implementing a liberty card policy like that used when the ship visits ports.
The policy now applies to sailors serving on the ships in Sasebo but one official said the liberty card policy soon would expand to also include shore-based sailors at the small southern Japan base.
The rules were intended to cut down on alcohol-related incidents, officials said. Sailors say it has worked so far.
"Really, if you have to be back on your ship and check in with your department at midnight, how drunk and stupid are you going to get?" said Petty Officer 3rd Class Leo Arroyo. "People said it was really unfair, but look at what's happened since those rules were started. You haven't heard about nearly as many incidents. So, I guess they were right. If we can prove that we can be this careful and be given the freedom to go out until whenever we want, then I guess we've all learned something."
Despite of the well-publicized crimes and arrests, Navy officials say the number of alcohol-related incidents is going down each year, thanks in part to providing alternatives to drinking and back-to-basics disciplining.
In October, Stars and Stripes requested figures on alcohol-related incidents from each of the Navy installations under the command of U.S. Naval Forces Japan. Only the Fleet Activities at Yokosuka, Sasebo and Okinawa, responded.
For Okinawa, there are only 190 active-duty sailors stationed at the base. From 1999 to 2001, Navy officials there recorded only one incident each year.
But so far in 2002, the number has increased to five, said Petty Officer 2nd Class Alicia Rogers, who works in the base public affairs office. There was no explanation for the increase and it is most likely a one-year anomaly, officials said.
A better basis for statistical analysis is Yokosuka Naval Base, home to some 20,000 American servicemembers, dependents and civilian workers.
According to base spokesman Mike Chase, the number of alcohol-related incidents has declined in two of the past three years and may do so again this year. The number has gone from 362 in the year 2000, to 319 in 2001 to 257 through September of 2002.
Those numbers include incidents reported for all American employees at Yokosuka, not just sailors.
According to a 1999 Department of Justice study correlating alcohol with crime, 39 percent of all reported crimes in the United States were alcohol-related.
In a more narrowly defined study, and one that might fit more closely with the demographics of a military base, a 2002 review by the Southern Illinois University found that alcohol was a factor in 31 percent of harassment and criminal incidents reported on college campuses nationwide.
In Sasebo, officials believe their policies, as well as efforts to educate sailors about the dangers of alcohol abuse, are worthwhile, although Sasebo officials said it's too early to assess their new alcohol measures' effect.
Yoko Aramaki of the base public affairs office said Sasebo's total number of incidents are as follows: from January to March, 44; from April to June, 45; from July to September, 43.
Aramaki said the figures were for the entire base population, including active-duty sailors, dependents and other civilian personnel. She also noted that during during the August port visit by the USS Abraham Lincoln, which doubled the base's population and likely tripled the population of active duty sailors in Sasebo, the numbers actually decreased slightly.
"Generally, we feel that we have done a good job raising awareness about the consequences of alcohol abuse and inappropriate behavior," said Davis, Sasebo's DAPP coordinator. "We've worked together with the waterfront leadership here at Sasebo to make it clear to our sailors that they are held to the highest standards of conduct.
"Our relationship with the City of Sasebo reflects how well Sasebo sailors represent America and the U.S. Navy," Davis added.
Base steps up weekend checks of drivers
NAVAL AIR FACILITY ATSUGI, Japan — Sometimes it's their breath that's a hazard.
As Petty Officer 2nd Class Bradley Borum stops a car at the base's west gate on a Saturday night for mandatory sobriety checks, the driver's breath gives her away. Borum knows right away what the woman had been doing all evening.
Eating gyoza. With lots of garlic.
"She was real apologetic about it," Borum said later. "She offered me one."
Each driver is stopped, and the patrolman places the "magic wand" — a blue cylindrical device about the size of a flashlight — in front of the motorist who then breathes toward it. If the patrolman gets a green light, the driver is good to go; a red light, and the patrolman breaks out the more precise breathalyzer. Japanese police use a similar device, Borum said.
"Certain breath mints get a red light, so we have to check," Borum said.
Ensign Anthony Brown, Atsugi's security officer, said the program tries to make drivers aware that they may have had too much.
"We didn't really have a problem with DUIs," Brown said. "But I think the program has even lessened it to some degree and put a damper in it. It's been received fairly well," by base residents, he said.
The program started in September, although Brown said it was not a direct result of incidents involving Kitty Hawk and Carrier Air Wing FIVE crewmembers.
"It's just a preventive measure we put in place," he said.
Brown said drivers are tested at random places on base at all times of the day, regardless of whether they're servicemembers, civilians, family members or Japanese nationals. If someone pops a higher blood-alcohol level than the base limit of .05 percent, they are stopped and processed for the possibility of driving under the influence. When they hit levels above the Japanese legal limit of .03 percent, but are below the base level, they are asked to park their vehicle and either have someone else drive, or contact someone to pick them up.
Besides the mandatory checks, the base clubs are also stepping up measures to deter drunken driving.
Brian Naranjo, an Atsugi spokesman, said the base Morale, Welfare and Recreation office has a program that allows bartenders to cut someone off when they've had too much.
"It tells them what to do if a patron gets belligerent," Naranjo said.
"Bartenders can use a judgment call," Brown said. "They can decide if a patron has had too much to drink and are allowed to stop serving that person."
People have been receptive to the program, Brown said.
"It's not a negative reaction, it's a positive reaction because they know we're working in their best interest," Brown said, adding people normally adhere to the recommendation to take a room if they hit over the Japanese limit.
Petty Officer 2nd Class Willie Jones, who is assigned to NAF Atsugi, said the program could be all that stands between the base and "an international incident."
"I think it's a great idea," he said. "When you drink, your judgment is impaired and that could cause all kinds of problems."
"It's a good idea they check," said Airman Sean Reynolds, of Electronic Attack Squadron 136. "Drivers should be careful anyway, and it's just not a good thing to be drinking and driving."
— Rick Chernitzer
---
---
---
---