Excellent eggs for an Oriental Easter
---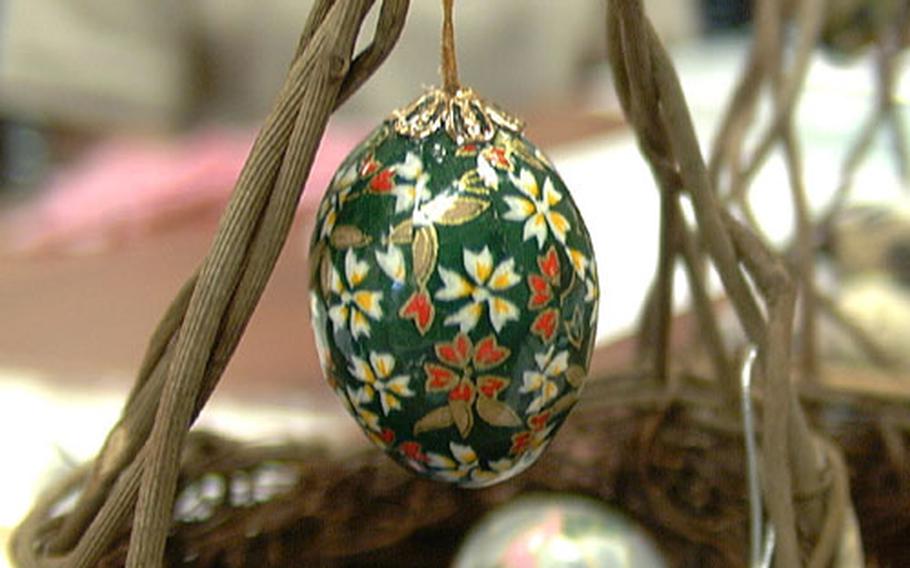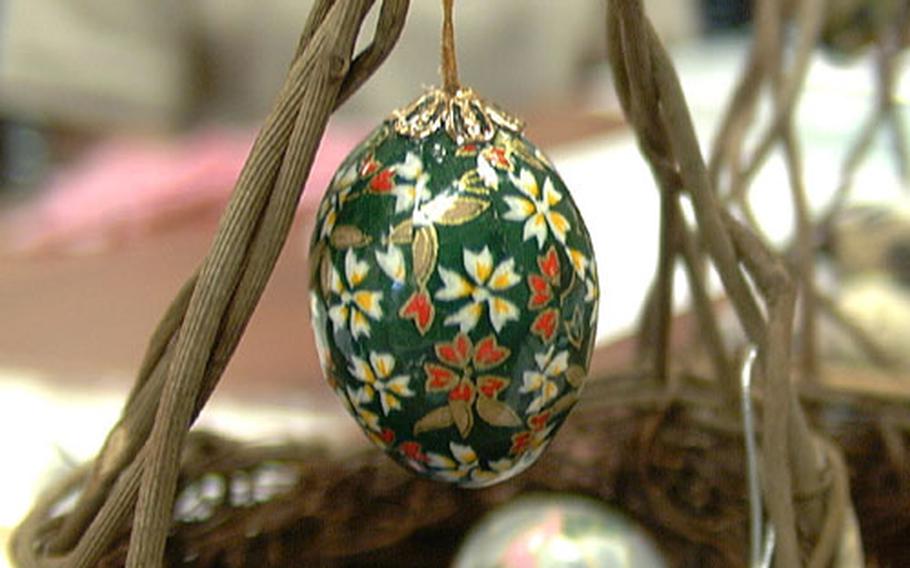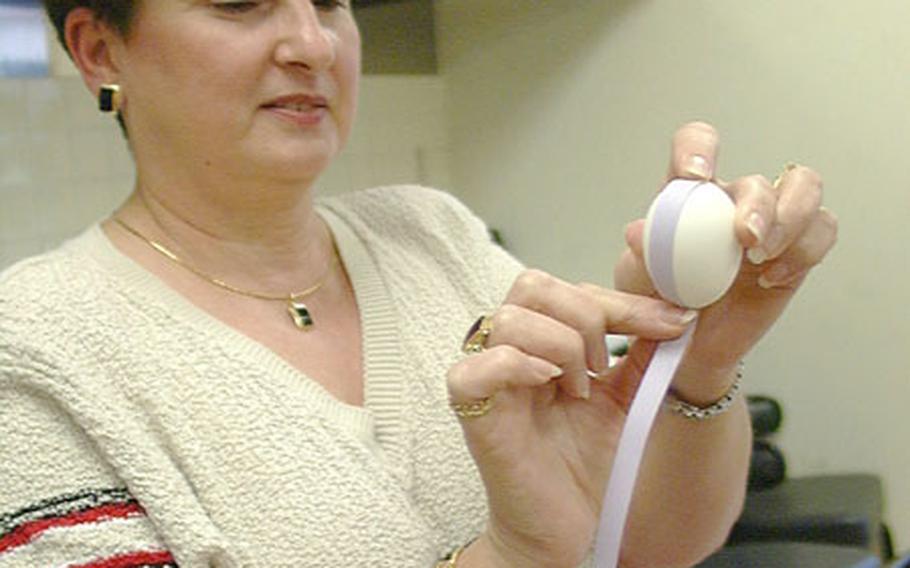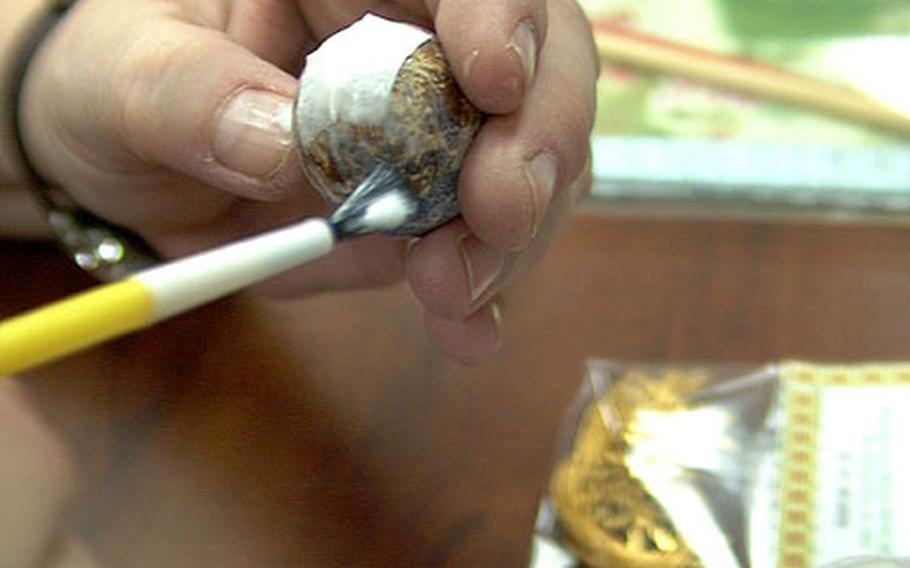 KADENA AIR BASE — Bring a little Oriental flair to your Easter table this year by displaying eggs in colorful washi, or Japanese rice paper.
Robertta Uhl, an Okinawa artist and author, uses easy-to-follow techniques to turn plain eggs into colorful, elegant and permanent ornaments.
Washi-covered eggs are one of many art works Uhl, an employee at the personnel office of the Department of Defense Dependent Schools district office on Okinawa, has created while living on Okinawa for 20 years with her family.
The transformation of a hollow and fragile egg to a colorful, almost nonbreakable work of art is magical.
Washi is made of tough and durable bast fiber from plants, such as paper mulberry, mitsumata and gampi. In the papermaking process, the pulp solution is mixed with vegetable mucilage, which adds further durability and water-resistance to the paper.
Since paper was first introduced from China around 610 A.D., the paper-making skills were refined in Japan. Because of the variety of colors, textures and designs, by the end of the 17th century, the paper had become an integral part of daily life, used in shoji screens, upholstery, calligraphy, printing and crafts.
Uhl's first encounter with washi was 11 years ago when she saw Japanese and American ladies making washi eggs in a crafts class. They were cutting washi into narrow rectangular pieces to cover an egg surface.
"I tried it but it was so hard and I didn't do very well," she said. There should be an easier way to do it, she thought.
Uhl, who learned fashion design in London, eventually devised a washi pattern of her own. The carefully thought-out pattern made it possible for even a beginner to make crease-free, smooth washi eggs.
During a recent workshop, eight people came to her workshop at the Schilling Community Center on Kadena Air Base. Under Uhl's step-by step instruction, they used a pattern to cut the washi paper. Using a brush, glue was applied on the paper and little by little, it was put on the egg surface with a careful and gentle touch.
"Patience is virtue," Uhl advised.
Everybody concentrated on her finger movements. Quiet prevailed in the classroom.
Suddenly — "Oops!" Someone broke her eggshell! Uhl went to the table, where a big sigh was heard. No need to discard the egg yet, she told her disappointed student. A washi egg is no Humpty-Dumpty.
"It is mendable," she said, picking it up and bandaging the cracks with a strip of washi paper. The paper's surprisingly flexible nature made the mended part of the egg surface smooth again.
Before the two-hour class was over, all the students were able to make at least two washi-covered egg ornaments for Easter.
Pam Booser, a Kadena Air Base resident, was one of the students that evening.
"It was fun," she said, adding that she'd never seen washi until she came to Japan a month ago. "The texture is very different."
Uhl recently released the fourth edition of her book, "Wonderful Ways with Washi," by Tuttle Publishing Co. It contains step-by-step instructions, diagrams and patterns for her 17 original washi crafts, including covered eggs, Kokeshi dolls, picture frames, refrigerator magnets and table toppers.
Materials used in most of her crafts are commonly available or even recycled. For example, a decorative oriental flower vase is made out of milk cartons, and pencil holders and Kokeshi dolls are made of cardboard rolls from paper towels and toilet paper.
"You can do anything as far as your imagination allows," said Uhl's husband, Ron, who assisted her with the book's design and layout. And the secret is the paper's highly durable yet warm and soft texture, he said.
The book is available at the Army and Air Force Exchange Service Bookmark stores in Japan, Orient Bazaar in Tokyo or online at www.tuttlepublishing.com or www.amazon.com .
Uhl's forthcoming workshop projects at the Schilling Community Center include gifts for Mother's Day and Father's Day and eggs for Fourth of July.
---
---
---
---