Recently announced concerts and events for Aug. 26 and beyond
By
Stars and Stripes
August 25, 2022
---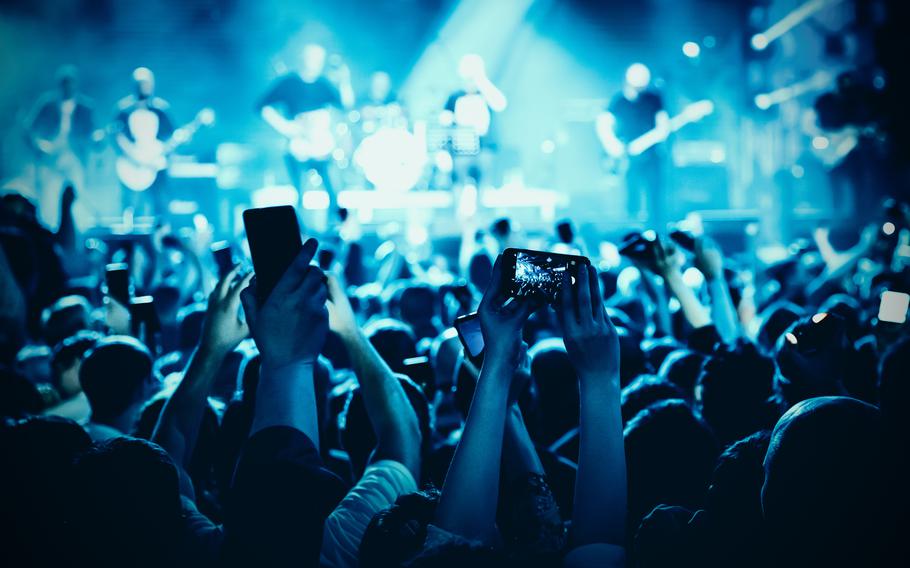 Recently announced concerts
Events are from the websites pollstar.com; eventim.de; and euroteam.info.
BRAD STANK
U.K.: London (Moth Club) Nov. 25, Bristol (The Louisiana) Nov. 27, Manchester (The Deaf Institute) Nov. 28.
B YOUNG
Germany: London (Outernet) Sept. 28.
FROM THE JAM
U.K.: Hastings (White Rock Theatre) Sept. 15, Exeter (University) Sept. 28.
HAYSEED DIXIE
U.K.: Holmfirth (Picturedome) Oct. 7, Cottingham (Civic Hall) Oct. 8.
MAX COOPER
U.K.: Manchester (Gorilla) Nov. 11.
TOYAH
U.K.: Leamington (Assembly) Sept. 23.
ROBBIE WILLIAMS
U.K.: Munich (Messe) Aug. 27.
ROSALIA
Germany: Berlin (Velodrom) Dec. 4.
THE SWEET
U.K.: Newcastle Upon Tyne (Boiler Shop) Nov. 24, Edinburgh (The Queen's Hall) Nov. 25.
Special concerts and shows
EUROBLAST FESTIVAL
Germany: Cologne (Essigfabrik) Sept. 30-Oct. 2.
BE KIND FESTIVAL
Germany: Berlin (Sudhaus) Oct. 13-16.
HIGHFIELD FESTIVAL
Germany: Grosspoesna (Stoermthaler See) Aug. 19-21.
KALLETAL ROCKT FESTIVAL
Germany: Kalletal (Im Kleikamp) Sept. 2.
LOLLAPALOOZA
Germany: Berlin (Olympiastadion) Sept. 24 and 25.
LONDON JAZZ FESTIVAL
U.K.: London (various venues) Nov. 12-19.
PEACE ON EARTH METAL FESTIVAL
Germany: Aachen (Autonomes Zentrum Aachen) Oct. 8.
ROCKTOBERFEST
Germany: Zeven (Festplatz) Oct. 7-9.
THE IRISH FOLK FESTIVAL
Germany: Kempten (Kultbox) Oct. 16.
Auditions
Kaiserslautern, Germany: KMC Onstage holds auditions for "Joseph and the Amazing Technicolor Dreamcoat" Sept. 26 and 27; "Arcadia" Dec. 5 and 6. Bldg. 3232, Kleber Kaserne. DSN 314-483-6626.
On-base shows and theater
Kaiserslautern, Germany: KMC Onstage presents "The Yellow Boat" Sept. 23-Oct. 2. Bldg. 3232, Kleber Kaserne. DSN 314-483-6626.
Grafenwoehr, Germany: Performing Arts Centre hosts DJ and karaoke night Aug. 26 at 7 p.m.; King of the Hill bowling Sept. 4; 9 pin no tap tournament Sept. 1 at B103 Gettysburg Avenue Tower Barracks. CIV +49(0)9641-83-6426, DSN (314)475-6426.
Stuttgart, Germany: Stuttgart Theatre Centre presents "The Imcom-E-One-Play festival" Sept. 6 at 7 p.m., Bldg. 3320, Kelley Barracks; DSN (314) 421-3055, CIV +49 (0) 711-729-3055.
Vicenza, Italy: Soldiers' Theatre presents "Compulsive Laughter. A collection of short adult comedies" Aug. 22 at 6 p.m. in Bldg. 11, Caserma Ederle. DSN 634-7281, CIV (+39) (0) 44-471-7281.
---
---
---
---