Europe Traveler's event picks for September 28-30
---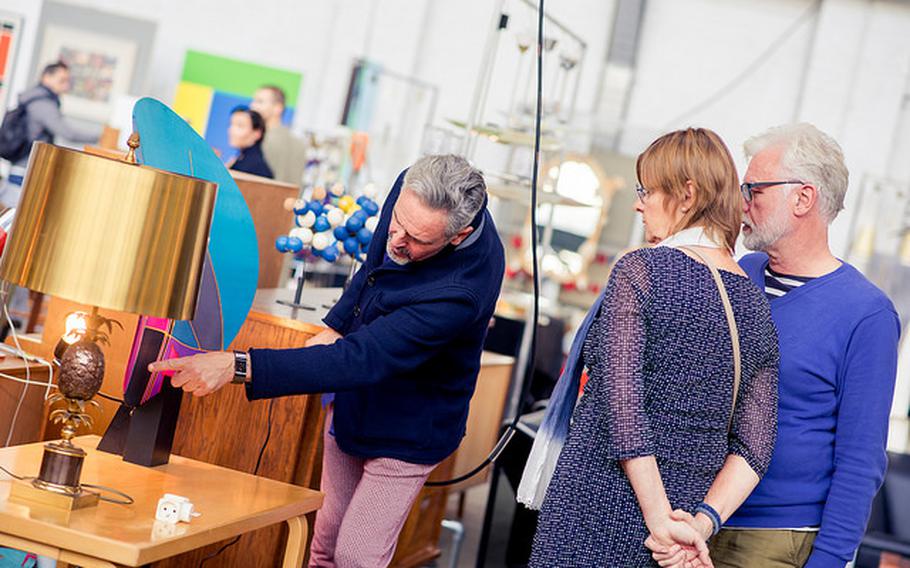 Brussels Design MarketLocation: Tour & Taxis, Avenue du Port, 86c, 1000 Brussels, Belgium
Dates: Sept. 29-30 (noon-6 p.m. Sept. 29; 9 a.m.-5 p.m. Sept. 30)
One of Europe's top events dedicated to vintage design of the 20th century features more than 100 exhibitors from Belgium, Denmark, France, Germany, Italy, the Netherlands, Switzerland and beyond, who offer a wide range of home decor, furniture, works of art and much more.
Admission: on Saturday, tickets cost 25 euros and are valid for both days; on Sunday, tickets cost 10 euros. Website: www.designmarket.be
KookeetLocation: Station Square, Brugges, Belgium
Dates: Sept. 29-Oct. 1 (11 a.m.-9:30 p.m. daily)
Twenty-nine chefs from Brugges, six of whom have Michelin stars, cook up special tasting menus available at a cost less than you would expect to pay in a restaurant. Regional products often feature in their tasty offerings. Pop-up street theater enlivens the proceedings.
Admission: Free; the tasting dishes generally cost from 4 to 8 euros.
Online: www.kookeet.be
Karlstejnske vinobrani/ Karlstejn VintageKarlstejn, Czech Republic
Dates: Sept. 29-30 (10 a.m.-8 p.m. Sept. 29; 10 a.m.-5 p.m. Sept. 30)
A wine fest in the shadow of a massive castle brings history to life with its accompanying program including a Gothic fashion show, historical dances, fire shows, fencers, magicians and other characters of the day. The event includes parades in which costumed reenactors portray the Holy Roman Emperor, Czech King Charles IV and his entourage at 1:30 p.m. both days. The castle is located about 20 miles southwest of Prague.
Admission: Adult entry costs 200 Czech Koruna on Saturday and 100 Koruna on Sunday; those under 15 enter free.
Online: www.czechtourism.com/e/karlstejn-grape-harvest/
Deutsches Weinlesefest- German Wine Harvest FestivalLocation: Neustadt an der Weinstrasse, Germany
Dates: Sept. 28-Oct. 15
As the freshly-pressed grapes now slowly turn to wine in the nearby cellars, it's time for a fest of thanksgiving. Sample the fizzy new wines or Palatinate staples such as quality Rieslings and Pinot Noirs. A midway offers rides for adrenaline-seekers, and bands onstage get the crowds to their feet. The vintner's parade on Oct. 14 is the biggest of its kind in all Germany.
Admission: Free
Website: www.neustadt.eu/Tourism-Wine/TOP-EVENTS/Autumn/Deutsches-Weinlesefest/
Vliegerfeest- Kite FestivalLocation: Scheveningen, Netherlands
Dates: Sept. 29-30
The Hague's splendid seaside suburb hosts Holland's biggest kite festival. Guests can enjoy the sight of the biggest monster kite in the world, the Megabyte, kites flown to music and power kite demos. Once darkness falls on Saturday evening, some of the kites will be illuminated.
Admission: Free
Website: www.holland.com/global/tourism/plan-your-holiday/events-in-holland/scheveningen-kite-festival-.htm
Fete des Vendages- Grape harvest festivalLocation: Neuchatel, Switzerland
Dates: Sept. 28-30
This wine fest celebrates the local harvest with plenty of tradition, highlights of which include a parade featuring carnival-style "Guggenmusik" (from 9:15 p.m. Sept. 28); a costumed children's parade (from 2 p.m. Sept. 29), and a parade of decorated vintner's floats (3 p.m. Sept. 30).
Admission: Free
Website: www.fete-des-vendanges.ch/le-programme-de-la-fete/
Porthcawl Elvis FestivalLocation: Grand Pavilion, Porthcawl, Wales, UK
Dates: Sept. 28-30
Each year, Elvis fans from Europe and beyond make way to this seaside town to pay homage to "The King." The best Elvis tribute artists are honored in the "Elvies" awards show at 7 p.m. Sept. 29. The Hi-Tide hosts over 100 shows, some of which offer free admission.
Admission: Prices begin at 10 UK pounds. Tickets are available online and at the Grand Pavilion box office.
Online: www.elvies.co.uk
---
---
---
---