Europe Traveler's event picks for June 28-30
---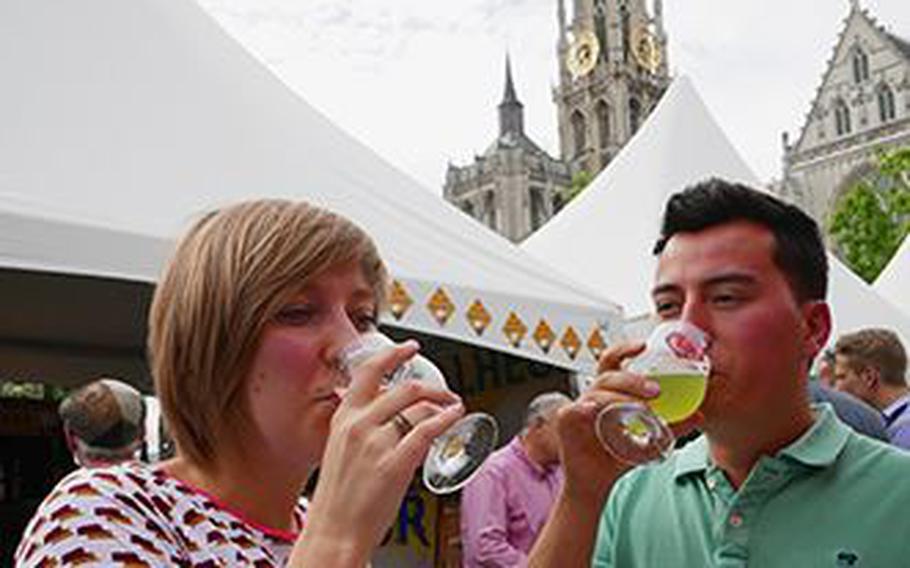 Location: Groenplaats, Antwerp, BelgiumDates: June 28-30 Belgian beer styles in all their varieties and tastes await sampling in the shadow of the cathedral as brass and Dixieland jazz bands provide the soundtrack.Admission: Free
Location: Atomium, Atomiumsquare, 1020 Brussels, BelgiumDates: June 28-30 Jazz, reggae and world music artists rocking the stage this year include Sean Paul, Kamasi Washington, Ms. Lauryn Hill and a host of others. This festival set in an urban park is a world unto itself, with hammocks in the trees, a souk, a disco, karaoke bars and other quirky spaces.Admission: Day tickets cost about 46 euros when purchased online. Tickets at the door go for 55 euros and are subject to availability. Children under the age of 10 enter free.
Karlovy Vary International Film Festival
Location: Karlovy Vary, Czech RepublicDates: June 28-July 6 This A-list film festival attended by actors and filmmakers screens about 200 films from around the world. First organized back in 1946, it's one of the world's oldest film festivals and one of the most prestigious in Central and Eastern Europe. Many of the films shown have their European or international premieres here. Visitors in need of a break from the big screen can relax in pop-up bars and cafes, chill by the river, or take in open-air theater performances.Admission: Tickets to watch a single film cost 80 Czech Koruna, about $3.60. One, three and five day passes are available, as is a pass to the entire festival, which goes for 1200 CZK. The main ticket desk is located in the Thermal Hotel.
Location: Canopy Market, West Handyside Canopy, King's Cross London N1C 4BH, EnglandDates: June 29-30 Sixteen great gelato makers are on site to conjure up their unique flavors. The public also has a say in which of these will go on to win World Masters titles. Visitors can also enjoy a look at how this treat is made at the world's biggest mobile gelato production facility.Admission: Adult tickets, which entitle the bearer to tastings, go for 15 UK Pounds; tickets for children under 1 meter (3' 2") go for 10 pounds.
Bad Wimpfener Talmarkt/ Bad Wimpfen Talmarkt
Location: Bad Wimpfen, GermanyDates: June 27-July 2 This festival is mentioned in church documents dating back to 965, making it of the oldest event of its kind in all Germany. This volksfest offers the usual assortment of rides, games, festival food, beer and more. There's also a market at which some 130 stallholders sell their wares. Fireworks are set off at 10:30 p.m. June 28 and again at 10:45 p.m. July 2.Admission: Free
Location: Trier, GermanyDates: June 28-30 One of Trier's biggest annual events dazzles visitors with its variety of musical acts across several stages, cool drinks and tasty treats.Admission: Free
Location: Rothenburg o.d. Tauber, GermanyDates: June 28-July 3 Perfectly-preserved Rothenburg gets into the volksfest spirit too, with rides, games, sweet and savory treats, refreshing beverages and a market area selling all kinds of goods.
Location: Richard-Strauss and Marienplatz, Garmisch-PartenkirchenDate: June 29 A 650-yard long table is set up and attractively decorated for its guests, who are requested to turn up dressed in white from head to toe. Local restaurants sell food and drink, while a live band and a DJ provides the soundtrack.Admission: Free
Location: Konstanz, GermanyDates: June 29-30 This flea market spills across the borders of Konstanz and into the neighboring Swiss town of Kreuzlingen, making it a cross-border affair. Visitors have 24 hours to peruse around 1000 stands belonging to private vendors. Street musicians and stalls selling tasty things to eat make the hunt for treasure an adventure. Sales begin at 4 p.m. June 29 in Kreuzlingen and at 6 p.m. in Konstanz.
Location: Naturpark Oewersauer, Esch-Sur-Sure, LuxembourgDate: June 29 (doors open from 6:45 p.m.) Music, magic and fire shows create an atmospheric open-air event. A sound and light spectacle takes place from 11:30 p.m.Admission: Adults pay 12 euros, those under 12 enter free.
Location: Spoleto, ItalyDates: June 28-July 14 An idyllic Umbrian city welcomes visitors from throughout the world with a program encompassing all the great arts of the stage: opera, music, dance and theater with a program that includes both famous actors and artists and rising talents. The two worlds mentioned in the name of the event refer to the artistic worlds of Europe and America.Admission: Tickets to each event are sold separately. Tickets to most individual performances cost around 40 euros and up.
Location: Zuiderpark, The Hague, NetherlandsDate: June 30 (1 p.m.-9:30 p.m.) Europe's largest single-day, free-entry music festival is set in an urban park. Both bands from the Netherlands and international artists play across two stages.Admission: Free
---
---
---
---