Europe Traveler's event picks for June 14-16
---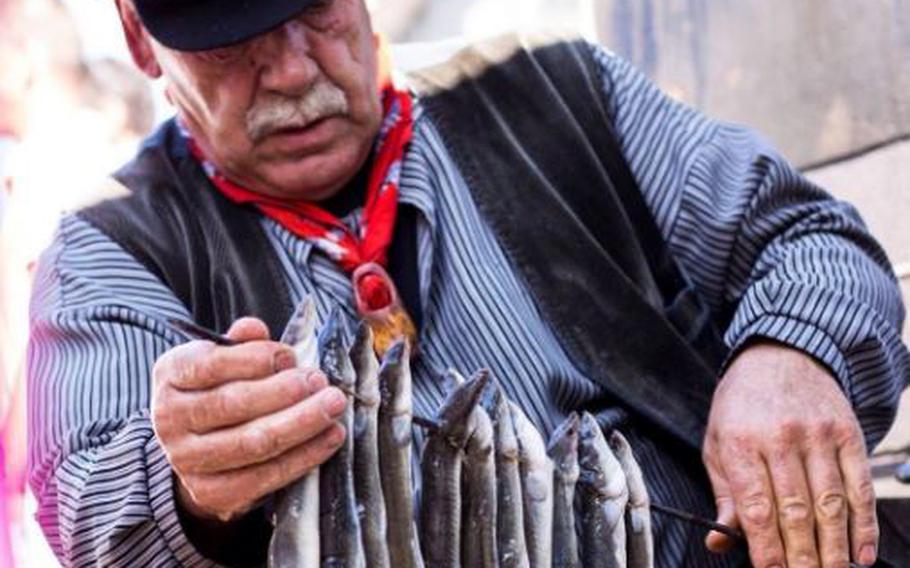 International Street FestivalLocation: Sindelfingen, GermanyDates: June 14-16 (6 p.m.-midnight June 14; 11 a.m.-1 a.m. next day June 15; 11 a.m.-8 p.m. June 16) Sindelfingen takes pride in being the new homeland to people from some 120 nations. The cultures of both the newly arrived and those who've made their home in the area for decades already is celebrated at this festival offering folk groups, contemporary music concerts, games and the chance to sample dishes from around the world.Admission: Free
Lebendiger Neckar/ Living NeckarLocation: Mannheim to Eberbach, GermanyDate: June 16 (11 a.m.-7 p.m.)A 35-mile stretch of highway beside the Neckar River is closed off to traffic to allow cyclists, inline skaters and and hikers to enjoy the scenery at their own pace. Stands in the towns along the way provide food, drink and entertainment. Admission: Free
Taste of DublinLocation: Iveagh Gardens, Dublin, IrelandDates: June 13-16 Chefs representing Dublin's best restaurants serve up their signature dishes to patrons hungering for new tastes. Visitors can put together their own personalized tasting menus from more than 60 dishes. The Taste of Dublin marketplace gives visitors the chance to sample and shop the products of regional producers. Cooking demonstrations, food talks, whiskey tastings, live entertainment, wine masterclasses, hands-on cooking classes and other activities round out the agenda.Admission: Sessions are divided into lunch or dinner services lasting four or five hours. Ticket costs range from 18.50 to 30 euros, depending on the day. Signature dishes must be purchased separately with debit or credit cards.
Palio di San Ranieri/ The Regatta of San RanieriLocation: Pisa, ItalyDate: June 17 Each year on the feast day of San Ranieri, four teams representing the ancient quarters of the city face off in a boat race on the Arno River. Each of the teams' eight strong oarsmen must row their craft against the current along a mile-long stretch of the river to the finish line by the Palazzo Medici. Before a team is declared the winner, the "montatore" of the boat's crew must climb a 33-foot mast and capture the correct city banner from its heights.Admission: Free
Artisti in PiazzaLocation: Pennabilli, ItalyDates: June 13-16 The historical center of Pennabilli welcomes around 60 international companies whose repertoires include theater, music, new circus, dance, puppetry, walking acts and many other forms of entertainment. Some 400 performances in all take place in the streets, squares and gardens of a pretty medieval village in Emilia Romagna. A crafts market and plenty of food stands provide visitors with additional things to do. Admission: day tickets go for 9 euros and up, depending on the day. Saturday admission costs 15 euros. Two and three-day passes offer savings. Those ages 13 and under enter free.
Fete de la MusiqueLocation: City of LuxembourgDate: June 14 (7 a.m.-7 p.m.) Music lovers with broad tastes will enjoy the diversity of this wide-ranging program that includes blues, rock-pop, metal, jazz, Dixie, folk, rap, hip-hop, electronic, alternative, Cuban, chamber music, singer-songwriters and other genres. Both professional and up-and-coming musicians are among those taking to the 23 stages set up in several districts of the capital city, including those in residential areas to which tourists would otherwise seldom venture.Admission: Free
Open Garden DaysLocation: Museum Van Loon, Keizersgracht 672, Amsterdam, NetherlandsDates: June 14-16 (10 a.m.-5 p.m.) Behind the grand mansions lining Amsterdam's canals lies a hidden world of lush gardens and ornate greenhouses. Over a single weekend in June each year, these normally hidden spaces are revealed to the public. More than 25 gardens of private homes and institutions take part in the initiative. The theme to this year's edition is "Art in the Canal House Garden," with three centuries of art to be taken in.Admission: Tickets bought online in advance cost 18 euros; tickets at the door go for 20 euros. One ticket is valid for all three days, and each garden can only be visited one time.
Flag DayLocation: Scheveningen, NetherlandsDate: June 15 Freshly-caught herring is considered to be at its most delicious at this time of year, reason enough for a day of celebration in this seaside spa resort just outside The Hague. It's not only the fish that are feted but also traditions of yesteryear, with children's games, tours of old fishing boats, sing-alongs and handicrafts on display.Admission: Free
La Noche Blanca del Flamenco/ Sleepness Night of FlamencoLocation: Córdoba, SpainDate: June 15 This city synonymous with flamenco celebrates the long days and short nights with a program of flamenco music and dance running late into the night. The Ballet Flamenco of Andalucia opens the event with a concert in the Plaza de las Tendillas and from there, a new performance starts up every hour or so in a new venue. Rosalia performs at the Plaza del Toros at midnight, and the last show begins at 4:30 a.m.Admission: Free
Art BaselLocation: Messe Basel, Messeplatz 10, Basel, Switzerland (11 a.m.-7 p.m. daily)Dates: June 13-16 One of Europe's most prestigious art fairs attracts the rich and famous, but anyone can come to see the modern and contemporary art pieces on show and sale. More than 290 galleries from across the globe display the works of over 4,000 artists. The exhibition space is divided into various sectors; at Galleries, the heart of the show, works including paintings, drawings, sculpture, installations, prints, photography, video and digital art are on display.Admission: Adult tickets go for 58 Swiss Francs (about $58.50) when purchased online. Tickets will also be available on site.
---
---
---
---