Europe Traveler's event picks for July 6-8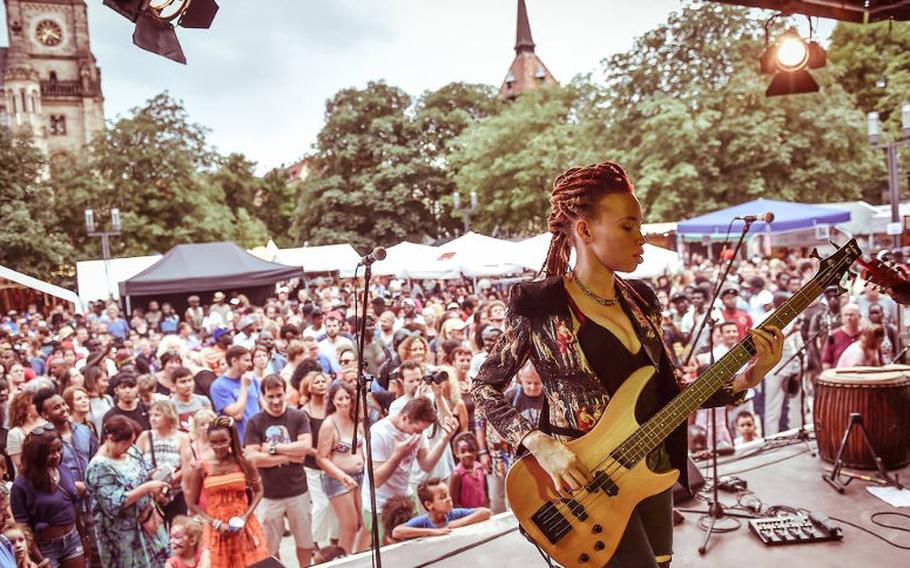 Jels Vikingpageant/Jels Viking PageantLocation: Jels, Denmark
Dates: July 6-22
Hundreds of volunteers make up the cast of a play depicting the lives and times of the Vikings. The plot, based on Scandinavian history, includes plenty of romance and battles. The action takes place on an open-air stage by a lake.
Admission: Adult tickets from 135 Danish Krone ($21.15), for ages 4-12, ticket prices start at 135 DKK.
Online: jelsvikingespil.dk
Art NightLocation: South Bank, Vauxhall and Nine Elms, London, England
Date: July 7 (6 p.m.-6 a.m.)
Artworks and pop-up performances will be in more than sixty locations along a route running from the South Bank to Battersea Power Station. The trail traces through parks, gardens, historical buildings and unexpected spaces, and each installation or performance is within walking distance to the next.
Admission: Although all events are free to attend, it's necessary to obtain tickets in advance to some performances.
Online: 2018.artnight.london
Festival RenaissanceSLocation: Bar-le-Duc, France
Dates: July 6-8
This street theater and culture festival features a little bit of everything, from walking acts to musicians to oversize installations. A city renowned for its gorgeous Renaissance architecture forms its backdrop. "Alchemy" is the theme of this year's edition.
Admission: Free
Online: www.festivalrenaissances.fr
Old Town FestivalLocation: Kaiserslautern, Germany
Dates: July 6-8 (3 p.m. 1 a.m. next day July 6; 11 a.m.- 1 a.m. next day July 7; 11 a.m.-11 p.m. July 8)
The city's pedestrian area becomes a huge party zone with street theater, culinary treats, and live music across all genres played on nine stages.
Admission: Free
Online: www.kaiserslautern.de/miadi/view.php?event=205105-742625
Afrika-FestivalLocation: Erwin-Shoettle-Platz, Heslach, Stuttgart, Germany
Dates: July 6-8 (4 p.m.-11 p.m. July 6; 11 a.m.-midnight July 7; 11 a.m.-8 p.m. July 8)
This festival celebrates the vibrancy of the cultures of Africa with a program of music, dance, workshops, fashion shows, market stalls and food specialties.
Admission: Free
Online: www.afrikafestival-stuttgart.de
Bitburg Dances and CelebratesLocation: Stadthalle, Bitburg, Germany
Dates: July 6-9
This folklore festival showcases the dance and music of groups from 15 European countries and this year's special guest, Argentina. Other program elements include Rock Night with a Metallica cover band from 8:30 p.m. July 6 (entry 14 euros) and a beer keg roll at 1:30 p. m. July 7. Amusement rides are set up on the Bedaplatz.
Admission: Free
Online: https://folklore-bitburg.de
La Notte RosaLocation: Emilia-Romagna's Adriatic coast between Commachio and Cattolica, Italy
Date: July 6
Cities and towns along a 65-mile-long stretch of the coast light up their beachfront areas and other landmarks in a pink glow and offer free entertainment in the form of concerts and other cultural events late into the night. Participating cities include Rimini, Ravenna and Ferrara. The event attracts up to two million visitors annually.
Admission: Free
Website: www.lanotterosa.it/en