Europe Traveler's event picks for Aug. 9-11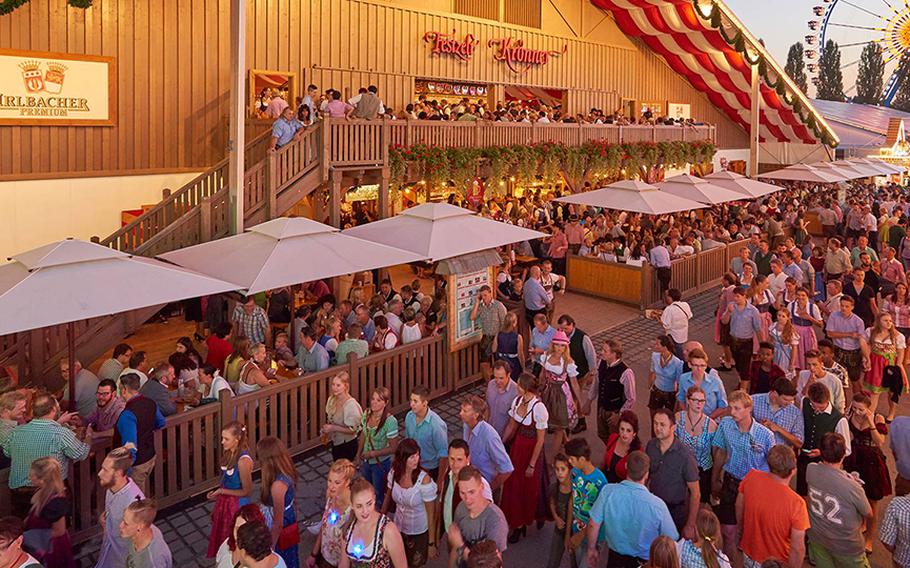 Location: Donauinsel, Vienna, Austria
Dates: Aug. 9-26 (from 11 a.m. on Sat. and Sun. and from 2 p.m. during the week)
The spirit of Africa lands on the shores of the Danube River in the form of a program offering music and entertainment from top-name performers, a lively bazaar, and many food and drink stands.
Admission: On most days, tickets for entry prior to 5 p.m. go for 9 euros; from 5 p.m., entry costs 25 euros on all days except Aug. 14 and 20, when the price is 15 euros. Children under 13 enter free. Entry is free on charity days Aug. 12, 19 and 26; donations made on these days support organizations engaged in projects in Africa.
Salon de Antiquaires / Antiques Salon
Location: Expo Tournai, rue de Follet 2b, 7540 Kain, Belgium
Dates: Aug. 10-11 (10 a.m.-6:30 p.m. both days)
Some 120 exhibitors from northern Europe sell antiques and quality secondhand wares in an indoor exhibition space.
Admission: 6 euros adults; those under 15 enter free.
Location: Place de la Victoire, Selestat, France
Date: Aug. 10 (from 4 p.m.)
This traditional event set in a picture-perfect Alsatian village celebrates its 90th anniversary edition this year with wine stands, musical ensembles and folklore groups. The highlight of festivities are two parades made up of about a dozen dahlia-bedecked floats; these begin at 6 p.m. and 10 p.m. Fireworks go off at midnight.
Admission: Free; tribune seating for parade viewing costs 12 euros for one parade or 20 euros to view both.
Apfelwein-Festival / Apple Wine Festival
Location: Rossmarkt, Frankfurt, Germany
Dates: Aug. 9-18 (from 11 a.m. daily)
Celebrate Frankfurt's deeply-rooted apple wine culture with this festival featuring cult bands, folklore groups, performances in the local dialect and apple wine in variations from bone dry to very sweet, along with cocktails in which this traditional beverage makes an appearance. Visitors can also pick up the blue and gray pottery or ribbed glasses in which the drink is served.
Admission: Free
Location: Schlossplatz, Wiesbaden, Germany
Dates: Aug. 9-18
Enjoy the wines of the Rheingau wine-growing region at this festival sprawling over the downtown area by City Hall. Vintners pour their tasty drops from some 100 stands, and an additional 20 stands serve up tasty treats to pair with them. The musical entertainment offered daily on three different stages ranges from sultry soul to hard rock.
Admission: Free
Location: Straubing, Germany
Dates: Aug. 9-19
This traditional folk festival is billed is Bavaria's second biggest event of its kind. Visitors can rub shoulders with locals in one of seven tents, play games of chance or take a ride on a hair-raising attraction or two. One of the highlights of the fest is its opening parade made up traditionally costumed marchers; this takes place from 5:30 p.m. Aug. 9.
Admission: Free
Il Palio di Siena/ Horse Race of Siena
Location: Siena, Italy
Date: Aug. 16
Ten riders dressed in the colors and emblems of the contrade, or section of town they represent, race each other on horseback. Jockeys ride bareback on a temporary track set down in the heart of town, on the Piazza del Campo. The race is preceded by a parade of marchers in historical costume. The twice-annual race held on fixed dates was preceded by on July 2.
Admission: Free; tribune seating is also available at a cost.
Location: Centre récréatif d'Echternach, Echternach, Luxembourg
Dates: Aug. 9-11 (from 6:30 p.m. Aug. 9 and from 3 p.m. Aug. 10 and 11)
Fans of electronic music can take advantage of three days of free music by the shores of a lake, where local and international bands and DJs keep the crowds on their feet.
Admission: Entry to the concert is free. Those who wish to camp nearby pay a fee of 35 euros. Anyone under 16 must be accompanied by at least one parent.
Las Carreras de Caballos/ Horse races on the beach
Location: Sanlucar de Barrameda, Spain
Dates: Aug. 9-11 and Aug. 22-25 (from 6 p.m. daily)
For two three-day stretches each year in August, a milelong stretch of beach by the mouth of the Guadalquivir River is transformed into a race course for horses. Families sit on the beach behind a mesh fence, the only thing separating them from the racing action. At betting stands manned by children, candy is the currency in which stakes are placed. Parties open to the public immediately follow the last of the races.
Admission: Single-day tickets cost 11 euros for the first cycle and 14 euros for the second cycle when purchased online in advance. Children under 12 enter free.
Location: Edinburgh, Scotland
Dates: through Aug. 26 (11 a.m.-9 p.m. daily)
One of the world's greatest celebrations of arts and culture infuses Edinburgh with masses of creative energy. Over the festival's three-week run, more than 50,000 performances of approximately 3,400 different shows are on the agenda. Artists ranging from the well-known to those looking for their big breakthroughs perform a mix of theater, comedy, dance, circus, cabaret, music, spoken word, living statues and more. An arts and crafts market and vendors offering services such as portrait painting or hair-braiding provide visitors with yet more things to do.
Admission: Free
Location: Bern, Switzerland
Dates: Aug. 8-10 (6 p.m.-midnight daily)
Festival-goers will find a diverse program made up of music, dance, cabaret, installations, walking acts and more delivered by artists from around the world. Entertainment for young audiences is offered from 3 p.m. Friday and Saturday at the Muensterplattform. Gourmets can sample tastes from around the world at more than 60 food stands.
Admission: The program and festival band sell as a set for 10 Swiss Francs, or about $10.20; a children's wristband goes for 5 CHF. Performers appreciate the pocket change thrown into their hats.