Europe Traveler's event picks for April 5-7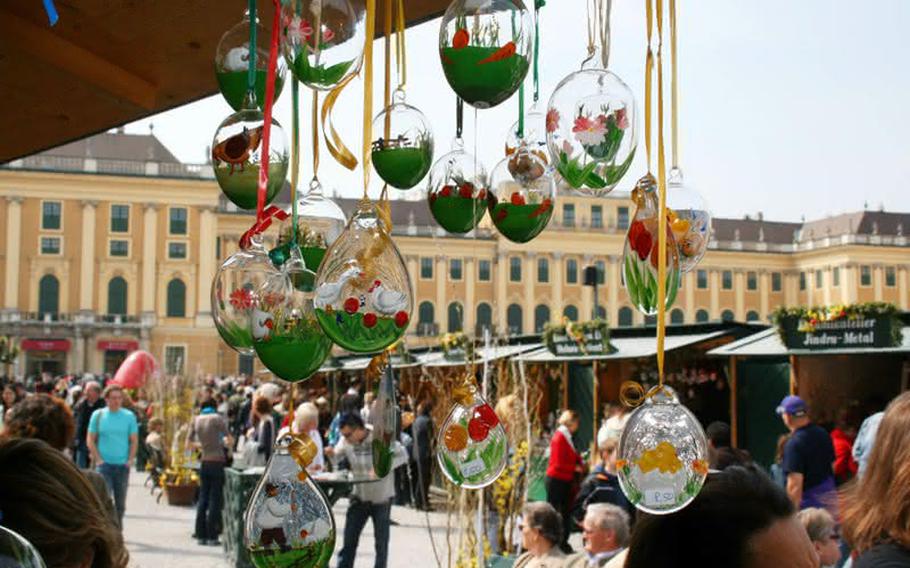 Easter MarketsLocation: Vienna, AustriaDates: daily through April 21 A number of different Easter markets pop up throughout the city, offering a welcome breath of spring air and diversion to young and old alike. While each market has its own individual flair, all offer traditional décor, creatively turned out eggs, culinary treats and programs of entertainment. Places to go include Schoenbrunn Palace, where 60 exhibitors display their wares and kids can enjoy a crafts workshop. Freyung, a square in the Old Town, offers painted eggs, handicrafts, floral displays and more. Other markets worth checking out include those at Am Hof Square and Kalvarienberg.
Brussels International Fantastic Film FestivalLocation: BOZAR, Rue des Sols, 1000 Brussels, BelgiumDates: April 9-21 One of the world's leading film festivals for sci-fi, horror and fantasy screens a great variety of films, from low-budget indies to international blockbusters. The festival offers fun side events as well, such as an international art contest, body painting competitions and a fantasy market.Admission: most screenings cost 10 euros. Day passes are 15 euros.
The Boat RaceLocation: London, EnglandDate: April 7 (women's race 2:13 p.m.; men's race 3:10 p.m.) Since 1829, Oxford and Cambridge have faced off in a rowing race on the Thames, and spectators typically turn out in the thousands to watch the action unfold. At present, Cambridge has the edge in the four mile men's race, with 83 victories vs. the opponent's 80. Proceeds from the race are donated toward cancer research.Admission: free
Salon des Vins et de la GastronomieLocation: Metz Expo, Parc des Expositions, Rue de la Grange aux Bois, 57070 Metz, FranceDates: April 5-7 (10 a.m.-7 p.m. April 5; 10 a.m.-8 p.m. April 6; 10 a.m.-6 p.m. April 7) Sample wines and culinary specialties from France and beyond at this tasting event accompanied by workshops, wine and food tastings and other activities focusing on edible and drinkable passions. New this year is a section focusing on organic foods.Admission: Adults tickets cost 5 euros at the door or 4 euros when purchased online; those under 16 enter free.
Ceramics MarketLocation: Homburg, GermanyDates: April 6-7 More than 100 ceramics artists and artisans engaged in related crafts show off their clever and useful creations here. Shops of the town offer exceptional Sunday opening hours.Admission: Free
Kelterhallen Weinfest/ Wine press hall festivalLocation: Weingut Buergerspital (Kelterhalle), Theaterstrasse 19, 97070 Wuerzburg, GermanyDates: April 5-6 (5 p.m.-midnight both days) The Buergerspital, a wine estate with a courtyard in the middle of the city, offers a heated hall which serves as the venue for this celebration of food and drink. Live bands play on both evenings.Admission: Entry on both nights is free, participation in Saturday nights' wine tasting session will come in at about 15 euros.
Peixe em Lisboa/ Lisbon Fish and FlavorsLocation: Carlos Lopes Pavilion, Parque Eduardo VII, 1070-051 Lisbon, PortugalDates: April 4-14 Fish and seafood take center stage at this culinary festival where high-profile chefs from Portugal and beyond show off a broad palette of fish-based culinary offerings. A co-located market offers gourmet foods, wines, beverages, cooking gadgets and other kitchen essentials.Admission: Adult entry costs 15 euros; amounts from 6 to 12 euros of this amount can be applied toward the purchase of food and drink.
Fumetto Comic FestivalLocation: Kornschuette, Kornmarkt 3, 6004 Lucerne, SwitzerlandDates: April 6-14 The Fumetto Comic Festival holds a competition to give comics creators the opportunity to compare their works and present their output to a broader public. One of Europe's leading festivals for international comics and related media offers numerous exhibitions highlighting graphic design, illustration and fine art. Workshops, signings, film screenings, live painting, guided tours and more complete the program.Admission: adults pay 28 euros for a day pass; entry after 5 p.m. costs 18 euros.
Blues Festival BaselLocation: Volkshaus, Basel, SwitzerlandDates: April 9-14 The special 20th anniversary edition of this festival turns this city by the Rhine into a blues mecca where international artists and top-class Swiss acts present their versions of gospel, soul and other forms of the blues. U.S. names taking the stage include singer and saxophonist Vanessa Collier, "King" Solomon Hicks, 93-year-old singer/dancer Othella Dallas and Marla Glenn. A Blues Brunch with the All Star Blues Band takes place on Sunday, April 14.Admission: Tickets start at 51.40 Swiss Francs, which equals roughly the same amount in dollars.