Europe Traveler's event picks for April 26 and beyond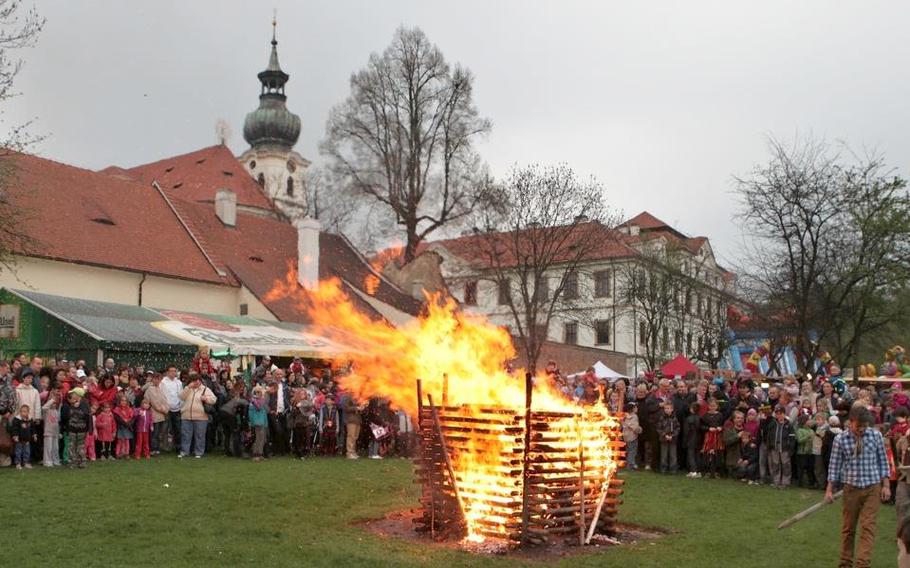 MilitariaLocation: Expo, Ciney, Belgium Date: April 28 (9 a.m.-4 p.m.) One of Europe's biggest fairs for military articles offers 600 exhibitors from across the continent displaying and selling medals, uniforms, maps, gear and countless other items. Admission: Adult entry costs 15 euros.
Witches NightLocation: Lesser Town Square, Prague, Czech Republic Date: April 30 On this night of nights, witches meet their fiery ends at celebrations throughout the land. There's no exception to this rule in Prague, where some of the best Paleni carodzjnic celebrations take place on Petrin Hill. Admission: Free
Virgin Money London MarathonLocation: London, England Date: April 28 The London Marathon is an institution, and not just for the runners involved. City residents and tourists alike come out to cheer on the runners, many of whom complete the entire course clad in crazy costume in bids to raise funds and awareness for charitable organizations. Road closures on the day make planning one's route in advance essential. The Elite Women race begins at 9:25 a.m. and the Elite Men take off at 10:10 a.m. from Blackheath and Greenwich Park. Good vantage points along the route are around Tower Bridge, Canary Wharf or Embankment but anticipate crowds. The race finishes at St. James's Park.
Joan of Arc celebrationsLocation: Orléans, France Dates: April 29-May 8 Through the interventions of a humble peasant girl, the siege on the French city of Orléans was lifted on May 8, 1429, an anniversary date that's remembered to date through a mix of parades, folklore and religious acts recalling the lasting influence of Joan of Arc. Program highlights include the re-enactment of Joan's entry into the city through the Burgundy Gate at 9:45 p.m. April 29, a cavalcade tracing Joan's journey on horseback through the surrounding countryside May 1, a falconry show May 4, a sound and light show from 10 p.m. May 7, and a military parade and commemorative procession May 8. Admission: Free
Hamburger Fischmarkt/Hamburg Fish MarketLocation: Schlossplatz, Asschaffenburg, Germany Dates: April 25-May 5 (10 a.m.-10 p.m. Mon.-Wed.; 10 a.m.-11 p.m. Thurs.-Sat.; 11 a.m. 10 p.m. Sundays) The maritime flair of northern Germany is brought to cities throughout the land by a traveling band of fishmongers who temporarily set up stands purveying fish and seafood delicacies. Visitors can sample on the spot or take their catches home to enjoy later. On weekends, jazz bands and hands-on activities for the kids offer incentive to linger a little longer. Admission: Free
Flea market and FluehlingfestLocation: Theresienwiese, Munich, Germany Dates: April 26-May 12 While nowhere near as big as its autumnal cousin, revelers can still enjoy a taste of an Oktoberfest-like atmosphere delivered by thrill rides, a midway filled with games of chance and two lively beer tents. The biggest flea market in Bavaria is another staple of the festival's opening weekend. Peruse what the stalls have to offer from 7 a.m. April 27. Admission: Free
Kulinarische Wanderung/ Culinary HikeLocation: Wolfstein, Germany Dates: April 27-28 Wines of the Pfalz and tasty regional specialties are served up at stands along a panoramic stretch offering views of Koenigsberg and the Lautertal Valley. Dogs on leashes are welcome. Station One offers live music in the afternoon on both days. Admission: A wine pass including tasting glass and a hanger to wear about one's neck goes for 8 euros; after that, pours of wine cost 2 euros for .1 liter refills or 3.50 euros for .2 liters.
Palio della RanaLocation: Fermignano, Italy Date: April 25-28 Each year on the Sunday following Easter, this town in Le Marche travels centuries back in time by means of a festival with a curious highlight event- men in historical costume pushing wheelbarrows upon which sit a single frog. The object of the race is to be the first over the finish line with the frog perched in his place. Things to enjoy through the weekend include traditional games, dining in old fashioned taverns, and a crafts market. The Siege of the Tower re-enactment takes place at 9 p.m. April 26. The frog race gets underway with a historical parade from 3:30 p.m. April 28 and the final heat of the races takes place from around 6:15 p.m. Admission: Adult entry costs 5 euros on race day April 28.