Eric Benet shares the love: R&B singer happy to spend holidays with troops in Pacific
by
David J. Carter
January 1, 2010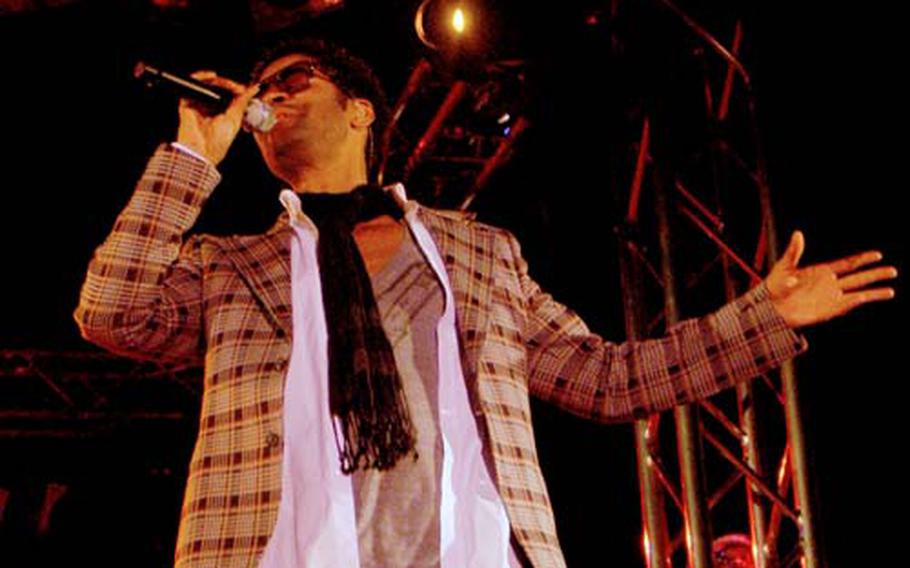 Rhythm and blues artist Eric Benet wrapped up a tour of Pacific bases Monday at Yokosuka, his 19th show in 21 days.
A few hundred fans showed up at the Benny Decker Theater to hear the singer perform some of his hits, including "You're the Only One" and "Spend My Life With You."
After the show, Stars and Stripes sat down with the Milwaukee native to talk about baby-making music and why he doesn't believe in New Year's resolutions.
Stars and Stripes: How do you feel about this opportunity to perform for the troops?
Benet: I feel wonderful about it. I think it's a good way for me to show my gratitude for their service and their unselfishness for our country.
Have you had the opportunity to perform for troops in the past?
This is actually my first time, my first invitation … what took so damn long? Now that we've done it, I'd love to do it every year.
Late last year, you posted a video of you and your daughter, India, singing an a cappella version of your hit "You're the Only One" on YouTube, which has now passed 500,000 hits. How has the social media movement helped you stay connected to fans?
It's incredible. The untouchable persona that celebrities used to have before the Internet arrived is really not there. There are so many ways to reach out to the fans and become more personable with people who love your music and what you do. I love to stay connected … and update videos of what's happening on the road.
How do you feel when you're performing and hear the crowd start singing along?
Euphoric. It's the greatest feeling in the world for people to embrace your creativity and your music. When you come up with music, that's you putting your emotion into a melody and lyrics. And when people embrace that, it's like they're embracing you, and that's just a beautiful feeling.
You've had the opportunity to dabble in a bit of acting throughout your career. How does that compare to performing your music?
I've yet to catch the acting bug. Whenever I did that, it's just been something that's popped up and they say, "Hey, you want to try this?" I actually just finished a screenplay, so I'm a lot more interested in storytelling and content … so it'll be interesting this time next year to see if the screenplay I wrote goes to production.
You've been traveling a lot during the holidays. How do you feel you can relate to servicemembers being away from home?
It's hard to be away from family during the holiday season; that's when you're supposed to be soaking up as much love as possible. I think when you're together you just have to make the most of the time you have.
2010 is quickly approaching. Any New Year's resolutions?
Nah, I don't believe in that. I think you just try to improve yourself throughout the year and don't use a New Year's resolution as an excuse to break a promise to yourself.
Your shows seem to have a tendency to set a romantic mood with the crowd, so nine months from tonight, how many of the women here will be having babies?
Hopefully, none will be having my baby (laughs). But as long as they're responsible, it's all good … have good, safe fun.