Matchmaking flaws tarnish Splatoon's gooey greatness
---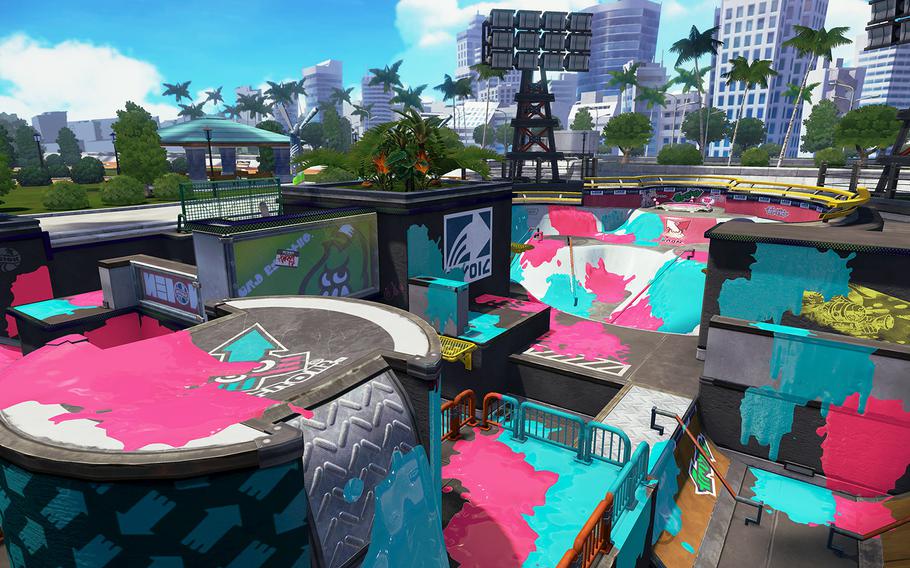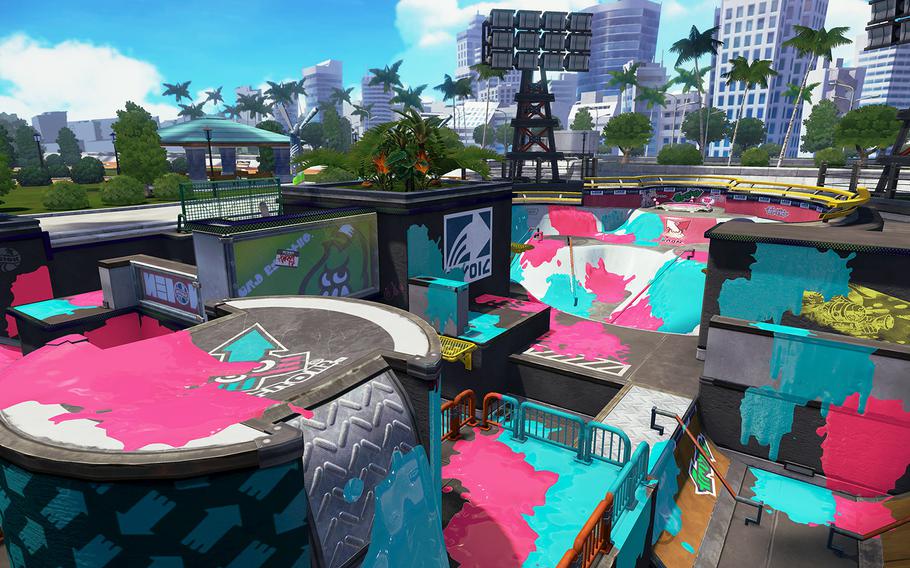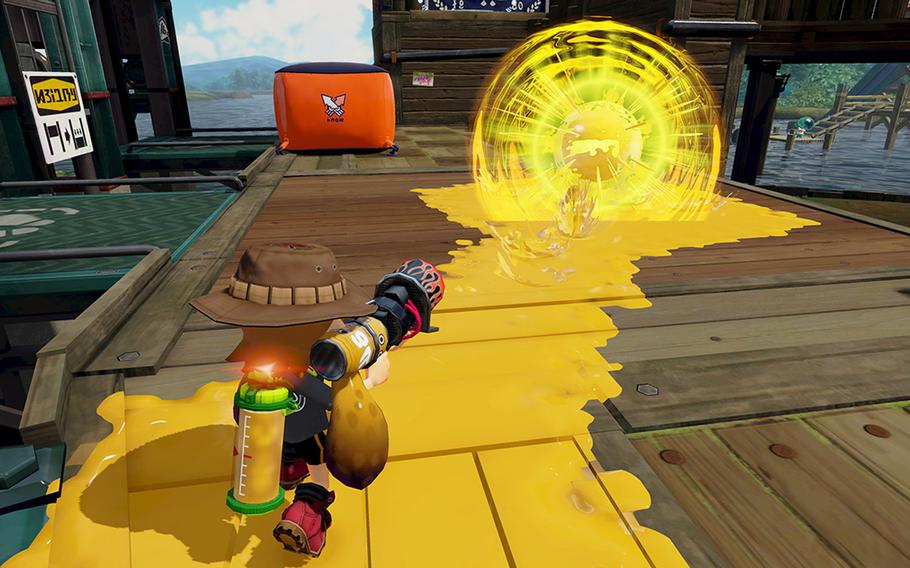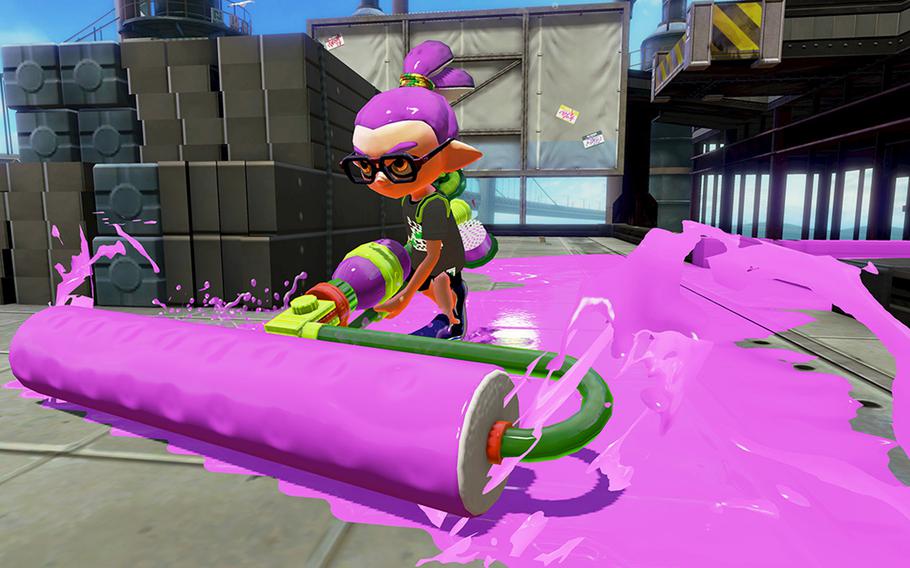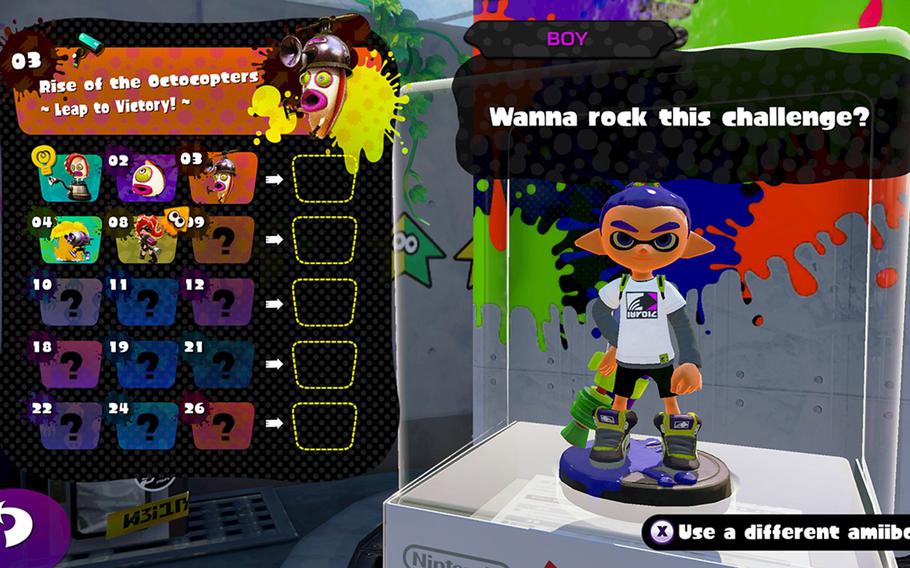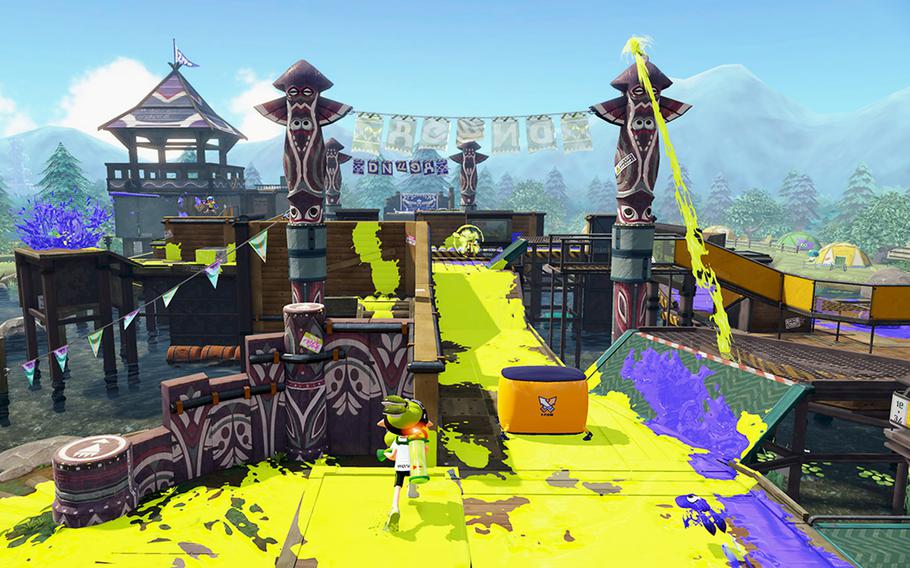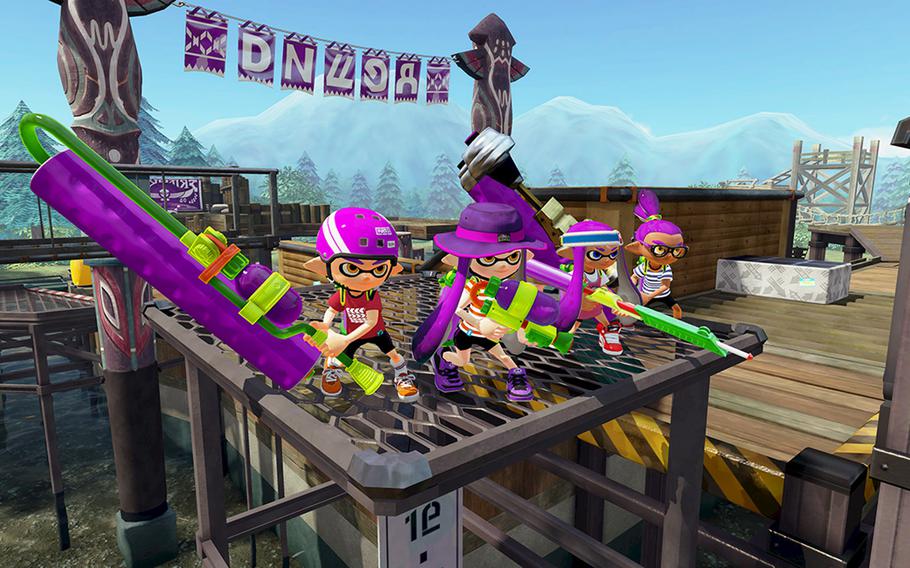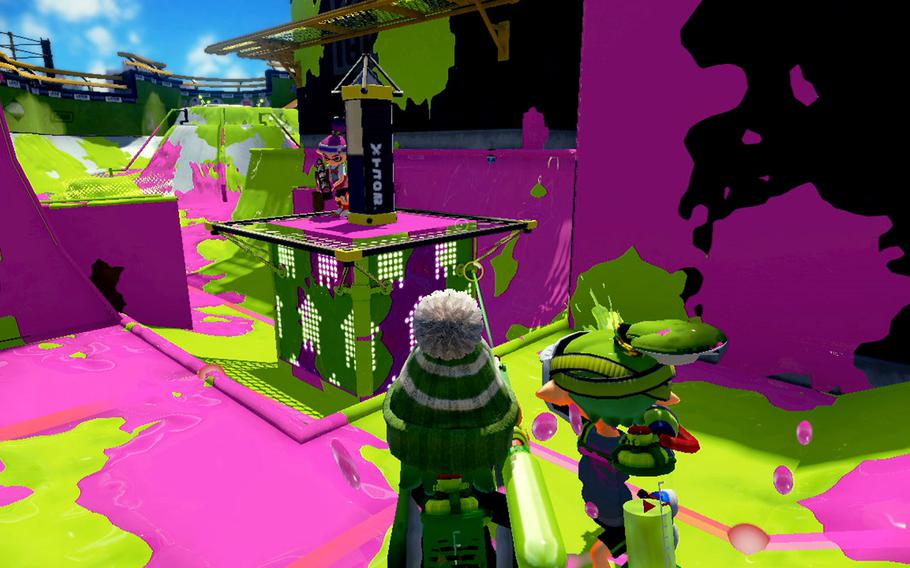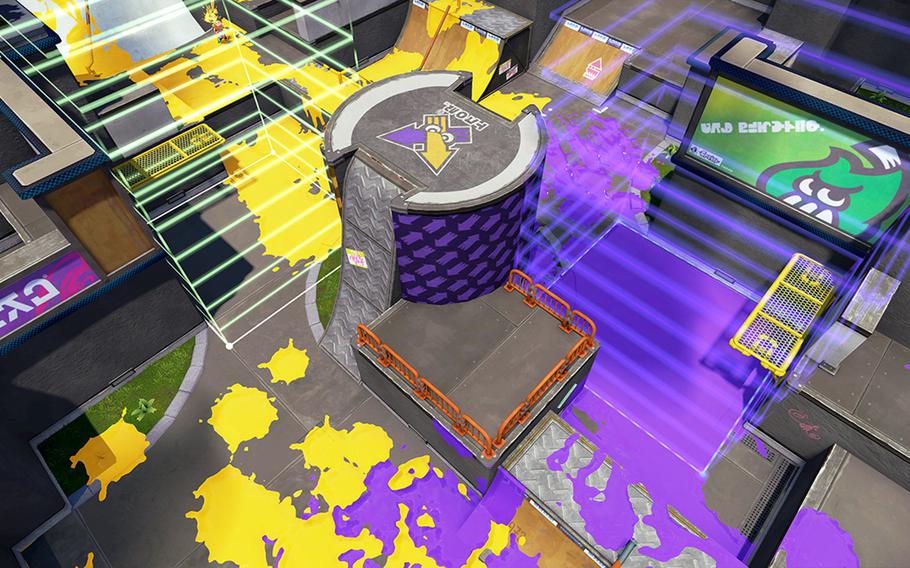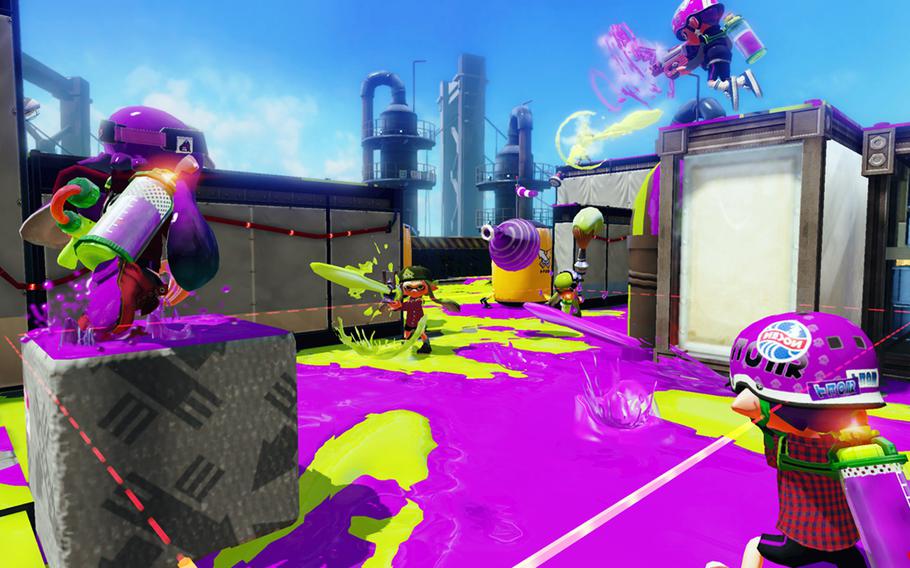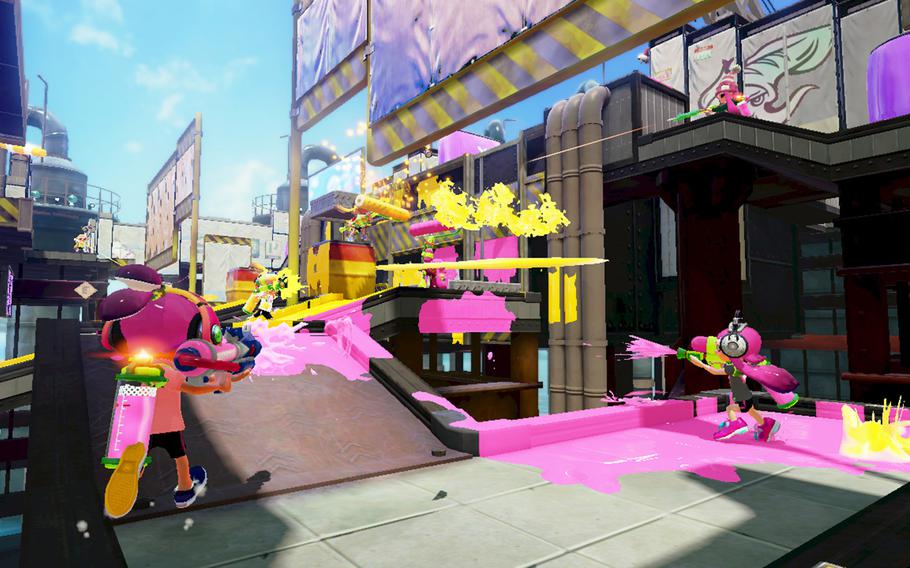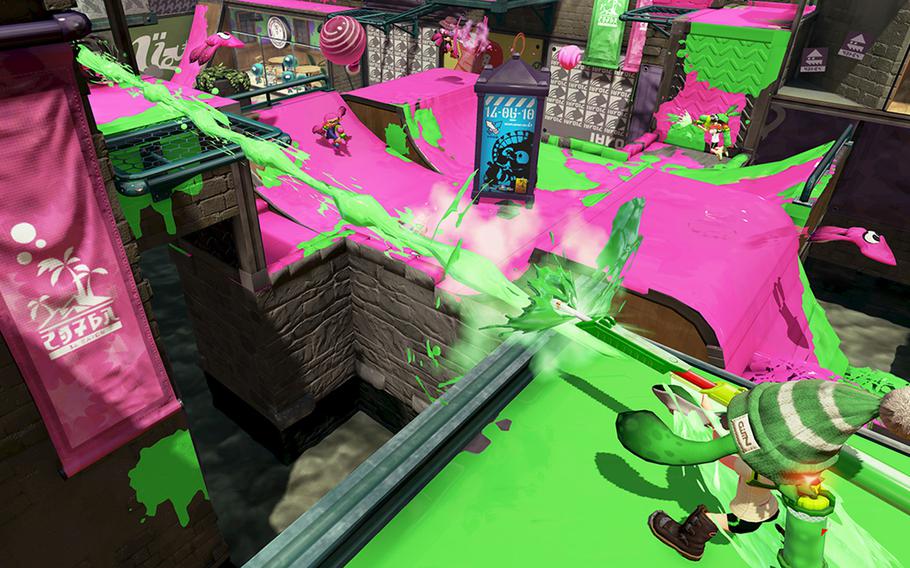 Editor's note: This report was written using a special copy of the game provided by Nintendo that connected to review servers. It may be updated to reflect the retail experience.
A high-energy, competitive, twitch shooter with gobs of depth and strategy, set to the tune of a bombastic hard-rock soundtrack. And nary a Mario-tie-in character in sight. For Nintendo, this is something very different.
"Splatoon" looks like it's ripped right out of a 1990s Nickelodeon TV show. It's brightly colored, filled with teenage characters and presents itself with a gooey graphic style all its own. This third-person team shooter substitutes paint and splat for bullets and blood, and adds in a colorful palette of weapon classes, player upgrades and some skate-park punk attitude.
As refreshing and new as all this is for Nintendo, the game's online setup takes an equal number of steps backward. Unlike the seamless matchmaking in titles like "Mario Kart 8," "Splatoon" gets its own uniquely clunky, time-sucking wasteland of a system.
But let's start with the splatter. In the main multiplayer mode, Turf War, players match up in two teams of four in a race to cover the ground with their team's color. The team that wins is the one that has their gooey mess spread over the most territory.
The more you splat, the faster you can move. The ingenious movement mechanic of "Splatoon" allows players to transform into squids, swimming quickly through floors and walls covered in their team's paint.
Coloring this already vibrant setup are a variety of weapon classes and side arms. There are sniper paint guns, machine guns, .50-cal.-style painters with wide splatters – even a giant roller that works like a melee weapon. In addition, there are a variety of throwables: paint grenades, paint tornadoes, paint sprinklers. Players can also add clothing customization options to modify armor and grant special abilities.
As you would expect with any Nintendo game for the Wii U, the controls in "Splatoon" are well refined. Players hold the GamePad and aim through a combination of the controller's two joysticks and tilting. Though it sounds tricky, the system works well, giving you the ability to move and point yourself correctly while precisely targeting with a slight tilt. Shooting and moving in and out of squid mode are handled by the two trigger buttons, so you never feel like abilities are out of reach.
Added all altogether, the tactical options and strategy packed into each match are wide and wonderful. Although Turf War games are limited to only 3 minutes each, the excitement is immediate and tightly wound. The ranked online battle modes, unlocked after about 5 hours or so of Turf War matches, offer even more ways to kick the adrenaline up. Though only one, Splat Zone, was available during review time, Nintendo promises they'll include the options Tower Control and Rainmaker before the end of the summer.
Unfortunately, there's a huge, nasty ink spot that serves as an evil gatekeeper for the entire experience: the online matchmaking system.
Once a player hits OK on the multiplayer option, they're sent to a lobby (though sometimes, they may have to wait for up to a minute for one to "open up"). If you're the first player there, you get a 60-second clock counting down the life of the lobby. If no one joins in that time, the lobby ends and you're booted back to the main game screen. If someone does join, time is added to your countdown clock. Matches don't start until all eight player spots are filled.
The added time given whenever someone joins creates a special kind of purgatory. In the large majority of matches I played, two to six players would join lobbies, making the countdown timer shoot up to anywhere between 200 and 300 seconds. Waiting for that last player becomes an aggravation that lasts longer than playing the actual match. And if they never join, you're back to square one.
It's not that the developer didn't notice how awful this wait is. They tried to mitigate it with the inclusion of an 8-bit-style minigame that you can play on the GamePad while you wait. This entertains you for all of 40 seconds, after which time you will probably try to take up something else: maybe painting something in real life, or learning Swahili.
Using the review servers that Nintendo provided ahead of the game's launch, lobby-to-match fail ratio was about 5 to 1. Even when the game started, many matches would end early with "connection issues." In about 30 percent of the games I played, lag was apparent at least once during a match. Paint stops registering on any surface, and players just disappear. For an online competitive game, these issues are unacceptable.
On top of that, there's a lack of basic online functionality. "Splatoon" is a team-based game. How about the ability to join and play public games with a clan or group of friends? Or do some sort of voice chat or have a variety of pre-scripted team communication buttons to help guide strategy? The ability to play regional games, or even set up tournaments, would be nice. So would a replay system – some way to learn from your team's mistakes and gather info about how other players splat you down.
Again, these are things games such as "Pikmin 3," "Mario Kart," and "Smash Bros." already do on the Wii U. A planned update in August promises to deliver some more team options, but it's unknown exactly how much of the lobby system will be changed.
There are a couple of offline modes where you can spend your time. However, the online play overshadows these so much, it's hard to justify breaking away from rolling the dice on a lobby to piddle around in a single-player challenge arena. Still, using an Amiibo to unlock a daily challenge or trying your hand against someone in the game's two-player local multiplayer can be a nice distraction after six or seven failed matchmaking attempts. The single player mode helps unlock new weapons and armor options, but most everything you need to compete can be unlocked by playing online.
Bottom line: "Splatoon" comes very close to brilliance, with its varied weapon classes, fluid movement mechanics, level design, and bright, high-octane presentation. But the lack of basic online options and especially clunky matchmaking lobby system can make you wish were watching paint dry. Will a major patch save the game? Possibly, but it's probably worth saving your money until that's released to try "Splatoon" out.
laney.sam@stripes.com Twitter: @StripesSam
ESRB rating: Everyone (contains cartoon violence) Online: splatoon.nintendo.com
---
---
---
---