'Mario Sports Superstars' is an entertaining, if shallow, compilation
by
Michael S. Darnell
April 4, 2017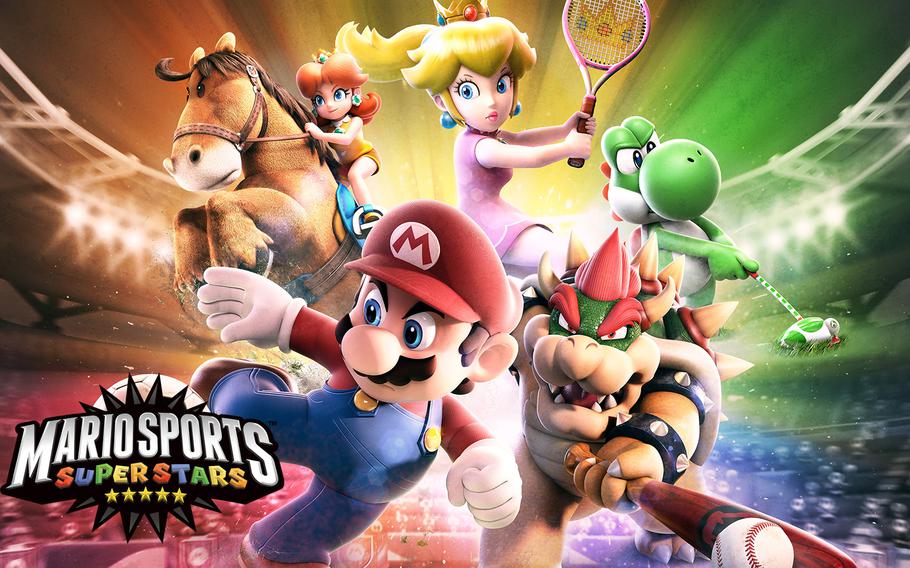 The Nintendo 3DS is nearing the end of its relevant lifecycle, but that doesn't mean an end to enjoyable experiences on the aging handheld.
"Mario Sports Superstars," for instance – a recently released compilation of the various sports Mario and company have tackled over the years – is a worthwhile purchase, even if it's not likely to knock anyone's socks off.
The game combines Mario-themed golf, soccer, baseball and tennis, as well as Mario Kart-esque horse racing on one cartridge. If you have ever played any of the console releases of the aforementioned sports, you will know what to expect out of this compilation. The baseball segment plays just like "Mario Superstar Baseball," the golfing was cribbed from "Mario Golf" and so forth.
If you haven't played any of the Mario sports series, be warned that none of the offerings are serious competitive games a la "Madden" or "NBA 2K." Rather they're brightly colored, casual-focused, party games. On console, the pass-and-play nature of, say, "Mario Golf" allows that game to stand alone. On handheld, the various Nintendo-themed sports games simply don't have the same appeal.
That is, until some certified genius thought to combine them all into one hard-to-ignore package. None of the games is particularly deep, and none could really stand on its own as anything more than a budget title. Combined though, "Superstars" becomes more than the sum of its parts.
"Mario Golf" has some nods toward realism with having to account for wind and backspin, but otherwise it's as simple as putt-putt golfing. The soccer game on "Superstars" was one of my favorites. The 11-on-11 matchups and league play (found in the other titles, but makes the most sense here) added a sense of real competitiveness to each match. It is too easy on lower difficulty settings for an adult looking for a challenge, but it should be just about right for younger players.
Still, both are entertaining in short bursts – which is incidentally what I care about when picking up something for the 3DS.
On the other end of the entertainment spectrum, the rubber band A.I. in the horse racing segment is frustrating on anything but the lowest settings. A comfortable lead turns to a loss right at the finish line way, way too often. Baseball suffers from the same problem, to the point where it was difficult to have much fun with what should have been my favorite part of "Superstars."
Besides those two segments though, I found myself revisiting "Superstars" more than I would've thought. Getting in a relaxing round of golf while waiting to change over my laundry, then switching over to a quick game of arcade tennis, without switching cartridges is nice.
Little touches throughout, such as being able to fill out your baseball and soccer rosters with Boos, Koopas and Goombas, or picking out a favorite horse to race with, add a bit of flavor to what is otherwise a barebones collection. There definitely aren't many bells-and-whistles to be found here.
A cynic may look at that fact and think of the compilation as a cash grab. I felt more as if "Superstars" was one last hurrah for casual sports games on Nintendo's handheld device. It feels more like a sendoff from the combined team of Nintendo, Camelot Software and Bandai Namco Entertainment, than a way to squeeze more money out of a fanbase.
As long as you understand what you're getting, which is a collection of simple, pick-up-and-play experiences, "Mario Superstars" may be worth taking a look at. Fans looking to extend the life of their 3DS handheld, or parents looking for a game with a lot of variation to keep young ones entertained, should definitely give this one a try.
Grade: B-Platform: Nintendo 3DSNintendo provided a review copy of "Mario Sports Superstars."