'Bloodborne' a feast for the eyes, and a challenge to the core
by
Michael S. Darnell
March 31, 2015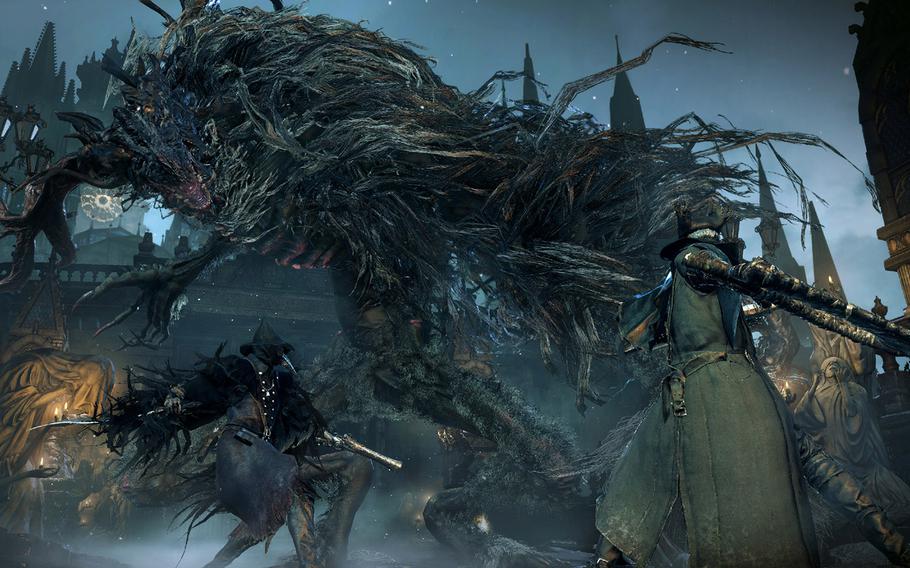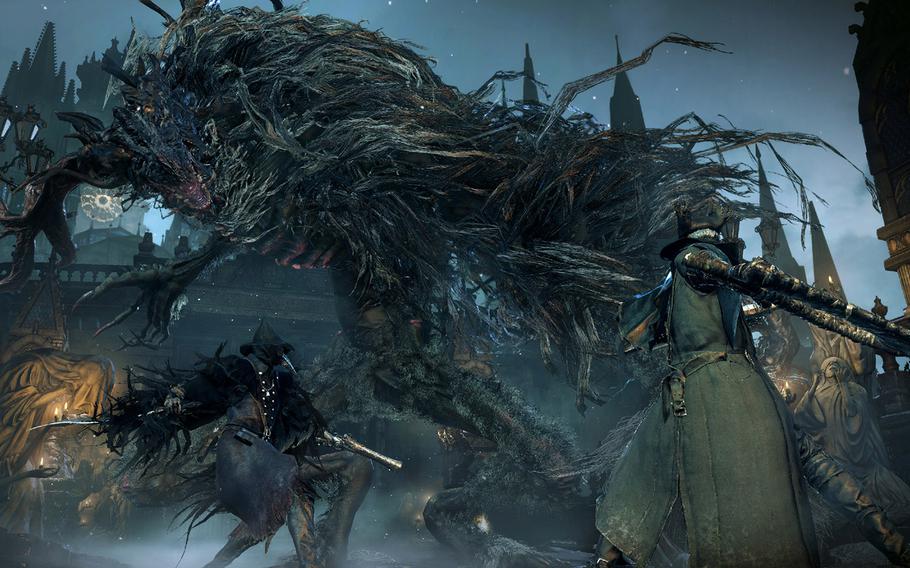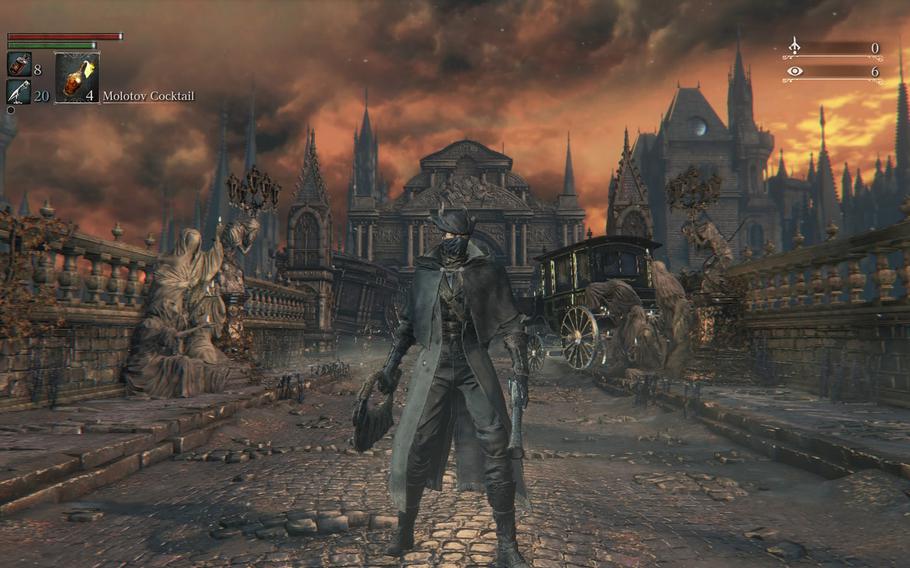 Few games generate the sort of passionate fan debate that From Software's "Dark Souls" series creates. The franchise that began with "Demon's Souls" and has expanded out to two sequels in everything but name has created a cult following of the likes I've never seen in 30 years of gaming.
Now, the Cult of Souls' has "Bloodborne," a gore-soaked, gothic horror reimagining of their beloved series to add to the official canon.
It's important to know that "Bloodborne" does deviate in places from the "Souls" formula, but it's still very much a spiritual addition to the franchise. Those unfamiliar with From's recent output will find this an excellent, if not daunting, entry point into their world.
In "Bloodborne," players take on the role of a monster hunter dropped into a dark, unforgiving world with the task of cleaning out the monsters that infest it. From there, they must navigate the world on their own, with no hand-holding and no concessions to less determined individuals.
Gone are the medieval trappings of "Souls," replaced with a horror-infused take on Victorian London. The change in scenery and the move to a completely next-generation engine has substantially improved the overall look of the game. Visually, it's a feast for the eyes and nearly every screenshot is filled to the brim with an incredible amount of detail. Most importantly, the oppressive atmosphere of "Souls" has translated well to the new setting and the new console.
Death lurks around ever broken-down stagecoach, every monster – from the lowly humans to the towering, slavering bosses – can kill instantly, and healing items are at a premium. Some fans were worried that the new name would usher in a softer, kinder "Souls" experience. They can rest easy, knowing that From didn't lower the infamous difficulty level one iota. "Bloodborne" is, for all intents and purposes, the same "Souls" experience fans have come to love.
That's not to say the newest entry does nothing new. While much of the game's mechanics resemble those of its ancestors, some important changes to the old formula give "Bloodborne" an identify all its own.
Chief among these changes is the new, faster pace of its combat.
"Souls" games demanded a slow, methodical approach to combat, usually with the help of a sturdy shield and an expertise in blocking. "Bloodborne" goes in the complete opposite direction. To survive the gothic hellhole of "Bloodborne," players will have to dust off those old twitch reflexes.
Combat is a fast-paced affair, complete with dodge rolls, sidesteps and even a mechanic that gives back some health after getting hit with an attack. For a split-second after taking damage, a part of your health bar can be regained if you attack the monster that hit you.
That one mechanic demands an entirely different approach to combat than in "Souls." Players are now rewarded for taking risks and for being quick on the triggers.
The faster pace of combat is aided by a couple of changes to how weapons work. Hunters dual-wield now, with a gun in one hand and a melee weapon in the other. The starting gun can be the shotgun-like blunderbuss or the longer-range flintlock pistol. These weapons are primarily designed to draw aggro and to manage crowds, but can also deal a few points of needed damage in a pinch.
Melee weapons are transformable with the touch of a button, giving you access to basically two different combat styles without having to delve into a menu. The beginning sword, for instance, can transform into a slower, longer-ranged blade.
Mixing up the transformations in mid-combat can lead to some really incredible sequences of events. Maybe you start off by taking a potshot at a monster, slashing it with your long blade as you deftly sidestep its counterattack before transforming the blade to its shorter, quicker version to finish it off with a combo. Or maybe you'll mess all that up and just get mauled to death. Who knows?
The "Souls" series' main strength has been its combat and if anything, "Bloodborne's" additions of sidesteps, quick twitch action and crowd management has only increased its capabilities in that area. Combat in "Bloodborne" is a sheer, unadulterated gaming pleasure, which is great because you will experience a lot of it.
Death and rebirth remain an important aspect of the game. Defeated monsters still drop experience points – now called "blood echoes" rather than souls – and if they're not cashed in before death, they can be lost forever. Much like in "Souls," the spot where you died is marked with a bloodstain that can be touched to regain the lost experience points.
"Bloodborne" adds a new twist in that sometimes nearby enemies will pick up your experience points and must be killed before you can regain what you lost. These enemies are marked with glowing purple eyes when you return to the scene of the crime. Considering that in "Souls" players would often just ignore all enemies on the way back to their place of death, this adds a substantial amount of difficulty to the proceedings.
Just like in "Souls," those experience points can only be redeemed at certain points. This time it's "The Hunter's Dream," a hub area that is accessed from lanterns (the replacement for "Souls'" campfires) scattered across the world. Personally, I found the lanterns to be scattered way too far apart, but that may very well be sour grapes from me losing 5000 plus points trying to reach the next one.
Once unlocked, The Hunter's Dream offers a few different services. After defeating the first major boss, you can spend collected blood echoes to increase the stats of your hunter and your weapons. More importantly, players can buy healing items here, which helps balance out some of the more challenging additions to the "Souls" formula.
Outside of the difference in setting, some minor gameplay tweaks and the drastically different approach to combat, "Bloodborne" retains everything that made "Souls" the renowned franchise it is today. It takes a few risks, but mostly plays it safe, sticking to the formula that has served the series well over the years.
In short, if anybody expecting a major departure from the "Souls" formula is bound to be disappointed. But "Souls" fans who breathlessly awaited the return of one of the best roleplaying series ever created can rest easy knowing that "Bloodborne" is a worthy successor to the throne.
Bottom Line: "Bloodborne" is an easy game to recommend for "Dark Souls'" fans, everyone else should know that while greatly rewarding, this game is not for the easily frustrated.
Platform: PlayStation 4 Online: playstation.com/en-us/games/bloodborne ESBR Rating: M for Mature