Drinking problems decrease in Korea
---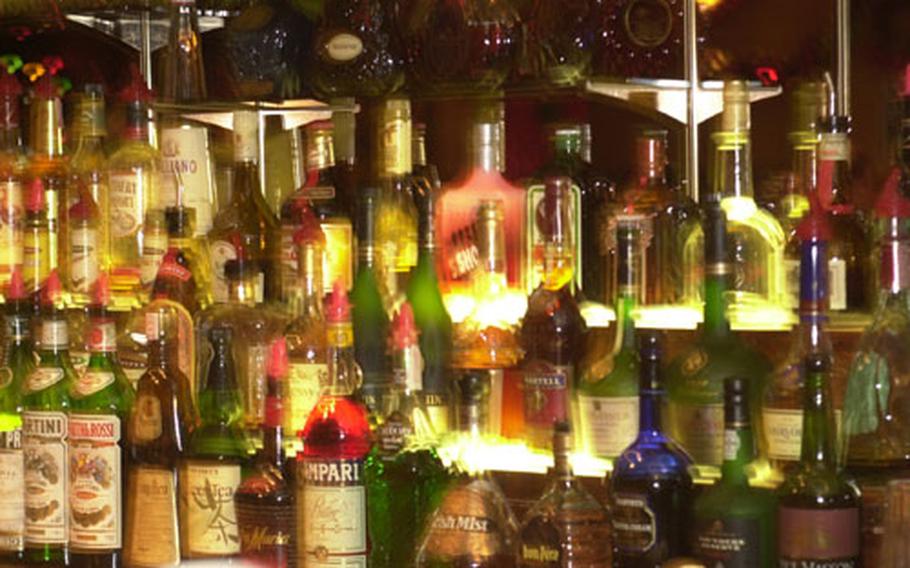 SEOUL — A one-year unaccompanied assignment in a hardship area with family and friends thousands of miles away. A strange new culture and the inability to communicate outside the gates: South Korea may seem like the perfect place for drinking problems.
Yet officials across the peninsula say alcohol-related incidents are either dropping or stable. This, they say, is good news when some other U.S. bases across the Pacific have seen a recent spike in incidents.
U.S. 8th Army officials, for example, say their incident rate dropped from 1,630 cases in the last quarter of 2001 to 1,087 cases in the second quarter of 2002.
Col. William Ivey, chief of staff for the 8th U.S. Army, said the drop in numbers "boils down to one main thing: soldiers' action."
"It's our soldiers being responsible," he said.
Ivey said he doesn't think there is a big problem here with alcohol but he said he thinks the potential exists.
"Our goal is to watch the number of alcohol-related incidents drop to zero," said Ivey.
Other 8th Army officials said units have worked hard to provide alternatives, including coffee houses, Better Opportunities for Single Soldiers' programs, and Morale, Welfare and Recreation trips.
"The soldiers stationed across the peninsula are hard working and dedicated individuals that deserve the best we can provide," according to a statement by 8th Army public affairs officers.
Jerome J. Konieczny, Korea Region Office's MWR director, said his organization is very sensitive to alcohol-related problems here. He said they strive to keep soldiers on base and in local facilities.
MWR offers free movies — something 430,000 people took advantage of last year, he said. Libraries are another favorite, and MWR purchased 25,000 books, 5,000 videos and 2,000 audiotapes last year.
"We try to give soldiers what they're interested in," he said.
To continue offering the best service, MWR is shelling out more than $100 million through fiscal 2005 to improve and build facilities, including fitness centers, clubs, community activity centers and sports fields.
Joe L. Kearns, an addiction counselor at Yongsan's Community Counseling Center, said he began giving classes to all incoming soldiers about nine or 10 months ago. He stresses that any alcohol-related incident will earn a soldier a trip to his office and an evaluation.
Kearns, a retired soldier, also tells the troops about the alternatives to drinking, including educational opportunities, tours and volunteer programs.
He said a soldier's first and last 60 days in Korea are when he or she is most likely to have an incident.
"Those last 60 days, they just go crazy as hell," he said.
He said all soldiers also get four hours of alcohol training each year: one hour a quarter.
And Air Force leaders at Osan and Kunsan air bases said hard work, a serious war-time mission and plenty of off-duty activities are key to keeping their airmen out of trouble.
Osan officials track the incidents through the number of airmen referred to the Alcohol and Drug Abuse Prevention and Treatment program run by the medical group. Usually, local commanders refer airmen to the program after an incident. Counselors there will determine if the person may have an alcohol problem.
Col. Robert Kopp, 51st Mission Support Group commander, said that based on a three-year annualized basis, Osan hasn't seen its numbers rise, or fall, very much.
"We've stayed pretty steady," said Kopp. "We average about 13 cases a month."
Kopp said 95 percent of his servicemembers are on unaccompanied tours, meaning many leave families behind.
He said he thinks the command has a very active and effective services and family support programs. He also stressed the family support center is for all base residents — not just those on accompanied tours.
Kopp said Osan offers great off-base programs, including biking, hiking and shopping tours, Korean language courses and many other local tours.
He said that while Korea is considered a hardship tour, he doesn't think the drinking problem per capita is any worse than at bases in the States.
"While they're here, they're going to work hard as warriors," Kopp said. "Hard work is stressful, but it can be its own type of release."
He said it's not easy to compare his 18- to 22-year-airmen with their college peers in the States when it comes to alcohol-related problems.
The civilians haven't been "trained with our institutional values," he said. "Integrity, service before self and excellence in all you do."
"It's what sets us apart from a civilian company," he said. "We try to promote our values."
But like all other cross-sections of society, Kopp said, "we'll have that one to two percent" who get in trouble.
And Osan has a popular and wild party area outside its front gates.
Kopp said Osan sends town patrols into the bar area to ensure force protection measures are being enforced and to keep an eye on the airmen.
If they see an obviously inebriated airman, they'll suggest the airmen's friends take him or her home.
"If they haven't … bothered anyone, we can get them home and hopefully they've learned a lesson," Kopp said.
At Kunsan, Col. Stuart Johnson, vice commander of the 8th Fighter Wing, said the key is to keep airmen "busy and give them alternatives."
"We tell everyone that we're all in the same boat, we're all away from our families," Johnson said.
Base public affairs officials provided stats for Kunsan's 2002 alcohol-related incidents. They were:
• Of the 64 incidents, 21, or 33 percent, involved alcohol.• Of the 90 incidents, 22, or 24 percent, involved alcohol.• Of the 98 incidents, 14, or 14 percent, involved alcohol.
"As you can see by our numbers, we've experienced a significant drop in the number of incidents," said Capt. Alisen Iversen.
Iversen said the Sonlight Inn, a smoke- and alcohol-free center run by Catholic and Protestant parishes, helps provide airmen with "wholesome entertainment."
From 1,500 to 2,000 airmen use the center monthly. It features a big screen TV, movies, computers with e-mail, a private morale call room, books, board games and refreshments.
Different unit organizations help serve a free dinner every Friday night and breakfast every Saturday morning.
And Robinson said all arriving airmen hear about alcohol-related problems from Col. Guy Dahlbeck, 8th Fighter Wing commander, within an hour of arriving at the base.
Dahlbeck greets all incoming flights and tells the airmen that they can make a difference during a one-year tour, said Johnson.
"He tells them, 'Study so you can get promoted. Lose weight. Quick smoking. There are so many different things to do here.'"
---
---
---
---