Does a dog have Buddha nature?
by
Chiyomi Sumida
April 20, 2008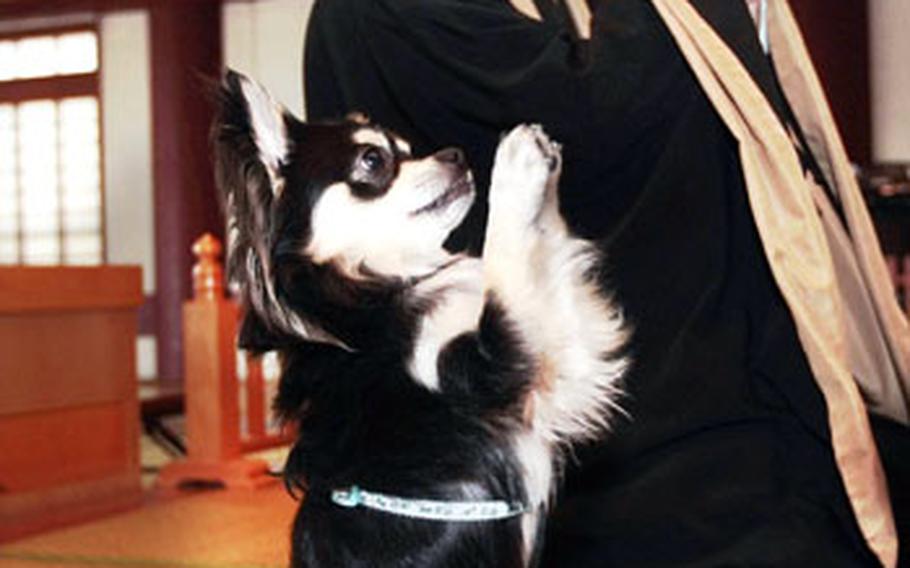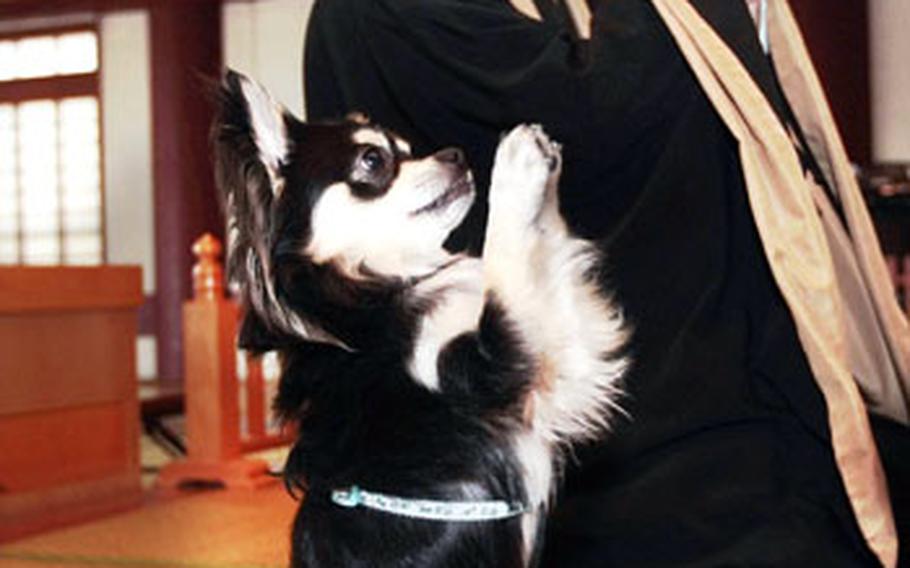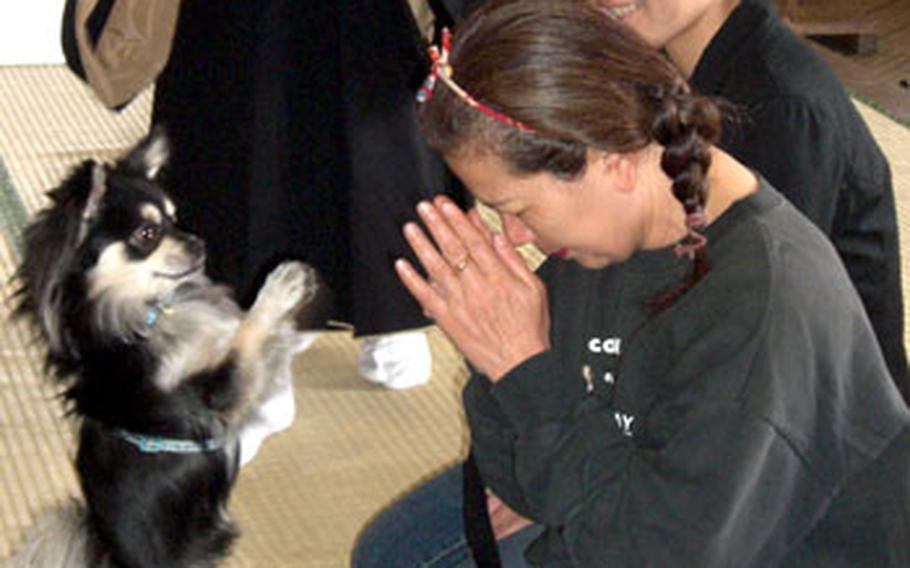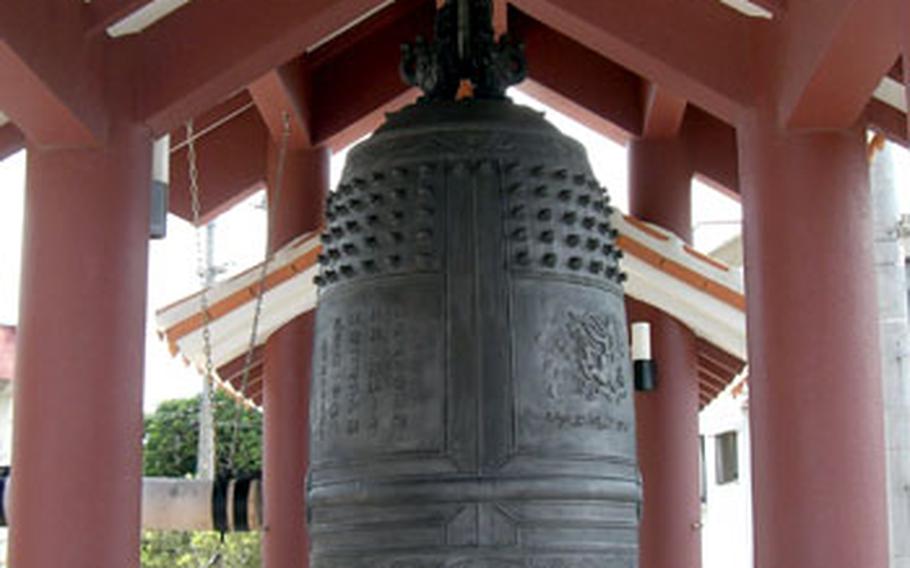 Dogs are said to be the embodiment of happiness and unconditional love.
And if that sounds very Zen-like, well, there's a pup at a Buddhist temple in Naha, Okinawa, that might just prove the point.
Conan, a long-haired Chihuahua, has mastered how to properly behave and offer prayers in the temple. He's been offering prayers since he was 5 months old.
During a recent visit to a Zen temple near Shuri Castle, a visitor found Conan sitting up straight on his hind legs, his front paws together and looking up at his master, Joei Yoshikuni, the temple's 29th-generation priest.
Conan lives with his human family members in Jigen In, a temple of the Rinzai Zen sect, better known as Shuri Kannon Do.
Every day, Conan accompanies Yoshikuni to the temple's main hall, sitting up in a prayer position while his master reads a sutra in offering morning prayers.
"He does it to the rhythm of a sutra I chant," Yoshikuni said as he cast a gentle look at his furry disciple.
Conan came to the temple in autumn of 2006 as an 8-week-old puppy. Yoshikuni said he had an enlightenment on the puppy's first New Year's Day.
"I came up with an idea to teach him, a Buddhist temple dog, the basic worshipping posture," he said.
Bribing the dog with a treat, Yoshikuni showed him the praying posture. Within a few days, Conan mastered it, he said.
Word about the praying dog quickly spread throughout the island and, eventually, worldwide. As his popularity grew, more people, especially younger people, began visiting the temple. These days there is an endless stream of visitors to the temple, which stands on a hilltop overlooking the city of Naha.
Yoshikuni said that his temple occasionally offers zazen, or sitting meditation, for Americans.
"It is our pleasure if Americans can get firsthand experience of Japanese culture here at our temple," he said of the structure that was built in 1618 by King Sho of the Ryukyus.
"Zazen will help you to seek the true self by emptying your self-consciousness and judgmental thinking," said Yoshikuni's father, Jogen Yoshikuni, the chief priest.
Sitting straight and pressing your hands together is a posture to symbolize humbling yourself and meditating to see things with your mind's eye, he said.
The chief priest said he is pleased to see Conan following the teaching — in form, at least.
The younger Yoshikuni, however, wonders what is in Conan's mind when the seven-pound canine makes the worship posture.
"Probably food," he laughed. "Because I trained him with a treat, he probably associates the posture with a treat."
A veterinarian figured the same.
"It could be conditional reflex, called Pavlovian response," said Hidekazu Ikehara of the Ikehara Animal Hospital in Okinawa City as he examined the images of Conan posted on the Internet. "He must have learned that he will be praised by making the gesture."
Dogs also watch behaviors of human beings and try to imitate them, especially when they learn that it pleases their owner, he said, noting that the intelligence of an adult dog matches that of a 3-year-old child. Some seeing-eye dogs achieve the level of a 5-year-old human, he added.
"They imitate what human beings do. That is why dogs take on the dispositions of their owners," Ikehara said.
Conan seems to have perfectly adapted to life in the temple.
"Everything he does, he does it with a prayer," Joei Yoshikuni said. The dog prays before his two meals and before he goes out for a walk three times a day.
Whether he's motivated only by food or by some canine spiritual calling, probably only dog knows.
If you go ...Take Okinawa Expressway south and exit at No. 1 Exit (Naha). Turn to the left to get on Highway 82 and turn to the right at the first traffic signal. Proceed on the road, passing by Kinjo Dam until the road meets Highway 29. Turn to the right and continue driving the uphill road. After passing Miyako Hotel on your right, take a right turn at the next stop. Within a minute, you will find Kannon Do temple on your left. Ample parking space is available.
The temple is open 7 a.m. to 6 p.m. daily. If you wish to meet Conan, the worshipping dog, avoid his nap hours, 11 a.m. to 3:30 p.m.