'Dead to Rights': Glitches dog action game
by
Warren Peace
May 23, 2010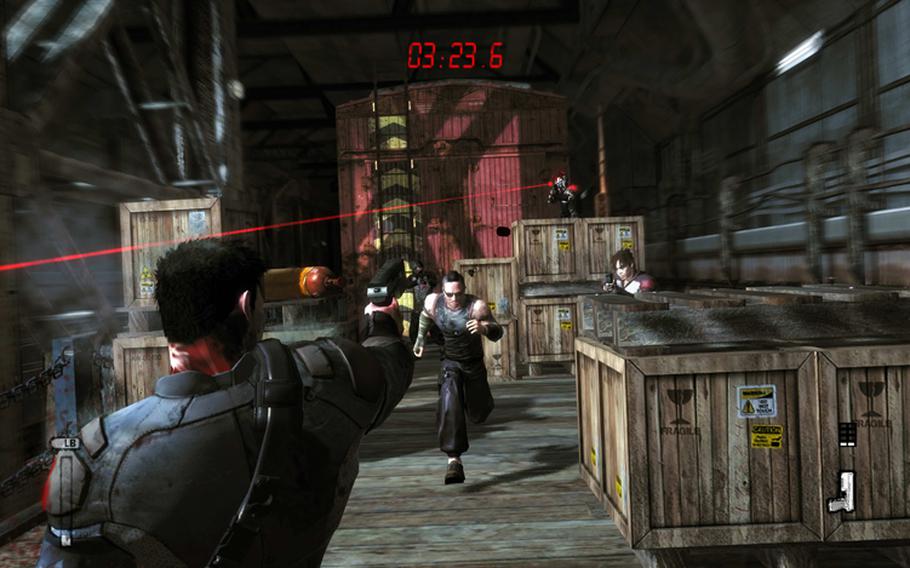 Kicking a villain into the air and firing a couple of 12-gauge rounds into him before he hits the deck while my dog is chewing his comrade's throat out is exhilarating.
However, having to follow my dog when he glitches into invisibility or watching a cut scene without sound or character animations is just frustrating.
Third-person shooter "Dead to Rights: Retribution" was a blast to play through when it was working properly as it mixes brawling with fast-paced gunplay into a ballet of blood and bullets.
Should you decide to face the glitchiness of this sequel, you will play as Jack Slate and his canine companion, Shadow.
Docks, industrial complexes and high-tech military bases make up some of the settings of Grant City and its dark story.
You will fight many different enemies while unraveling the plot behind who is dragging this once-booming city into the gutter and why.
Is it the gangs?
Is it the cops?
Yes, the same questions you would ask if you were watching a late-night crime movie. What isn't the same is the voice acting, which is top notch, and as cliché as the story is, it is well written.
However, the combat is the real grabber here. Once you get past the short learning curve of the game-play mechanics, you can seamlessly transition from fisticuffs to blasting your way through a level. All the while, your trusty dog will be right beside you obeying your every command — or almost every command.
"Tear him apart. Wait here. Fetch."
Yes. He fetches guns.
On-scene prompts tell you when your opponent can be disarmed during a fist fight. After disarming a foe, slow-motion kicks in and automatically lines up a headshot for you, which is an awesome little reward.
When enemies are weakened during a fist fight, another prompt tells you when you can perform a finishing move. These are very rewarding and ample. There are so many, I saw some for the first time on the last level, and I may not have seen them all.
Weapons are pretty standard; shotguns, machine guns, handguns and the occasional high-tech electrocution/shocky gun.
Then there are the levels where you play directly as Shadow. These levels are a nice little break in the otherwise pedal-to-the-metal action.
Shadow's missions are best described as man's best friend playing as Sam Fisher from "Splinter Cell." The levels mostly require you to sneak around and find a key so Slate can get past some gate.
Shadow has the ability to move silently and detect the heartbeat of anyone nearby. This allows Shadow to see through walls in what I would compare to an X-ray.
Once you make a silent kill, you can drag the body out of sight in case it happens to be on a patrol route. Don't worry. They won't notice a weapon laying there or the trail of blood.
A well-controlled pace and great combat make this game ideal for anyone looking for a five- to seven-hour escape to adrenaline street.
The story is just good enough to give you reason to continue your killing spree and save the city from the evils that be.
If it weren't for the ample glitches or generic plot, I would highly recommend this M-rated game. But as it stands, I can only recommend it to the hard-core action fans and the forgiving.
Platforms: Xbox 360, PlayStation 3 (tested)
On the Web: www.deadtorights.com