Crossage players claim streets in 500-year-old Belgian tradition
by
Kevin Dougherty
March 18, 2007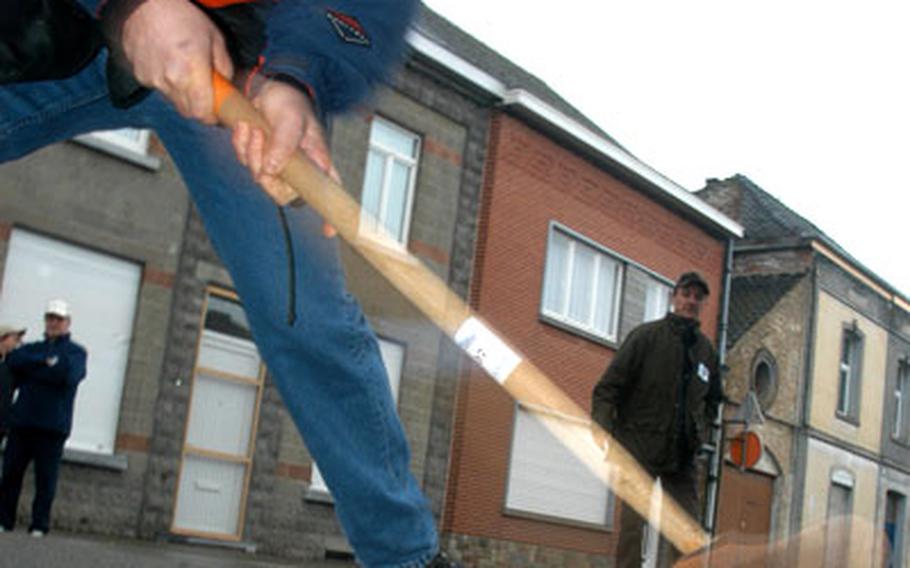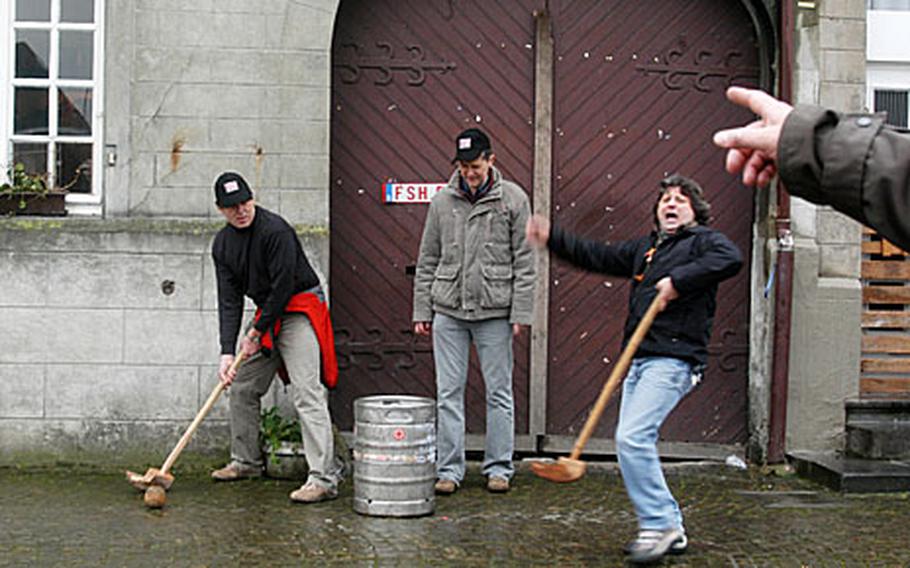 Young men working on a beer buzz honed in on a metal keg strategically placed near the front stoop of a retirement home.
Others of a similar ilk, including more than a few women, swung for other kegs, including one at the firehouse and one at the corner tavern with a fancy name, L'Eddy-fice. Every last soul seemed pumped and primed.
Inside the retirement home, the residents were smiling, too.
Amid the steady cacophony of clatter and chatter out on the town square, older residents held beers, greeted their guests and watched the youth of today carry on a tradition that has gripped Chièvres, Belgium, for more than 500 years.
Every Ash Wednesday, the first day of Lent, area residents gather in the streets of Chièvres — or nearby Vaudignies — to play the golf-like, medieval sport of crossage, or chole, as it's also known. The team game, which can also be played in a field, is popular in northern France and French-speaking areas of southern Belgium.
This year 22 Americans, many of them stationed just up the road at Daumerie Casern or Chièvres Air Base, participated in the annual event.
"Crossage is a mix between golf and croquet," said Army Sgt. 1st Class Tom Jessen. "It's a unique tradition that you'll find nowhere else."
Basically, crossage involves hitting a wooden ball, called a chôlette (pronounced: show-let), with a wooden club, or rabot (pronounced: rah-bo), in the direction of a target. A team can have only one chôlette in play at a time. Whenever a player is ready to swing, he or she must yell: "Chôlette."
The size of a team can vary, but it generally has an even number of players, such as four or six. Pitted against each other, two teams work their way around a course, which in Chièvres last month consisted of 18 kegs, or targets.
The players dodge errant balls from other matches as they move around the city square, up and down narrow streets, and out by the pasture. The streets running through town are mostly cobblestone, especially around the square, so there is no telling which way the ball will bounce after it hits the ground.
"There are no rules," said David Conlan, a civilian with the 39th Signal Battalion. "You'll see no scorecards."
Well, there are "rules," but many of them get lost in the shuffle from keg to keg.
In theory, players on one of the two teams in a match will guess how many shots they think it will take for them to hit the target. If the other team concurs, the first team swings away. If the second team bids lower than the first, it gets the first hit.
The winning bidder gets three hits to drive the chôlette toward the target, while the opponent gets a lower number of hits — depending on the original bid — to drive it away.
If the first team has not hit the target after the first round, the hitting resumes, although this time the opponent gets an additional hit. It continues until one team hits the target, or takes up all its shots. Points are then awarded, if anyone cares.
There are variations to how the game is played, but, at least in Chièvres, the losing team buys a round of drinks for the winners.
After the mandatory pit stop, teams set out for the next keg in their sequence. In golf parlance, a shotgun start is used, meaning everyone begins at a different point.
The goal of game is not necessarily to play well.
"It's not about a long drive," Jessen said, "and I wouldn't say it's about the finesse of a nice, long putt."
Instead, participants view the game as a social event wrapped around a tradition, one that brings young and old, resident and visitor together for one of the most unique pub crawls on the recreation menu.
"In Belgium, tradition," Mauro Camilotto managed to say as his head pivoted from side to side, constantly on the lookout.
The French-speaking, 46-year-old truck driver from a village named — no kidding – Silly, motioned to his right eye, then raised a hand to the top of his head. The message: pay attention.
"Accident," he said.
Surprisingly, what with all the oval-shaped, oak orbs flying around, only two injuries were reported, according to Francis Cordier, an organizer. One guy got hit hard twice, while another took one on the noggin (Camilotto called it). Both men returned to action, though.
"I had one bounce off of me," Jessen said of a close encounter with a chôlette. "Not a bad thing."
Each of the 600 participants in Chièvres — about 300 played in Vaudignies — was required to pay the equivalent of $3 for insurance. Some of that money goes to reimbursing property owners for damages, such as a broken window.
It's clear, however, that the residents were braced for the annual onslaught. The streets that were part of the course were cleared of cars, and most first-floor windows and doors were covered, from expensive metal grids to torn cardboard boxes.
And while there were police stationed at entry points to the village, none were seen in the center of town. There was horseplay among participants, but no fighting or violence of any kind. So, no cops, but no problems.
As the game progresses, Conlan and his five teammates aim in the direction of a bar down the street. Conlan yells "chôlette."
"You missed the keg, hit the guy," howled Chief Warrant Officer 1 Rob Braun.
"That ought to count for something," Conlan implored.
Not this time, and as the group moves forward, several balls skip by.
"You start out with good intentions," Conlan said. "You plan to keep score, and you kind of do, but things break down."
"It's just like golf," Army Capt. Garrick Minor, a teammate, chipped in.
---
---
---