Cobara-Hetta in Odaiba is a winner for great food
by
Leon Cook
October 5, 2017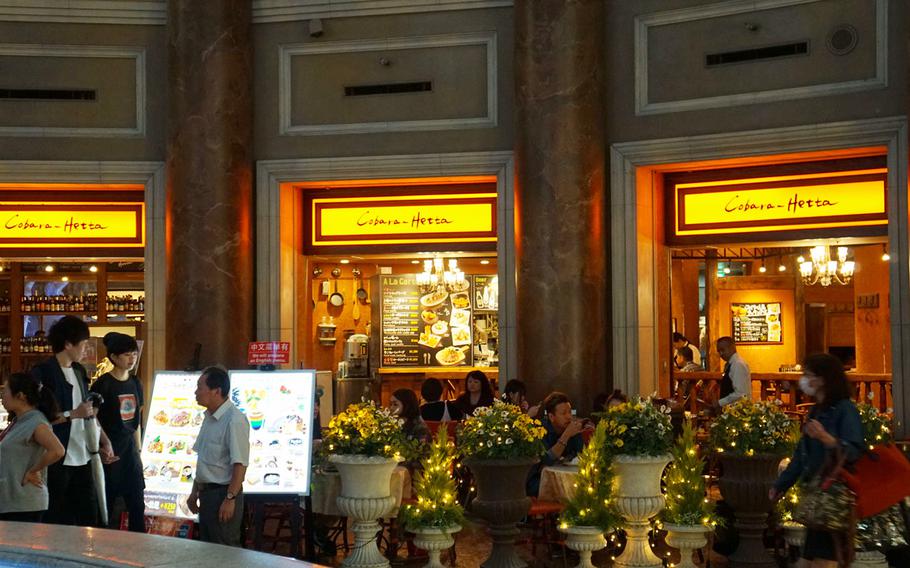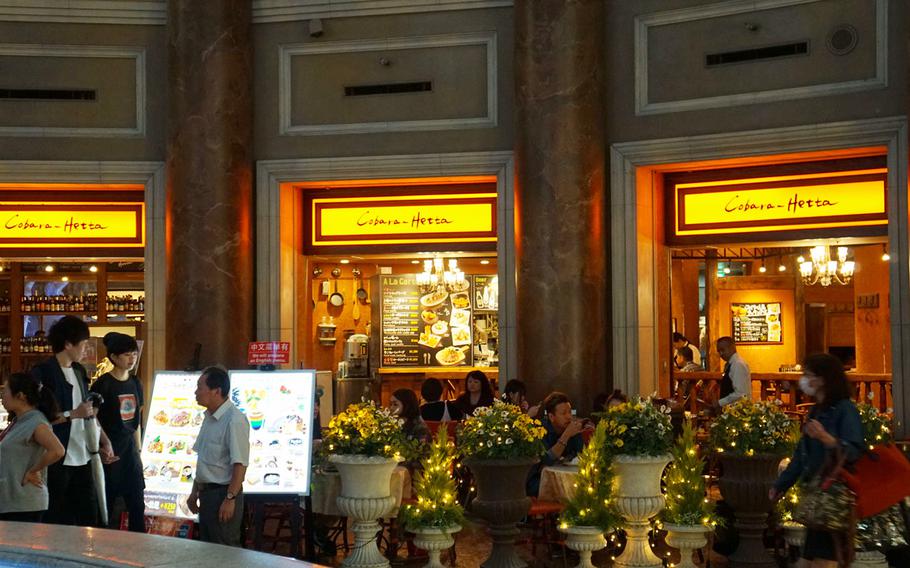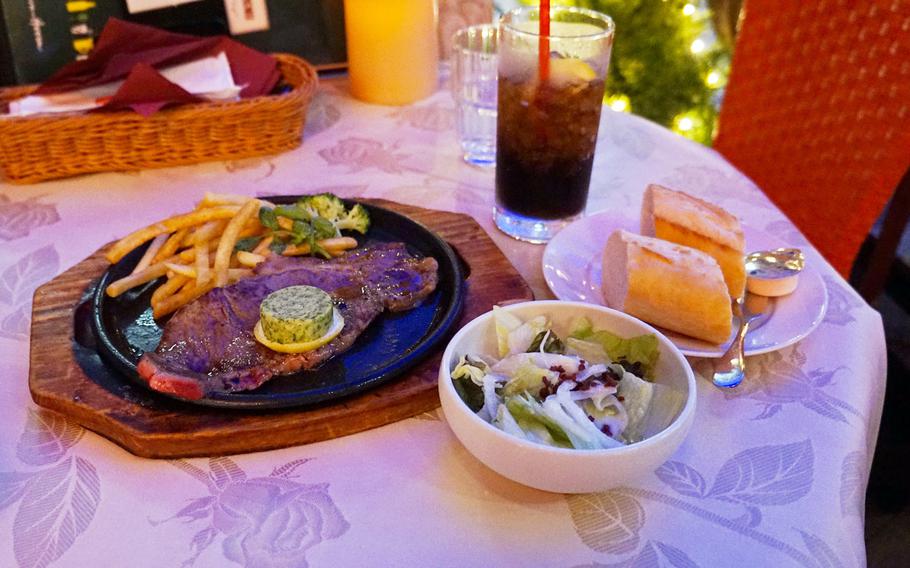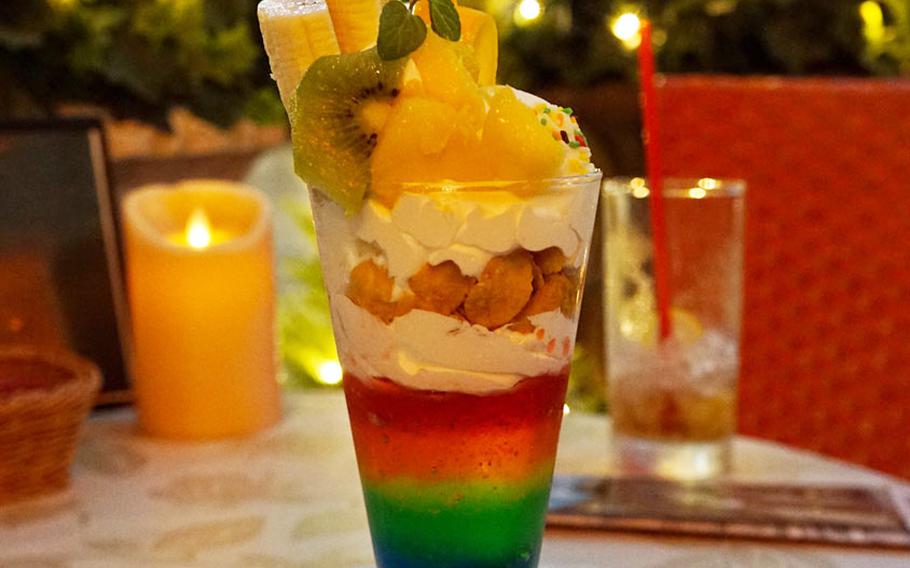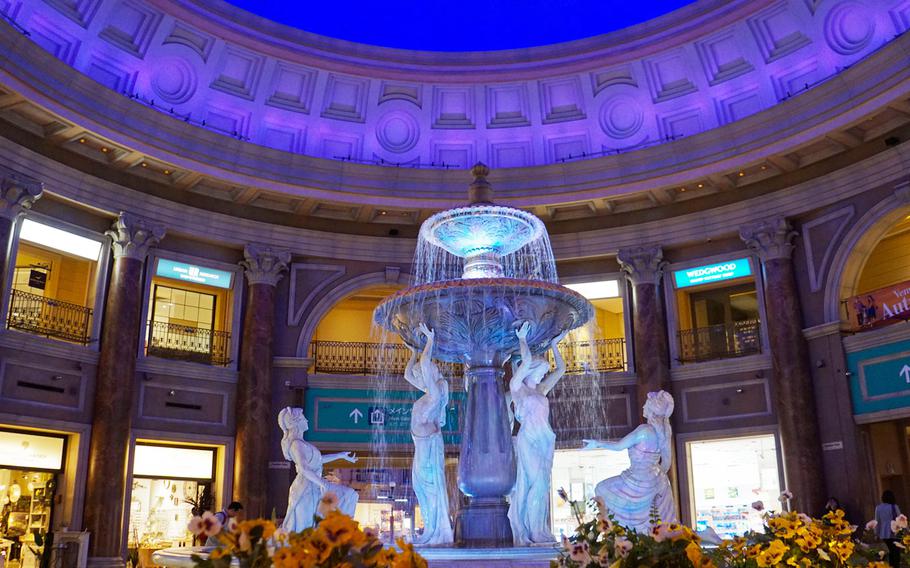 At Cobara-Hetta, it's possible to imagine you're having a meal in the European countryside rather than inside a large shopping mall in Tokyo.
The French restaurant is inside VenusFort — a mall decorated to look like a Renaissance-era Italian city — on Odaiba, a large artificial island in Tokyo Bay.
The so-called outdoor section of Cobara-Hetta, separated from the rest of the mall by artificial shrubs decorated with Christmas lights, includes a classically inspired fountain.
Diners can stare up at the gentle curves of a domed ceiling, which is painted blue and softly lit to suggest a twilight sky.
Almost everything on the menu looks good, from the Bolognese pasta (1,080 yen, or $9.57) to the beef steak pilaf (1,680 yen, or 14.89), but I selected a sirloin steak lunch set (1,380 yen, or $12.23). It included salad and bread, although drinks were extra.
The salad arrived promptly and contained iceberg lettuce topped with bacon, onions and ranch dressing. It was crispy and fresh and didn't disappoint.
My steak was topped with a pat of garlic butter and served with French fries and greens. The garlic butter wasn't for me, but the steak was tender, juicy and cooked perfectly.
The french fries offered the perfect crunch to go with my tender steak, and the two sections of French bread were delightful after I buttered them up. Next time, I'll pay 350 yen ($3.10) for unlimited bread.
My friend ordered the roast beef pilaf for the same price as my steak. The pilaf was covered with roast beef, mushrooms and cut peppers, topped with a slightly sweet sauce. He said the roast beef was tender, easy to cut with a spoon and delicious.
I was sad when I finished my steak, but a rainbow parfait for 900 yen ($7.98) made an admirable dessert.
Every layer of my parfait was exquisite. I began by eating the orange, banana and kiwi slices before I started on the scoop of ice cream. In and around that was whipped cream that also filled the layer of corn flakes underneath. Finally, I reached the parfait itself, in nine layers of color.
My pal ordered a blueberry cheesecake. The plump blueberries were stacked three high, and he said the taste wasn't too sweet. The blueberries complemented the cake and crumbly crust.
I wouldn't usually pay $8 for a dessert, but seeing as I'd normally expect to pay twice as much for my steak, I was ready to celebrate.
I'd never heard of Cobara-Hetta and had no expectations, but I think I picked a winner. The food was great and the "outdoor" decorations, indoor though they might have been, were better than the real outdoors on an overcast day.
cook.leon@stripes.comwww.twitter.com/LeonCook12
Cobara-Hetta Location: Inside the VenusFort mall at Odaiba (a manmade island in Tokyo Bay).
Hours: Open daily, 11 a.m. to 11 p.m.
Prices: Expect to spend 1,000 to 2,000 yen (about $8.86 to 17.73) per person.
Dress: Casual
Directions: Take the Yurikamome Line to Aomi Station and walk 100 yards to VenusFort. Cobara-Hetta is in Fountain Plaza on the second floor.
Information: 3-3599-2910;www.eirin-fukuju.co.jp/cobara-french/index.html