Cat cafe near Yokota Air Base is the purrfect place to commune with feline friends
by
Leon Cook
April 13, 2017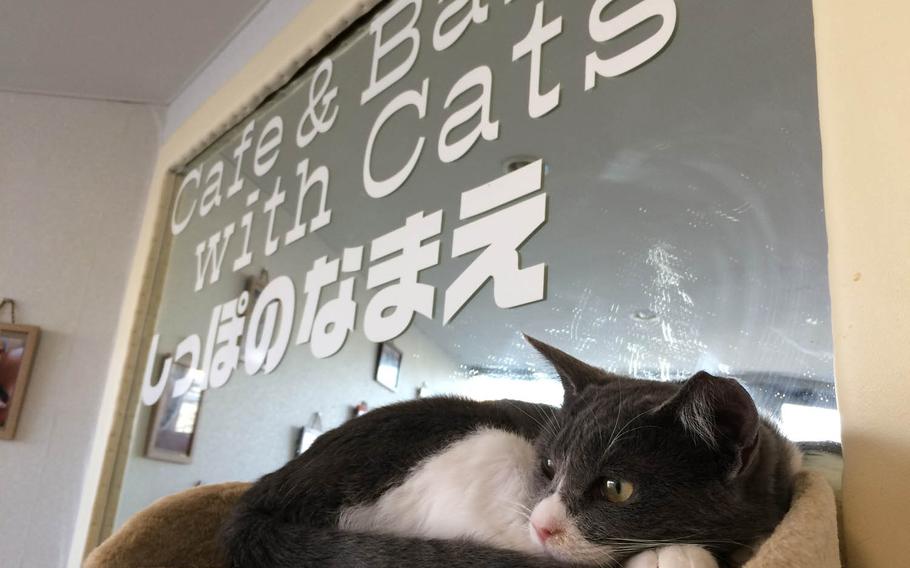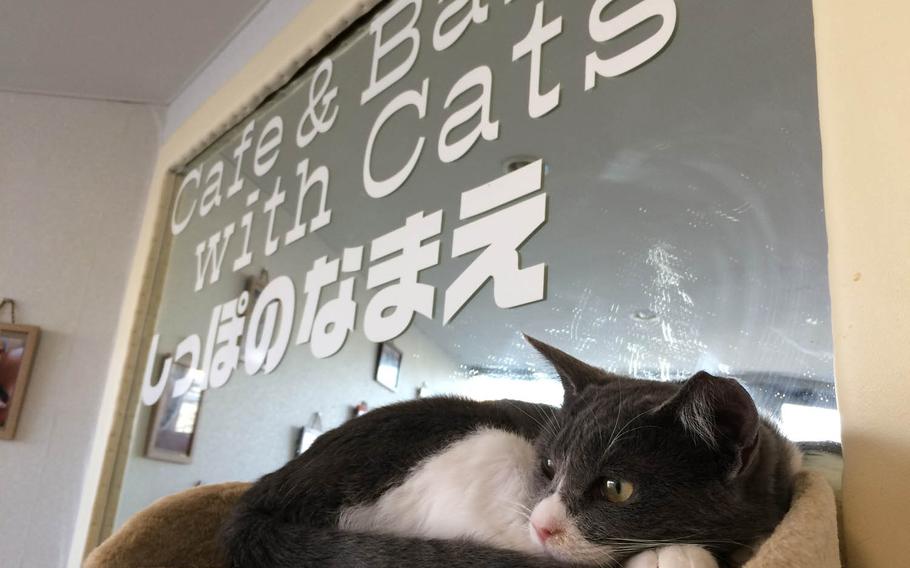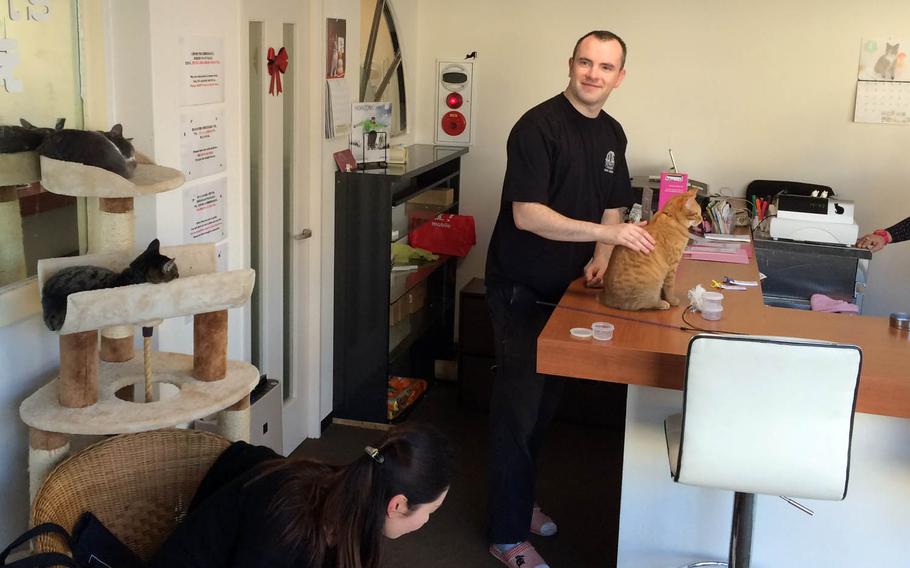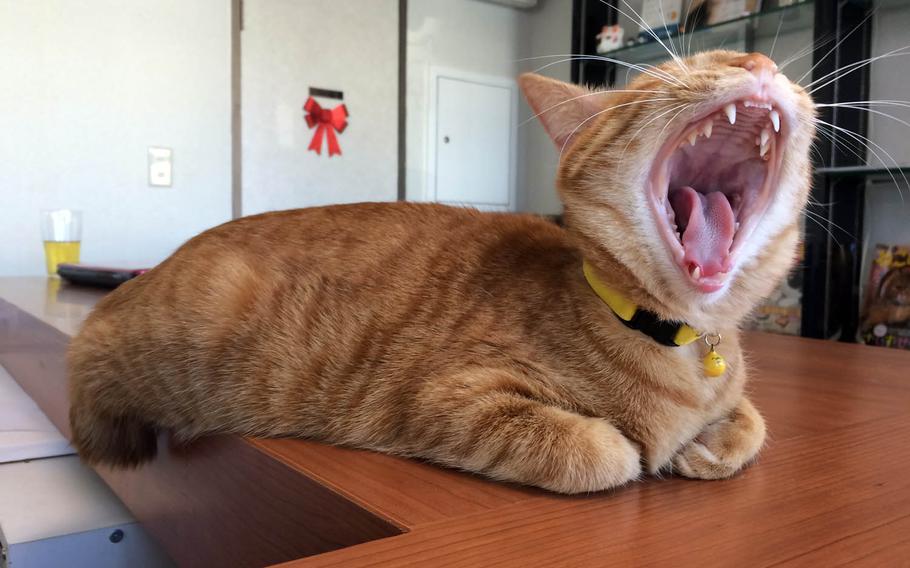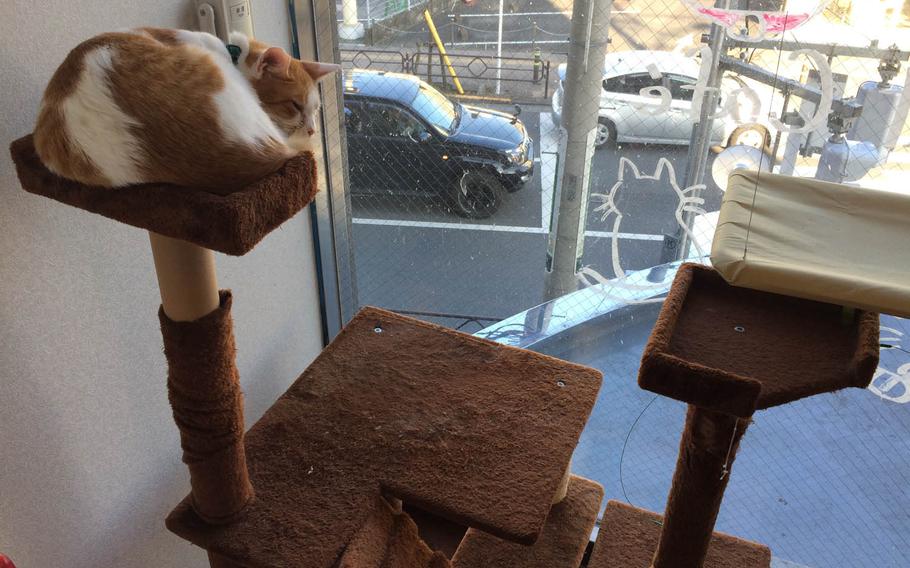 "Cafe and Bar with Cats" reads an English sign cluing in foreigners that an average-looking building near Yokota Air Base is home to one of Japan's many cat cafes.
There are other indications — cat paw prints in the window and a stylized cat tail on the sign — as to what's inside the second-floor eatery called Shippo no Namae.
Cat cafes started in Taiwan but have spread across Japan, where many apartment complexes forbid pets and cats are popular but expensive.
At Shippo no Namae, patrons can eat and drink while petting and playing with furry friends.
After entering the building and overcoming the immediate urge to escape a strong stench of cat urine, I washed my hands and replaced my shoes with cat-themed house slippers.
Once inside the cafe proper, the odor — and my stress — melted away as I met the English-speaking owner, Tomomi, and an orange tabby that rubbed against my legs.
Some cats are standoffish, but this one was very friendly. It was a great way to be welcomed to the cafe, which is rather cramped, with just a counter and three tables for guests.
Meanwhile, the cats have ample seating and places to play. Cat trees are set up along the window, perfect for felines to stare at the outside world or sunbathe on a lazy afternoon.
The cafe has a thick English menu but it contains only three pages devoted to food and drink. Most of it is taken up by guidelines for interacting with the cats, referred to as "attendants," each with a picture and short description.
The eight cats in the cafe were all rescued from animal shelters or came from the streets. All seem in good health, and several were curious about me.
The orange tabby I'd met at the door brought its sister to see me as well, and the two of them snuggled up or sat under my chair while I looked through the menu and gave them cat food provided by the cafe.
The cats are tame enough to eat out of a guest's hands, and they did so frequently and with great relish.
Shippo no Namae's food costs between 300 yen (about $2.65) for fries and 800 yen (about $7.15) for pasta dishes. Coffee and soft drinks cost 500 yen (about $4.45) and cocktails run 800 yen (about $7.15). There is a 500-yen cover charge, and guests are asked to buy at least one drink and order an item every hour.
I didn't try the food, but I did play with the cats. There are cat toys for guests to use to entice them to play. Some of the cats were more interested in their afternoon naps, but others were fascinated by a dangling toy.
I would recommend Shippo no Namae, with the obvious proviso that if you don't like cats, you won't like the cat cafe. I love cats, so I loved the cafe, too. Besides, where else is the employee of the month encouraged to sleep on the job?
Shippo No Namae Location: 197-0021 Tokyo-to, Fussa-shi, Higashicho, 1. From Yokota Air Base, cross Route 16 after exiting the main gate and keep right at the fork. The cafe is on the second floor of a building close to the 7-Eleven, above a cellphone repair shop.
Hours: Noon to 8 p.m. Monday through Friday; 11 a.m. to 8 p.m. Saturdays; 11 a.m. to 6 p.m. Sundays and holidays.
Prices: There's a cover charge of about 500 yen (about $4.45). Most menu items cost between 300 yen (about $2.65) and 800 yen (about $7.15).
Dress: Casual
Information: 080-3558-9625; http://shippononamae.com
---
---
---