Call of Duty Modern Warfare's terrorism scenes detract from great online package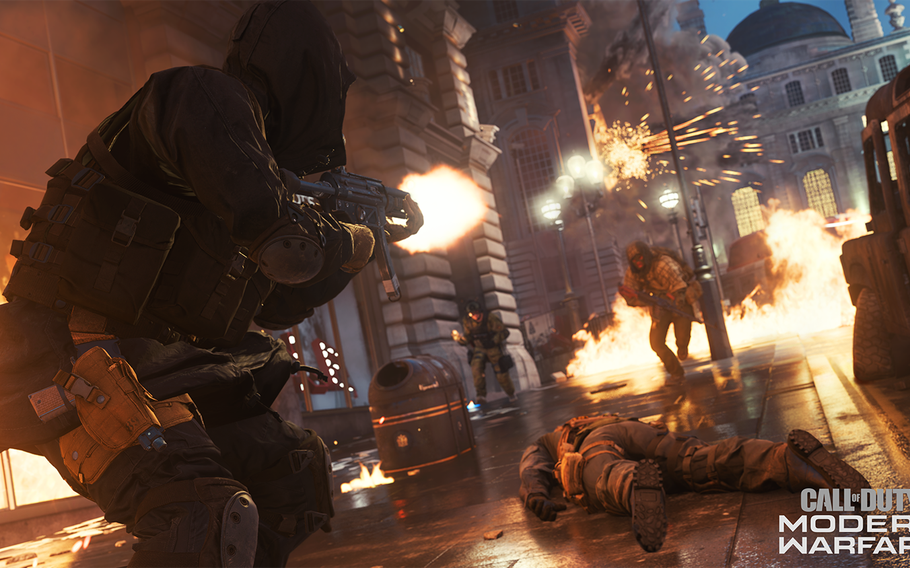 Call of Duty Modern Warfare has returned with a vengeance.
It's been eight years since the release of Modern Warfare 3. Since then, a new console generation has boosted gameplay and graphics capabilities. And the real-world war against terrorism has morphed into something even more sinister. That allows developers at Infinity Ward to deliver a game that's bold, beautiful and very brutal.
The first-person shooter published by Activision delivers some great new takes on multiplayer competition and an enthralling cooperative mode. However, it's the single-player campaign that weighs on my mind. The storyline focuses on vengeance and asks whether the ends justify the means. Along the way, it lays out a vicious depiction of how war and terrorism can affect civilians caught in their path.
The new game comes without a numeral in its title, but it is firmly set in the world of its predecessors. This time around, Al-Qatala terrorists have struck London hard. Their trail leads to Urzikstan, a fictional country that strongly resembles Afghanistan, circa 1985, complete with a Russian occupying force and local freedom fighters. You play as several different characters — some returning from previous games — as the pursuit of the London attackers turns to a hunt for the person responsible for stealing poison gas from a Russian facility.
This premise and setting will seem pretty familiar to fans of previous Modern Warfare games. However, terrorism has changed somewhat since the release of Modern Warfare 3. The rise of Islamic State and subsequent attacks in Paris, Boston, London, Berlin and elsewhere have brought an onslaught of images of civilians being gunned down and blown up while going about their daily activities. I didn't like similar sequences in previous Modern Warfare games, but international events have made them even less palatable now. On top of that, developers have upped the ante on violence against civilians and war crimes in a pair of flashback missions set in Urzikstan.
In the past, some of my friends have skipped Call of Duty's campaigns altogether and gone straight to the online modes. Because of the unsettling nature of this campaign, it might be a good idea for a few more players to follow this course.
Despite these depictions, those who play through the campaign will find missions that are well composed and very diverse in their objectives and challenges. As a result, replaying selected missions is much more enjoyable than playing through the entire campaign.
But the game truly shines in its online modes.
Competitive play ranges from the two vs. two close-quarters battles of Gunfight to the sprawling new format called Ground War. This involves dozens of players competing on a huge map with several control points to capture. Add drivable vehicles and flyable aircraft, and this engaging experience parallels that of Electronic Arts' Battlefield series. Of course there are the usual team death match and objective-based modes that have been Call of Duty's bread and butter for years. All of these offer well-designed maps, most providing a good mix of opportunities for close-quarters as well as wide-open fighting.
In addition, developers continue to refine the combat mechanics to keep the competition relatively balanced. More than ever, skill and a keen eye are the keys to success.
Modern Warfare also offers Special Ops missions for fans of cooperative play. These are four-player missions that continue the terrorist-fighting action of the campaign. As with any multiplayer experience, the quality of the team makes all the difference in the fun factor. It also helps to try each mission a few times to get the lay of the land. With an experience and skill team, these missions are highly entertaining.
Those yearning for a co-op survival option akin to the zombie mode from last year's Call of Duty Black Ops 4 will love Special Ops Survival. In this, you and three friends can try to withstand wave after wave of enemies — akin to Black Ops' zombie adventure. Unfortunately, this mode is available only on the PlayStation 4 until next year. Fortunately, I played on a PS4 … and it was terrific. The action was intense and exhilarating when playing with a solid team.
Aside from the ability to drive vehicles, the most significant new gameplay mechanic involves shooting from behind cover. You can now peer around a corner or over a crate without exposing your entire body to enemy fire. You do this by "mounting" your weapon on the object and moving slightly to aim at your foe. Although I found that this provided only a slight benefit in firefights, I suspect better players will see better results.
The graphics are stellar. In most cases, the facial renderings and animations are very lifelike and the settings are incredibly detailed and realistic. I didn't notice very many visual glitches.
The controls are very smooth and intuitive — a factor you only appreciate after experiencing a game with a few hitches.
The game earns a mature rating for violence, gore and intense themes.
Overall, Modern Warfare is a great adventure that's held back by a few unsettling bumps in the road.
Bottom line: B+ Call of Duty Modern Warfare delivers player vs. player and cooperative modes that are among the best in gaming. The campaign delves into intense issues and can be unsettling.
Platforms: PlayStation 4, Xbox One, PCOnline:callofduty.com/mw3
Activision provided a copy of the game for review purposes.