'Blur' a blast on the track
by
Dan Crabtree
June 16, 2010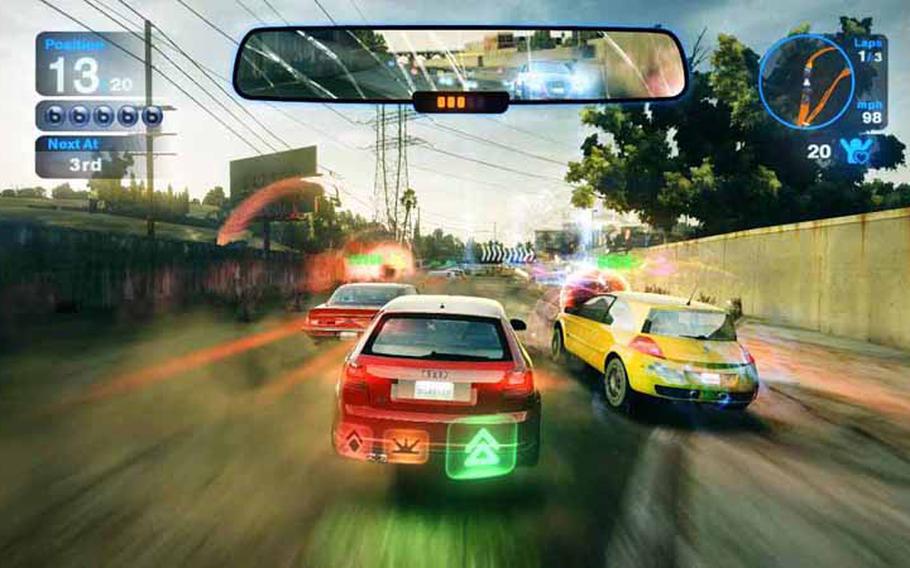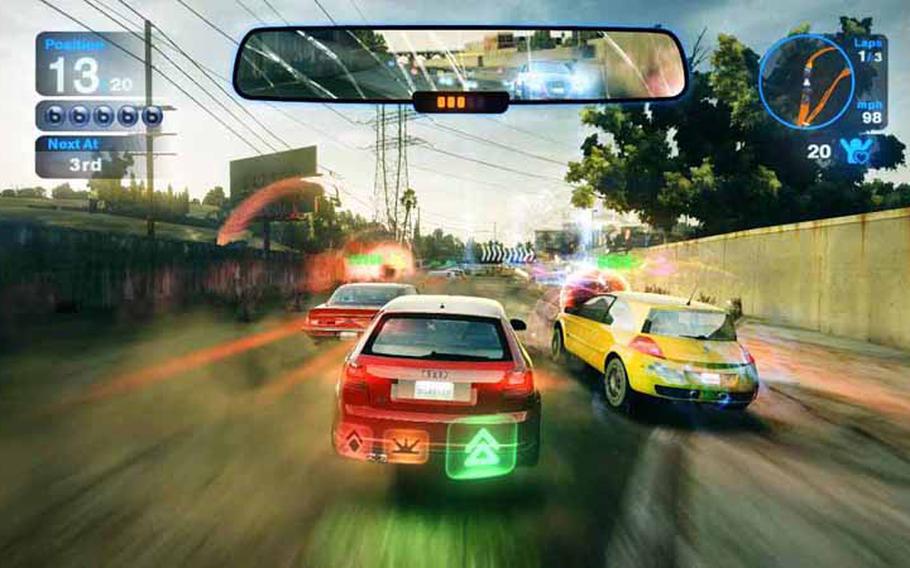 Have you ever played a Mario Kart game and thought to yourself, "This could use some real cars, real locations, and real ramped-up difficulty"?
Well, even if you haven't, Bizarre Creations and Activision have, and the result is "Blur." The easiest way to describe it is as a cross between kart-racing games, "Need for Speed" and "Cruisin' World" because the main components of each are at the heart of this game. Whether you're slamming full speed into a Tokyo parking garage, grinding easier races to unlock better cars, or blasting your way into first with a well-placed forward mine shot, "Blur" delivers a little bit of the best of the racing genre with "powered-up" results.
The most noticeable aspect of "Blur" is the combat-style racing, where you can pick up items ranging from heat-seeking shunts to speed boosters. There isn't too much variety in the items (only about eight) but each serves at least one distinct purpose, and many can be used both offensively and defensively. For example, the barge — a shock wave that emanates from the car — can fling nearby opponents into walls and can also protect against incoming missiles if used with precise timing. Such items make for a fairly strategic racing experience, where the key is not only to pick the right car and perform solid drifts on turns, but to crush the other racers with weapons while avoiding destruction yourself. The system is balanced quite well, with no one item being too powerful in every situation, making for a challenging and strategic experience.
Career mode houses the best that "Blur" has to offer, giving players the opportunity to participate in not only races with items but also Destruction, Checkpoint, and One on One modes. Destruction is pretty much what it sounds like: Players gain points by destroying as many cars as possible before time runs out. Checkpoint sees players racing through a course picking up additional time in order to finish before the clock runs out. One on One mode basically consists of boss battles. After meeting a series of what can be fairly tedious demands in the other races (barge so many cars into the water), players go head to head with one other car in a race to the finish or to the death.
All of these modes, including the races, function on a "lights" system, where more lights are awarded for better performance and accruing more lights unlocks new levels. But the real challenge comes with the "fan" system.
Although you never actually see any fans in "Blur," they are a big part of the single-player experience. A meter on the side of the screen shows players how many fans they have garnered for attacking or defending against other players, or by meeting fan demands within the races (like achieving a certain speed or racing through some gates). While fans are crucial for earning some lights and meeting some boss demands, the main purpose is essentially to "level up" the player's status, which unlocks better vehicles.
Overall, leveling up through the fan system compensates well for the startling difficulty presented by the majority of the career-mode events, though not entirely. If you are going to really enjoy career mode, I suggest playing with a friend, because it's easy to get burnt out by the surprising number of failed races.
Speaking of playing with friends, no "Blur" experience would be complete without some multiplayer. Whether taking on AI and friends in split-screen action or assaulting online gamers in a 20-person match, "Blur" has plenty of options and variety that make multiplayer both smooth and fresh.
Driving with any number of other players really adds to the chaos and competitive fun of the already hectic and vengeful style of play, and will likely keep a solid community of gamers involved for a while.
"Blur" takes what other racing sims do well and ramps up the frantic combat, escalating the challenge and the enjoyment to a level that would make it a welcome addition to the library of any fan of racing games.
Platforms: Xbox 360 (tested), PlayStation 3, PC
On the Web: www.blurgame.com
---
---
---
---